Biology for VCE Units 3&4 Student Workbook+Student obook pro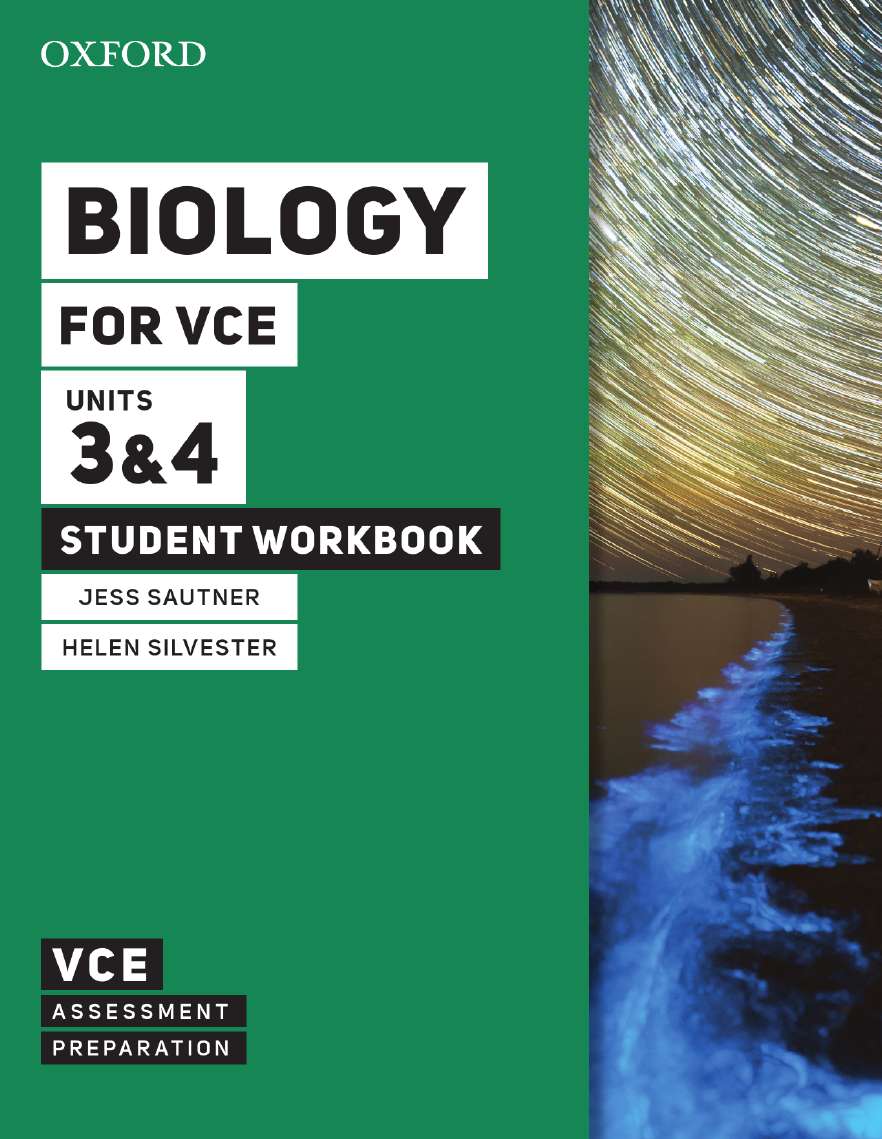 Biology for VCE Units 3&4 Student Workbook+Student obook pro
| | |
| --- | --- |
| ISBN: | 9780190325633 |
| Binding: | Paperback + obook |
| Published: | 13 Sep 2021 |
| Availability: | Forthcoming |
| Series: | |
$29.95 AUD
$33.99 NZD
Add To Cart
Description
Biology for VCE Student workbooks are designed to help students succeed in VCE, providing activities and questions to support every internal and external assessment. With an engaging design, full-colour photos and relevant scientific diagrams throughout, these write-in workbooks help students to develop examinable science skills.
Contents
Chapter 1: Biology toolkit

UNIT 3: HOW DO CELLS MAINTAIN LIFE?
Chapter 2: Nucleic acids and proteins
Chapter 3: Manipulating DNA
Chapter 4: Biochemical pathway regulations
Chapter 5: Photosynthesis
Chapter 6: Cellular respiration
Chapter 7: Biochemical pathways and biotechnology

UNIT 4: HOW DOES LIFE CHANGE AND RESPOND TO CHALLENGES?
Chapter 8: Antigens
Chapter 9: Immunity
Chapter 10: Diseases
Chapter 11: Evolving population genetics
Chapter 12: Evolving species
Chapter 13: Species relatedness
Chapter 14: Evolution of humans
Chapter 15: Practical work

UNITS 3 & 4 Practice exam questions

Answers
Appendix: Periodic table
Authors
Jess Sautner: Jess Sautner has been an educator for 8 years and has taught VCE Biology, Psychology and Junior Science at Bacchus Marsh Grammar. She is an experienced Biochemist and works as a STEM Outreach Coordinator at Deakin University, supporting VCE Science students entering University. Jess has also worked as a VCAA Panel Member, developing teacher's professional development resources. Previous to her work in Science education and communication she worked at CSIRO, CSL and as a microbiologist and virologist in industry.
Helen Silvester: Helen Silvester has been an educator for over 20 years and has held Head of Science positions in a number of schools. She was shortlisted for the 2014 and 2017 Prime Minister's Secondary Science Prize for Excellence in Science Teaching in Secondary Schools and was Victoria's representative for the BHP Billiton Science Teachers Awards. Helen has a wealth of experience writing and reviewing and has been an active participant in the Australian Science Teachers Association (ASTA), Australian School Science Information Support for Teachers and Technicians (ASSIST) and Science Teachers Association Victoria (STAV). Helen has also worked as a researcher at Walter and Eliza Hall Institute and the Royal Children's Hospital. Currently Helen is Director at the STEAM-focused Casey Tech School.