Q: Skills for Success
Second Edition
Think Critically. Succeed Academically.
Q: Skills for Success, second edition, is a six-level paired skills series that helps students to think critically and succeed academically.
This appealing English for Academic Purposes course equips students for further learning, with a focus on critical thinking and note-taking skills, supported by engaging video resources. Now with enhanced skills support and an extended writing syllabus, this course prepares students for academic success, from a Beginner (A1) level upwards.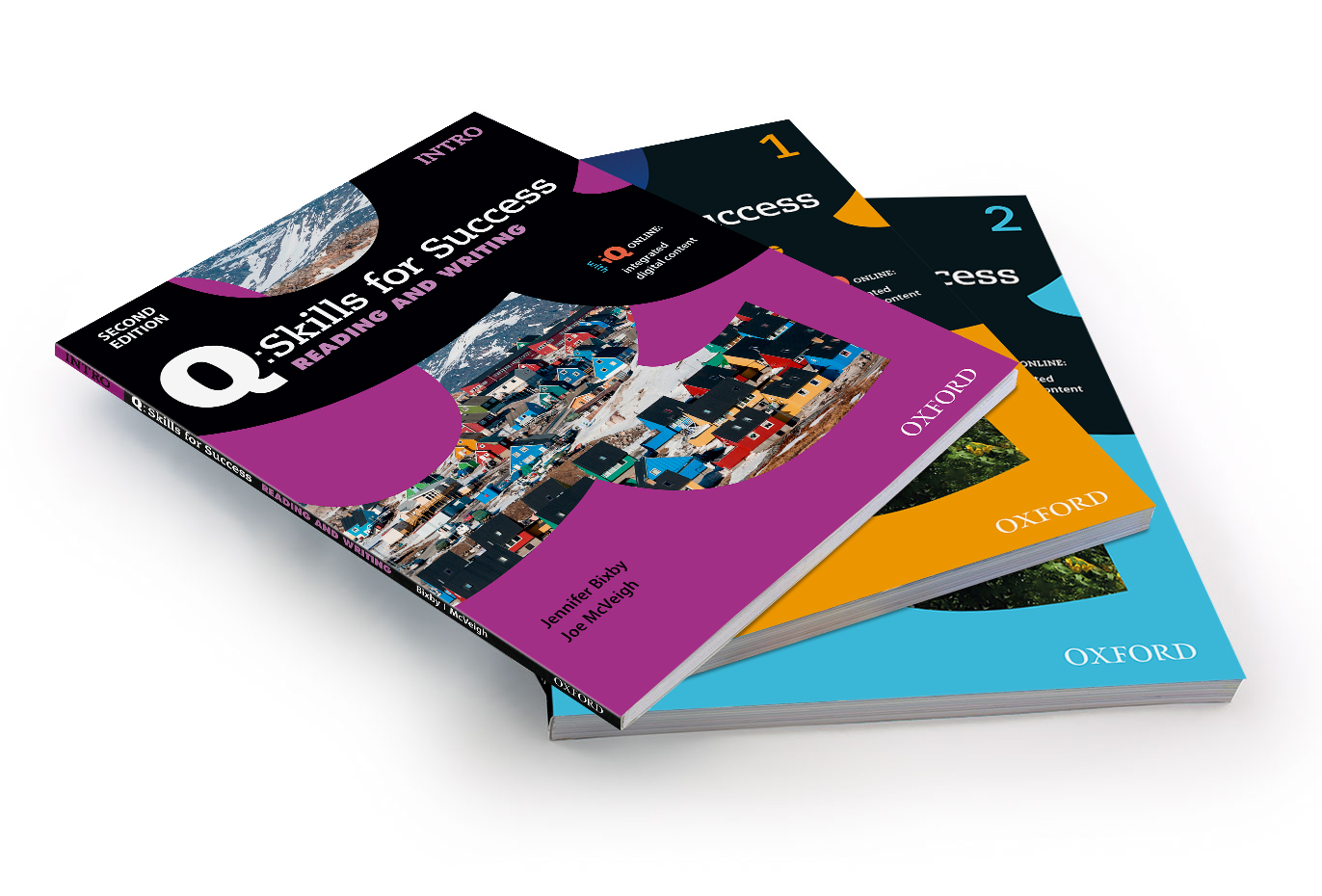 Question-centred approach encourages students to think critically
Progress bar and clearly stated unit objectives motivate students to achieve their language learning goals
Video in every unit provides an engaging springboard for students to think critically
Note-taking skills and an extended writing syllabus develop essential skills for academic success
Enhanced listening and reading comprehension activities provide greater scaffolding and help prepare students to use higher level study skills
Research-based vocabulary program ensures that students learn the most relevant words for academic and professional life
iQ Online, an online resource, is integrated with the Student Book content to extend learning in and out of the classroom
Achievement badges keep students focused and motivated working online
Auto-graded tests provide instant feedback and save teachers time
iTools Online increases student engagement and reduces class prep time
eBook versions of the Student Book are available, with interactive features designed for language learning.
Intro (A1)
Level 1 (A1)
Level 2 (A2)
Level 3 (B1)
Level 4 (B2)
Level 5 (C1)
Student Books (Reading and Writing)
Student Books (Listening and Speaking)
Student eBooks (Reading and Writing)
Student eBooks (Listening and Speaking)
Split Student Books A and B (Reading and Writing)
Split Student Books A and B (Listening and Speaking)
Student iQ Online Access Card
Teacher iQ Online Access Card
iTools Online Access Card
iTools USB
Jaimie Scanlon
Margaret Brooks
Miles Craven
Kristin Sherman
Rob Freire
Tamara Jones
Susan Earle-Carlin
Sarah Lynn
Jenny Bixby
Joe McVeigh
Margot Gramer
Colin Ward
Debra Daise
Charl Norloff
Nigel Caplan
Scott Roy Douglas
Ann Snow
Larry Zwier
0
0.00