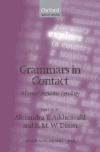 ISBN: 9780199207831
Published: 1 Jan 07
Availability: Contact Customer Service
Hardback
AU$220.95
NZ$257.99
Grammars in Contact
A Cross-Linguistic Typology
Languages can be similar in many ways - they can resemble each other in categories, constructions and meanings, and in the actual forms used to express these. A shared feature may be based on common genetic origin, or result from geographic proximity and borrowing. Some aspects of grammar are spread more readily than others. The question is - which are they? When languages are in contact with each other, what changes do we expect to occur in their grammatical structures? Only an inductively based cross-linguistic examination can provide an answer. This is what this volume is about.

The book starts with a typological introduction outlining principles of contact-induced change and factors which facilitate diffusion of linguistic traits. It is followed by twelve studies of contact-induced changes in languages from Amazonia, East and West Africa, Australia, East Timor, and the Sinitic domain. Set alongside these are studies of Pennsylvania German spoken by Mennonites in Canada in contact with English, Basque in contact with Romance languages in Spain and France, and language contact in the Balkans. All the studies are based on intensive fieldwork, and each cast in terms of the typological parameters set out in the introduction. The book includes a glossary to facilitate its use by graduates and advanced undergraduates in linguistics and in disciplines such as anthropology.
Presents a conceptual and analytic framework in the area of language contact
Addresses central issues on cross-linguistic grammatical patterns
Case studies based on new data
Designed for both advanced undergraduate and research students
1: Alexandra Y. Aikhenvald: Grammars in Contact: A Cross-Linguistic Perspective
2: R. M. W. Dixon: Grammatical Diffusion in Australia: Free and Bound Pronouns
3: Anne Storch: How Long do Linguistic Areas Last? Western Nilotic Grammars in Contact
4: Felix Ameka: Grammars in Contact in the Volta Basin (West Africa): On COntact Induced Grammatical Change in Likpe
5: Gerd Jendraschek: Basque in Contact with Romance Languages
6: John Hajek: Language Contact and Convergence in East Timor: The Case of Tetun Dili
7: Kate Burridge: Language Contact and Convergence in Pennsylvania German
8: Victor A. Friedman: Balkanizing the Balkan Sprachbund: A Closer Look at Grammatical Permeability and Feature Distribution
9: Stephen Matthews: Cantonese Grammar in Areal Perspective
10: Alexandra Y. Aikhenvald: Semantics and Pragmatics of Grammatical Relations in the Vaupés Linguistic Area
11: Patience Epps: The Vaupés Melting Pot: Tukanoan Influence on Hup
12: Willem F. H. Adelaar: The Quechua Impact in Amuesha, an Arawak Language of the Peruvian Amazon
13: Eithne B. Carlin: Feeling the Need: The Borrowing of Cariban Functional Categories into Mawayana (Arawak)
Glossary of Terms
Index

Alexandra Y. Aikhenvald , The Cairns Institute, James Cook University
R.M.W. Dixon , The Cairns Institute, James Cook University
Alexandra Y. Aikhenvald is Professor and Associate Director of the Research Centre for Linguistic Typology at La Trobe University. She has worked on descriptive and historical aspects of Barber languages and published, in Russian, a grammar of Modern Hebrew (1990). She is a major authority on typological and areal features of South American languages, particularly of the Arawak family: Bare (1995, based on work with the last speaker, who has since died), Warekena (1998), and Tariana (2003). Her monographs include Classifiers: a Typology of Noun Categorization Devices (2000, 2003), Language Contact in Amazonia (2002) and Evidentiality (2004), all published by OUP. She is currently working on a reference grammar of Manambu, from the Sepik area of New Guinea. R.M.W. Dixon is Professor and Director of the Research Centre for Linguistic Typology at La Trobe University. He has published grammars of a number of Australian languages (including Dyirbal and Yidiñ), in addition to A Grammar of Boumaa Fijian (1988), The Jarawara Language of Southern Amazonia (2004) and A Semantic Approach to English Grammar (2005). His works on typological theory include Where have All the Adjectives Gone? and Other Essays (1982) and Ergativity (1994). His essay The Rise and Fall of Languages (1997) expounded a punctuated equilibrium model for language development which is the basis for his detailed case study Australian Languages: their Nature and Development (2002). He is currently working on an extensive study of the basic linguistic theory.