Play in Early Childhood Education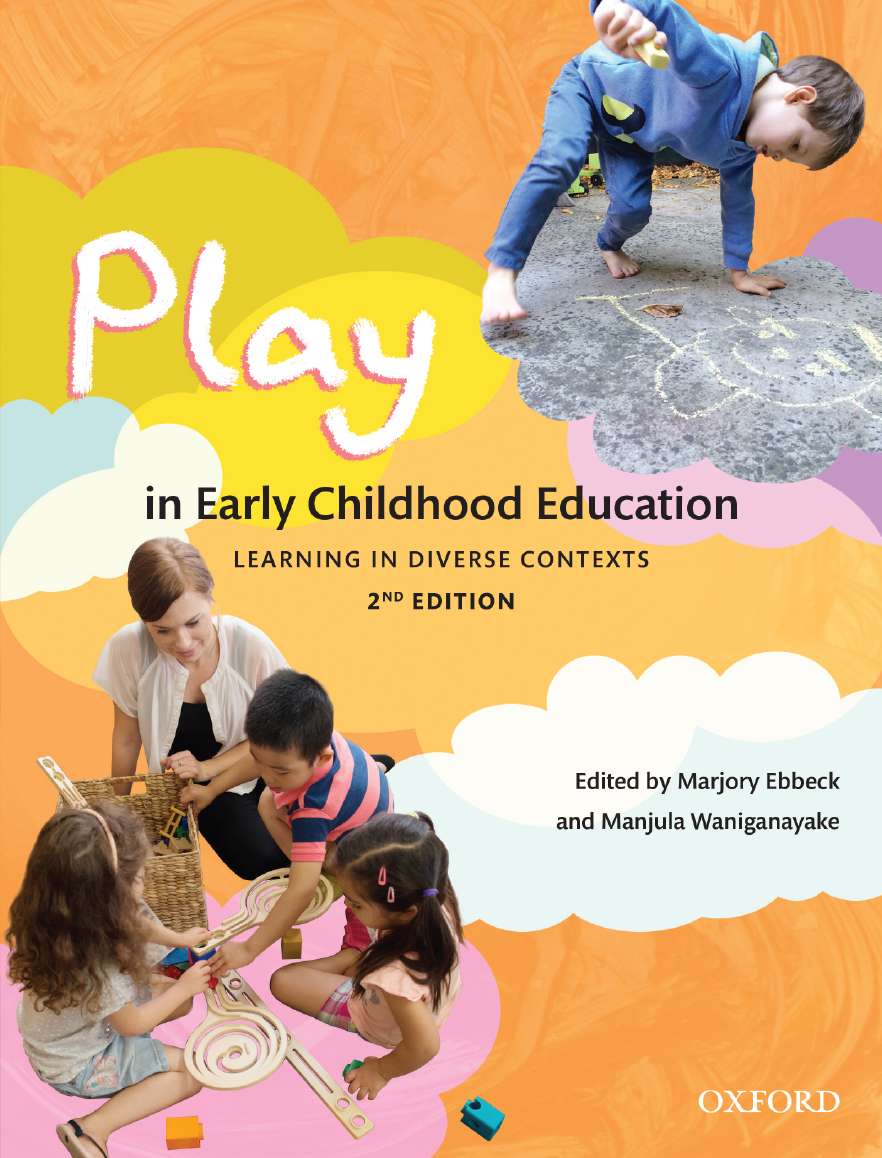 Play in Early Childhood Education
| | |
| --- | --- |
| ISBN: | 9780190303211 |
| Binding: | Paperback |
| Published: | 10 Nov 2016 |
| Availability: | |
| Series: | |
$94.95 AUD
$108.99 NZD
Add To Cart
Other options: Ebook $79.95 AUD $91.99 NZD Ebook Rental $46.95 AUD $53.99 NZD
Request an inspection copy
Description
The topic of play is fundamental to understanding how children grow and learn. Play in Early Childhood Education Second Edition is an essential introduction to the theories behind this play and how it relates to children's development and learning. It enables students and educators to understand the complex learning theories, professional practice and selected government policies that focus on children's play and early learning. This user-friendly text also tackles the rapidly changing contexts where children are raised and educated, demonstrating diverse approaches to play-based learning and considering new insights and possibilities.
Features:
Includes a wide range of real life case examples; teaching examples; and reflections covering the birth to 8 years age range to illustrate theory in practice

Expert author team of early childhood academics

Cross-cultural contexts – examines the power of play in facilitating young children's development and learning in many diverse contexts including Australia, Cambodia, Finland, Tanzania, Singapore and Hong Kong.
Revised to take account of recent significant national policy changes in early childhood in Australia (and in other selected countries) which focus on the interpretation and implementation of Early Years Learning Framework (EYLF) and the National Quality Standard – students will see direct links between play and these policy documents.
Chapters have been re-organised and re-named to better match course content and to assist students' navigation, and understanding of key topic areas, including:

developing early childhood curriculum
assessing children including the use of learning stories
inquiry based learning
ICT and its use with young children
facilitating leadership in young children
working with infants and toddlers
play in the lives of Aboriginal children
consumer culture and its impact on young children's play
learning through science exploration
literacy learning through play
urban spaces and play including play space in the virtual world
the play-work interconnection
curriculum development and play for children in Finland and other countries; guiding children's behaviour.

Five new chapters:

Chapter 2 – Early Years Learning: Implications for Curriculum
Chapter 3 – Assessing Children's Learning through Play
Chapter 9 – Play and the Inquiring Mind
Chapter 10 – Guiding Children's Behaviour
Chapter 12 – Play, Playing Along and Playing it Up: Understanding the Play of Aboriginal Children

The use of ICT based play is covered more extensively
Updated with the latest research and references
Updated case studies to enable students connect theory to practical teaching situations.
Learning Features
Section openers & Chapter objectives: Explain the purpose and the content of each section and give readers a clear outline of what they will learn.
Reflection feature: Asks students to pause and reflect on content they have just read
Margin notes:

These draw attention to key concepts/ideas, summarise content and highlight links to the EYLF.

Case studies: Illustrate theoretical content through real examples depicting children to assist students relate their learning to practice.
Chapter summary: Summarises key points of the chapter to guide readers review content covered.
Key Concepts:

In each chapter, 4-6 key concepts are defined and explained to enable students develop their vocabulary and understanding of ECE concepts. The new key concept icon identifies where each key concept is discussed in the chapter.

Points of discussion and debate: Enable readers to unpack and discuss theories and their practical application.
Annotated key references & Chapter references: Encourage further reading and research.
Contents
SECTION 1: PLAY AND DEVELOPMENT
1.Perspectives on Play in a Changing World
2.Early Years Learning: Implications for Curriculum
3.Assessing Children's Learning through Play
4.Real Play as a Matrix for Learning and Development in Toddlerhood.
5.Infant Play: How Interactions Build and Support Relationships
SECTION 2: PLAY IN ACTION IN DIVERSE ENVIRONMENTS
6.Enhancing Children's Competencies in Playful Learning
7.Being and Becoming Leaders through Play in Early Childhood
8. The Influence of Consumer Culture on Children's Play
9.Play and the Inquiring Mind
10.Guiding Children's Behaviour
11.Redefining Learning in Science through Children's Play
SECTION 3: FAMILIES, COMMUNITIES AND PLAY
12.Play, Playing Along and Playing It Up
13.Children's Play and Work: The Interconnected Contexts for their Learning
14.Play, Learning and Communication
15.Urban Play Spaces for Children
16.Techno-toys Learning and Play: Potentials and Pitfalls
17.Building Intercultural Connections through Technology-based Play
Authors
Marjory Ebbeck is an Emeritus Professor with the University of South Australia, and has a part time role working in Singapore where she continues to be engaged in curriculum development for early childhood education, specifically the birth-to-three age group.
Manjula Waniganayake is a Professor of Early Childhood at the Department of Educational Studies, Faculty of Human Sciences at Macquarie University in Sydney, Australia.
Contributors:
Vicki Banham is Associate Dean (Social Work, Social Science, Counselling, Youth Work) in the School of Arts and Humanities at Edith Cowan University.
Chanel Croker is an early childhood consultant with many years of culturally diverse experience in Australia, Africa and internationally.
Sheila Degotardi is an Associate Professor in Early Childhood at Macquarie University.
Fred Ebbeck has worked in education for many years in a number of capacities, including classroom teacher, principal of teachers' colleges, policy development in teacher education in Government, lecturer and professor.
Alison Elliott is a Professor of Education at the Central Queensland University and an Honorary Professor of Education at the University of Sydney.
Qin Guo is currently a Senior Lecturer in International Communication at Macquarie University.
Aili Helenius is a Professor of Early Childhood Education at the University of Turku, Finland.
Kate Highfield is an early childhood academic at Macquarie University.
Eeva Hujala is an Emeritus Professor of Early Childhood Education at the University of Tampere, Finland as well as an Adjunct Professor of Early Childhood Education at University of Eastern Finland, and Visiting Professor of Education at Tartu University in Estonia.
Pirkko Hyvönen works in the University of Lapland, Finland as an Associate Professor.
Sanly Kam is the General Manager of Child Development and Education Core Business of the Hong Kong Christian Service.
Lai-wan Maria Lee is the Vice President of the Pacific Early Childhood Education Research Association (Hong Kong).
Sirene Lim is a Senior Lecturer at the Singapore Institute of Management (SIM) University.
Karen Martin is a Noonuccal woman from Minjerripah (North Stradbroke Island - south east Queensland) and also has Bidjara ancestry (central Queensland). She has taught for more than 20 years in Aboriginal Community education services in remote, regional and urban areas of Queensland.
Romana Morda is a Senior Lecturer in psychology within the College of Arts at Victoria University.
Emma Pearson is Academic Coordinator for the Doctorate in Education programme at Bishop Grosseteste University, United Kingdom.
Louise Porter is an adjunct Senior Lecturer at Flinders University, South Australia, and a child psychologist with over 35 years' experience in private practice consulting .
Sylvia Reyes received her PhD in early childhood education from the University of South Australia and has just opened an integrated K-12 private school for Cambodian children.
Bonnie Yim is an Associate Professor and the Course Director of the Bachelor of Early Childhood Education Honours (BECE-Hons) and BECE (International) courses at Deakin University.
Marjory Ebbeck is an Emeritus Professor, Early Childhood Education, at University of South Australia Manjula Waniganayake, is a Professor and Director, Postgraduate Coursework Studies & Higher Degree Research Studies in Early Childhood, at Macquarie University
Request an inspection copy