Learning Through Play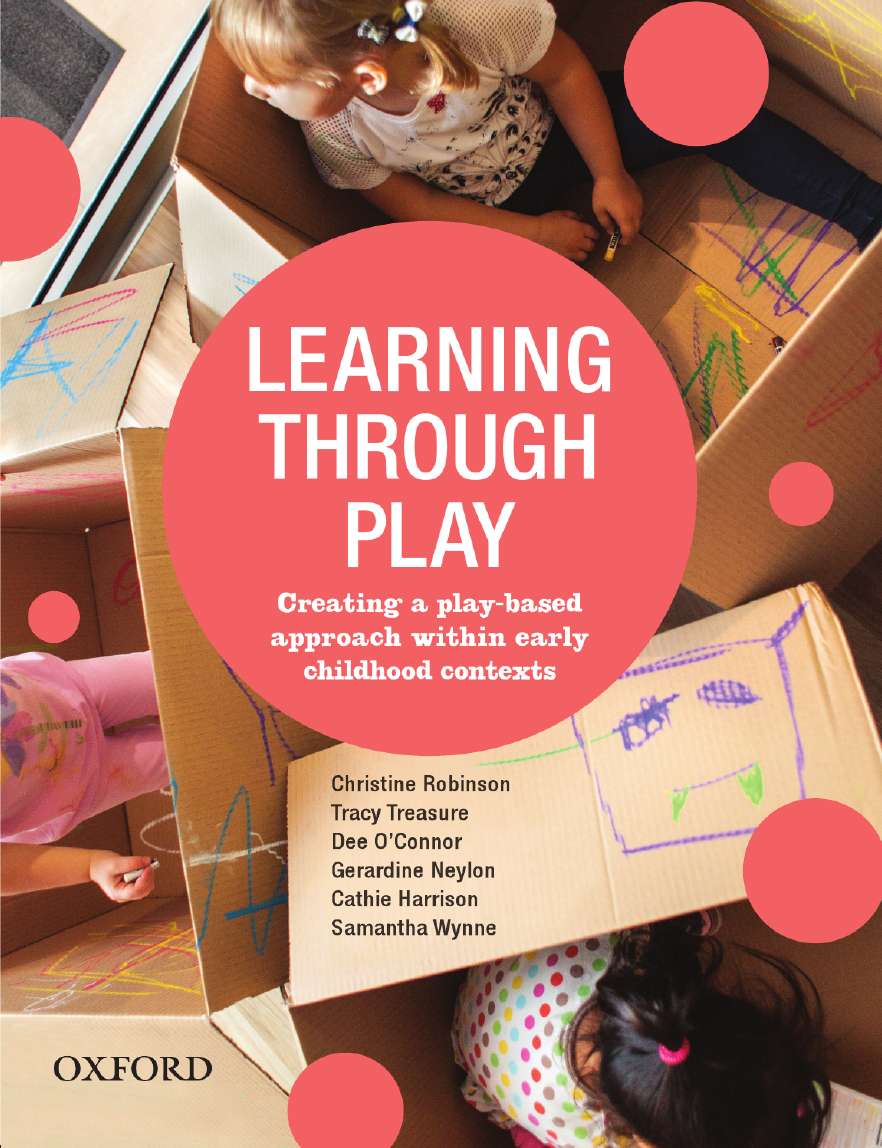 Learning Through Play
| | |
| --- | --- |
| ISBN: | 9780190304829 |
| Binding: | Paperback |
| Published: | 10 Apr 2018 |
| Availability: | 384 |
| Series: | |
$99.95 AUD
$114.99 NZD
Add To Cart
Other options: Ebook $85.95 AUD $98.99 NZD Ebook Rental $50.95 AUD $58.99 NZD
Request an inspection copy
Description
Improve the learning experiences of children by translating the theory of play into practice.

Learning Through Play translates the theory of play into practice while seamlessly integrating the Australian Curriculum, government policy and current trends. It aims to create a shared understanding of play and play-based pedagogies that positively influence the everyday practices of educators and improve the learning experiences of children. The book extensively covers the various contexts that children may engage with during the early years – the period from birth to age 8.

Learning Through Play is structured to complement the Early Years Learning Framework and early childhood education studies. It begins by drawing on theories to discuss the centrality of play to children's development and learning, then delves into the practicalities and challenges of implementing these play-based approaches, and finally discusses the future of play in early childhood contexts. With several learning features that blend theory, context and practical skills, Learning Through Play will not only help pre-service teachers to understand play in principle and in practice, but also to advocate articulately for play-based approaches.

KEY FEATURES
Authored as a complete text, rather than as a collection of individual chapters, the book includes current trends and government changes (NQS, EYLF, AC)
Addresses the Australian context and integrates indoor and outdoor play within several chapters
Addresses cultural diversity and learner diversity in an integrated way
Provides an introduction to play in the early years by focusing on key themes such as nature and therefore matching how courses are taught
Focuses on children from birth to age 8 (across contexts such as home, playgroup, childcare and school) ensuring the language used and examples provided are suitable in these contexts
Links are made throughout the text to current approaches and the way play opportunities intersect with these to provide the context for learning to occur
Throughout the chapters, there are Reflect panels for students to reinforce content previously learnt and reflect on their own experiences; and Investigate panels providing practical activities or research tasks that support the theory
End of each chapter resources include a chapter summary, activities, recommended reading and references.
Contents
PART I: THEORIES AND PERSPECTIVES ON PLAY
1. What is Play? Tracy Treaure
2. Theories of Play: Historical to Contemporary Tracy Treaure
3. Why Play is the Way in Early Childhood Contexts Tracy Treaure

PART 2: CONSTRUCTING A PLAY-BASED APPROACH
4. The Indoor Environment Christine Robinson and Gerardine Neylon
5. Creating Outdoor Environments for Learning Through Play Dee O'Connor
6. The Role of the Educator Within Play-Based Approaches Dee O'Connor
PART 3: CURRICULUM, POLICY AND PLANNING FOR PLAY
7. Current Australian Frameworks and Play Christine Robinson
8. Integrating Curriculum within a Play-Based Approach Cathie Harrison
9. Documentation within Play-based Approaches Samantha Wynne and Gerardine Neylon

PART 4: CONSIDERATIONS FOR EDUCATORS
10. Diversity Considerations in Play Christine Robinson, Tracy Treasure and Dee O'Connor
11. Technology in Play Christine Robinson
12. International Perspectives on Play-Based Approaches Gerardine Neylon and Tracy Treasure
13. The Future of Play: Challenges and Opportunities Christine Robinson
Authors
Dr Christine Robinson - Senior Lecturer and Early Childhood Coordinator at the University of Notre Dame, Fremantle campus
Tracy Treasure - Lecturer at the University of Notre Dame, Fremantle campus
Dr Dee O'Connor - Associate Professor in the School of Education at the University of Notre Dame, Fremantle campus
Dr Gerardine Neylon - Course Coordinator for the Masters of Teaching (Early Childhood Education) in the Graduate School of Education at the University of Western Australia
Dr Cathie Harrison - Senior Lecturer at the Australian Catholic University, North Sydney campus, and teaches in postgraduate early childhood degree programs
Samantha Wynne - Early childhood educator consultant with over 25 years of classroom experience
Request an inspection copy