Integrating Law, Ethics and Regulation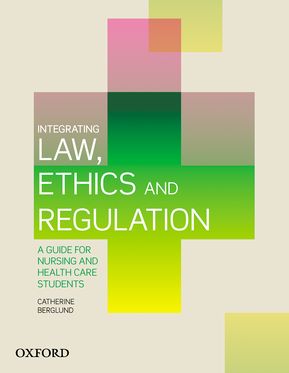 Integrating Law, Ethics and Regulation
| | |
| --- | --- |
| ISBN: | 9780190311339 |
| Binding: | Paperback |
| Published: | 24 May 2019 |
| Availability: | 243 |
| Series: | |
$85.95 AUD
$97.99 NZD
Add To Cart
Other options: Ebook $79.95 AUD $91.99 NZD Ebook Rental $43.95 AUD $49.99 NZD
Request an inspection copy
Description
The fundamentals of law, ethics and regulation that affect everyday work in health care.

Integrating Law, Ethics and Regulation provides a comprehensive analysis of relevant law, ethics, and regulation for allied health and nursing students as they prepare for health care careers. The content and pedagogical structure enables students to appreciate the importance of, and to gain skills in, recognising problematic situations, reflecting on these situations, and taking appropriate action. Featuring realistic case examples with thought-provoking questions, this book brings law, ethics, and regulation to life, encouraging students to respond mindfully, using active reflection and critical reasoning.

KEY FEATURES
Intended for a broad audience, including students from nursing and allied health disciplines
Reflection Activities promote active reflection, critical reasoning and mindfulness skills
Case Examples with simple, thought-provoking questions bring each content area to life
Reflection Points provide short 'igniters' to keep students thinking about some of the more challenging aspects of the chapter
Margin glossary notes highlight key terms throughout the chapter.
Contents
1. Beginning to understand the sources of standards and rules
2. Standards for professional training and practice
3. How the law shapes health care
4. An ongoing dialogue relying on ethics traditions
5. Respect for a patient's journey
6. Personal information privacy and public interests
7. The limits of care
8. Lifelong practice in decision making
9. Timeless quandaries at the beginning and end of life
10. Regulation and availability of health and community services
Authors
Catherine Berglund has worked in applied ethics and regulatory aspects of health care, standards, and policy for close to 30 years. As well as completing a PhD on professional and community limits for medical research, Catherine taught health care ethics for over 20 years at undergraduate and postgraduate levels, is qualified in law, and contributes to many regulatory and practical standards endeavours for registered health professionals and health care workers.
Lecturer Resources
The following resources are available for lecturers who prescribe Integrating Law, Ethics and Regulation for their course:
Instructor's Resource Manual - featuring an introduction, glossary, icebreaker activities, tutorial activities, sample assessment work, and short-answer questions and exercises
Test bank - including short answer, multiple-choice, and true or false questions.
For more information about these resources please contact your Oxford Learning Resource Consultant.
Request an inspection copy