Law and Business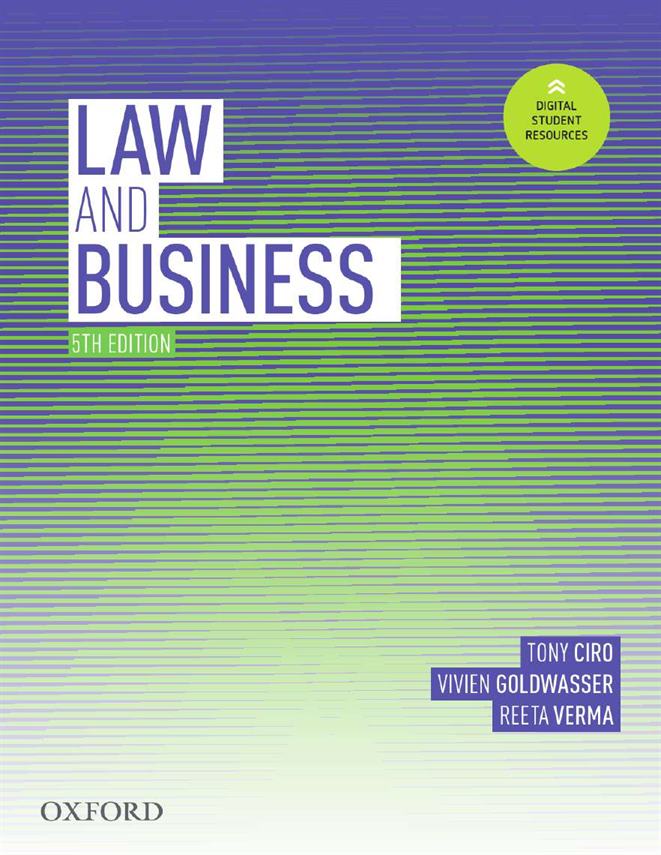 Law and Business
| | |
| --- | --- |
| ISBN: | 9780190310134 |
| Binding: | Paperback |
| Published: | 5 Dec 2019 |
| Availability: | 999 |
| Series: | |
$135.00 AUD
$154.99 NZD
Add To Cart
Other options: Ebook $121.95 AUD $139.99 NZD Ebook Rental $67.95 AUD $77.99 NZD
Request an inspection copy
Description
Law and Business, fifth edition, is your comprehensive guide to understanding the complex legal principles that govern the practice of business and commercial law in Australia. The book grounds you in the Australian legal system before exploring the core subjects you need to understand—contract law, tort law, commercial law, and business organisations law.

Taking a skills-based approach, this book develops your knowledge of legal rules with problem-solving exercises, case extracts and review questions. It emphasises learning case analysis and statutory interpretation techniques and provides you with a foundation for further study and future careers.

NEW TO THIS EDITION
Includes an introductory chapter on learning effectively in business law subjects
Significantly revised chapters on competition and consumer law (Ch. 16), property law (Ch. 17) and intellectual property (Ch. 18)
Fully updated with illustrative cases and legislation, including:

ACCC v Coles Supermarkets Australia Pty Ltd [2015] FCA 330, highlighting misleading or deceptive conduct
Strong v Woolworths Ltd [2012] HCA 5, exploring the legal liability of business operators for negligence
McCabe v British American Tobacco Australia Limited [2002] VSC 73, examining negligence in manufacturing and marketing and resulting liabilities

Learning features such as 'Study Tips' that draw out key elements of a concept; 'Key Points' that highlight vital information; and 'Suggested Approach' sections with examples showing possible solutions.
Contents
Learning Effectively in Business Law Subjects
PART I: INTRODUCTION TO BUSINESS LAW
1. The Australian Legal System
2. The Australian Constitution
PART II: CONTRACT AND TORT LAW
3. Tort Law and Business
4. Introduction to Contract Law
5. Formation
6. The Parties
7. The Terms
8. Discharge
9. Vitiating Factors and Rescission
10. Consumer and Business Protection Legislation: Misleading or Deceptive Conduct
11. Consumer and Business Protection: Statutory Unconscionability
12. Remedies for Breach of Contract, Statutory Consumer Guarantees and Implied Terms
13. Agency
PART III: BUSINESS ORGANISATIONS AND COMMERCIAL LAW
14. Choice of Business Structure
15. Introduction to Company Law
16. Competition and Consumer Law
17. Property Law
18. Intellectual Property
19. Employment and Industrial Relations Law
Authors
Tony Ciro – Professor, Faculty of Law and Business, Australian Catholic University
Vivien Goldwasser – former Associate Professor, La Trobe Law School, La Trobe University
Reeta Verma – Lecturer in Law, Charles Sturt University, Study Centre Melbourne
Student Resources
Each print copy of Law and Business, fifth edition, will come with access to Digital Student Resources with:
Interactive multiple choice questions aligned with each chapter to test your understanding
Interactive true/false questions that help you reinforce what you've learnt and allow you to self-test
To access your Law and Business, fifth edition, Digital Student Resources:
Go to vitalsource.com
Create an account
Activate the code (inside your textbook) within your account
This code can only be activated once. Once activated, access is valid for 3 years.
Lecturer Resources
The following resources are available for lecturers who prescribe Law and Business, fifth edition, for their course:
Instructor's Resource Manual with answers to end of chapter questions
PowerPoint slides outlining key concepts covered in each chapter
Image gallery
For more information about the resources for Law and Business, fifth edition, please contact your Oxford Learning Resource Consultant.
Request an inspection copy