Corporations Law Value Pack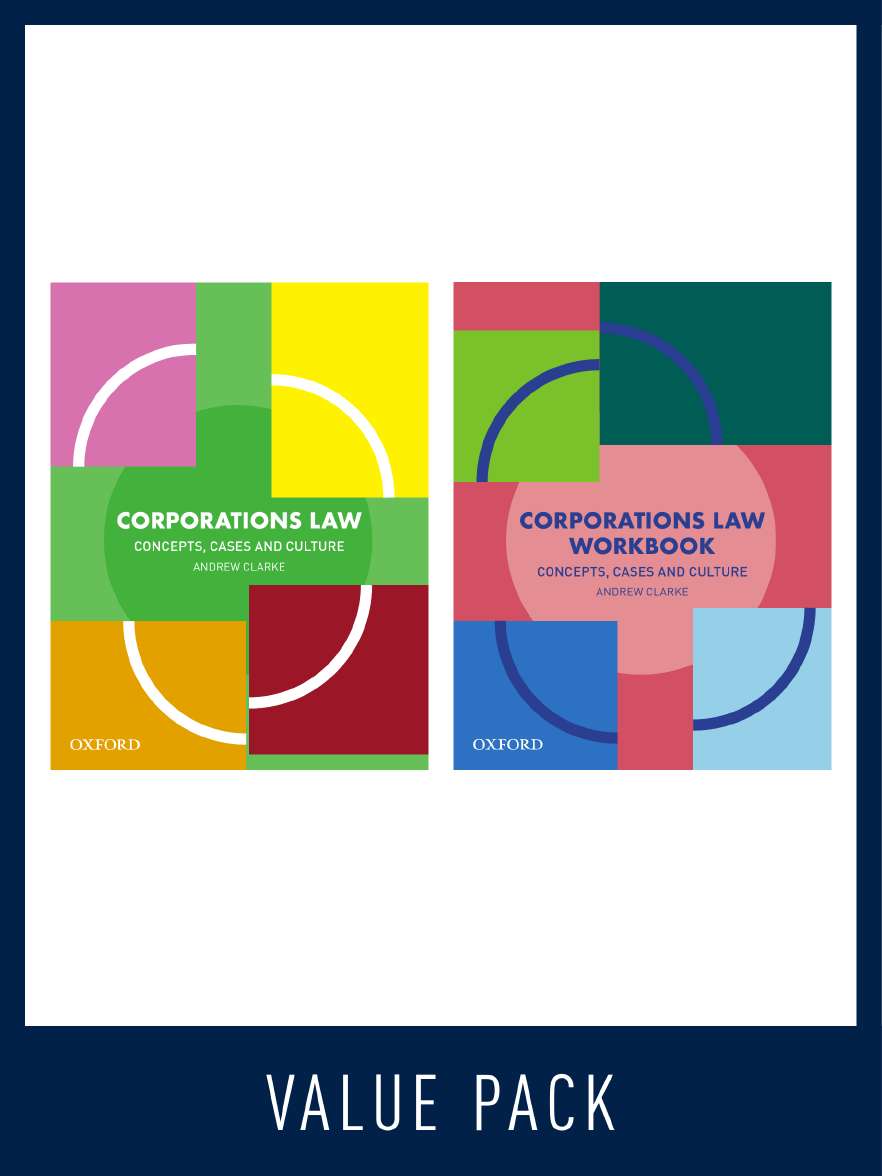 Corporations Law Value Pack
| | |
| --- | --- |
| ISBN: | 9780190323011 |
| Binding: | Value Pack |
| Published: | 27 Oct 2020 |
| Availability: | 999 |
| Series: | |
$99.95 AUD
$114.99 NZD
Add To Cart
Request an inspection copy
Description
A concise, practical approach to teaching corporations law
This value pack contains Corporations Law: Concepts, Cases and Culture textbook and workbook.
Corporations Law: Concepts, Cases and Culture contains a student-focused structure of chapters which focus on individual topics relevant to the study of corporate law, with focus on the law degree. Designed flexibly for a one semester course or a shorter block model course, it takes a modular approach, providing flexibility in how to deliver the content. This contemporary style takes a practical approach, with an emphasis on skills development, so students can understand the basic principles and learn the key elements of contemporary corporate law.
Corporations Law: Concepts, Cases, and Culture examines the three distinct and overlapping areas relating to corporate law:
Concepts explores the main concepts and theories behind the law, rules and principles relevant to companies.
Cases focuses on key case law underpinning the corporation and provides an insight into how modern company law has developed.
Culture examines the corporate context with a focus on corporate governance and regulation, and how cultural shortcomings can lead to corporate misconduct.
The complementary write-in workbook provides targeted exercises to allow students to develop strong practical skills. It takes a scaffolded approach, starting with easy activities and building to more complex tasks within chapters, and as the book progresses. These activities can be used in tutorials or for student 'at-home' self-assessment.
Contents
1 The Corporation: Introduction and Overview
2 Business and Business Entities
3 Establishing the company- practicalities of registration
4 The rules of the corporation and the role of statute
5 The Corporation entering into contracts
6 Stakeholders of the corporation
7 Company leadership and the board of directors
8 Directors as agents of the company- roles and responsibilities
9 Shares- property, investment, and potential return
10 Membership: meetings, rights, responsibilities
11 Share capital and control issues
12 Corporate Finance I: Raising share capital from shareholders
13 Corporate Finance II: Loan Capital
14 External Administration
15 Winding up the corporation
16 The corporation and the contemporary cultural context
17 Legal skills and Law in the 21st century
18 Revision activity answers (workbook only)
Authors
Dr Andrew Clarke is Coordinator of Corporate Law and a Professor in the College of Law & Justice, Victoria University, Melbourne. Andrew was formerly Foundation Dean of the College.
Lecturer Resources
The following resources are available for lecturers who prescribe Corporations Law: Concepts, Cases and Culture value pack for their course:
Instructor's Resource Manual including additional case studies and solutions
PowerPoint Slides outlining key points which are aligned to the textbook and workbook that can be adapted or added to as needed.
For more information about these resources please contact your Oxford Learning Resource Consultant.
Request an inspection copy