The New Law of Torts Case Book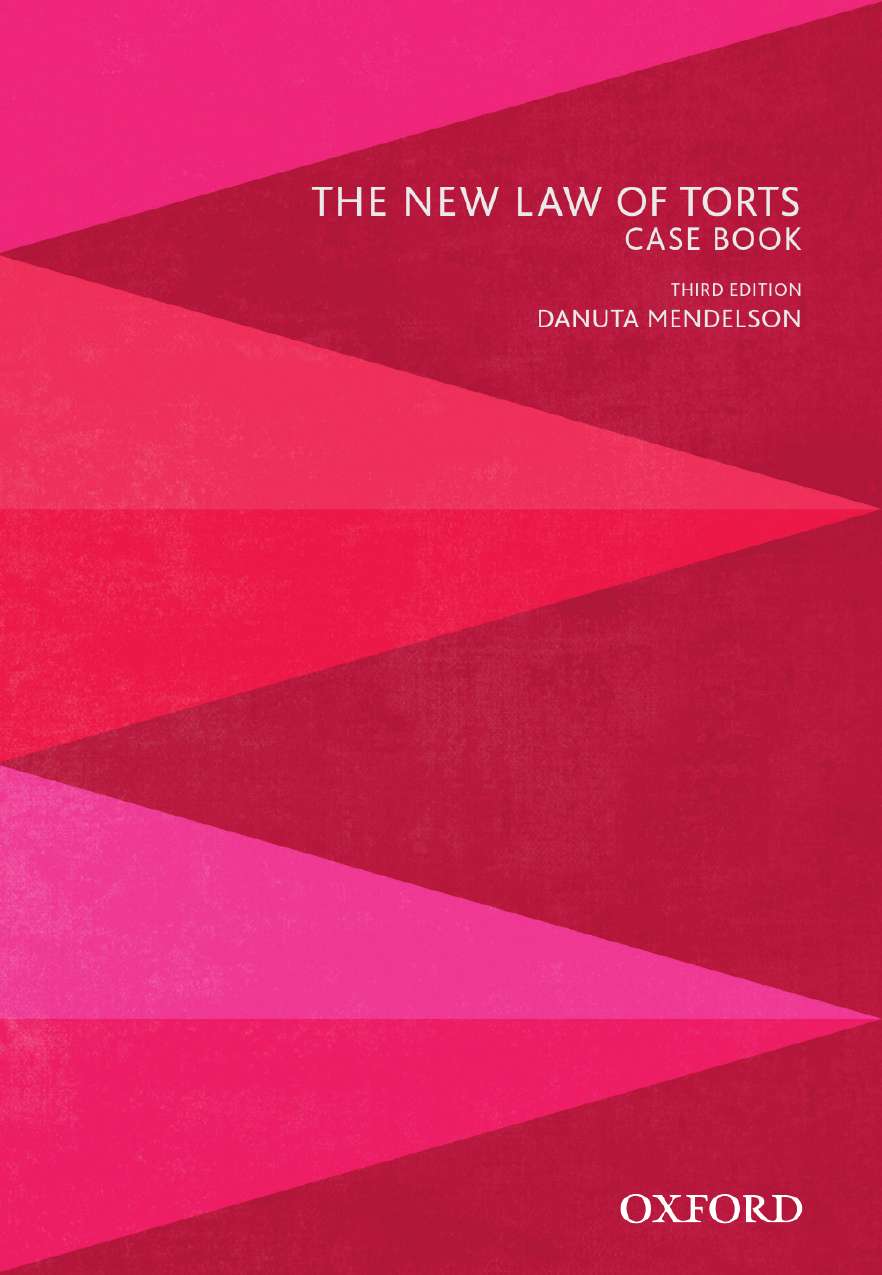 The New Law of Torts Case Book
| | |
| --- | --- |
| ISBN: | 9780195525076 |
| Binding: | Paperback |
| Published: | 28 Nov 2014 |
| Availability: | 48 |
| Series: | |
$63.95 AUD
$72.99 NZD
Add To Cart
Request an inspection copy
Description
The New Law of Torts Case Book is a collection of edited cases, designed as a companion to The New Law of Torts textbook. It provides students with access to a carefully selected range of case extracts of seminal judgements that have created and shaped the modern law of torts, provides examples of judicial reasoning and illustrates approaches to doctrines that govern the interpretation and construction of statutes. Cases extracted in this volume allow the readers to form their own opinions and perspectives on themes and issues presented in the textbook.
New to this edition
Expanded collection of case extracts that mirror the table of contents of principles text.
Recent key cases that have been added include:

Wallace v Cam [2013] HCA19 – relates to remoteness of damage and causation and proof of breach
Strong v Woolworths [2012] HCA 5; 246 CLR 182 – relates to Breach of Duty of Care and Causation and Proof of Breach
Levy v Watt and Anor [2014] VSCA 60 – relates to Torts of Intentional Interference with Goods and Personal Property and Defences to Intentional Torts
The New Law of Torts Pack includes both The New Law of Torts 3rd edition and The New Law of Torts Case Book 3rd edition.
Contents
PART I: INTRODUCTION
1. Introduction to the Law of Torts and Historical Overview
2. Damages
3. Survival Actions and Wrongful Death; Statutory Compensation Schemes
PART II: INTENTIONAL TORTS
4. Trespass to the Person (Battery and Negligent Trespass; Assault and False Imprisonment)
5. Trespass to Land
6. Miscellaneous Intentional Torts of Action on the Case for Personal Injury
7. Deceit and Injurious Falsehood
8. Torts of Intentional Interference with Goods or Personal Property
9. Defences to Intentional Torts
PART III: THE TORT OF NEGLIGENCE
10. Negligence: Duty of Care
11. Breach of Duty of Care
12. Causation and Proof of Breach
13. Remoteness of Damage
PART IV
PARTICULAR CATEGORIES OF CASE
14. Pure Nonfeasance (Pure Omissions)
15. Mental Harm: Liability for Negligently Occasioned Pure Psychiatric Injury
16. Pure Economic Loss
PART V: DEFENCES TO NEGLIGENCE
17. Defences to Negligence
PART VI: STRICT-LIABILITY TORTS
18. Public and Private Nuisance
19. Breach of Statutory Duty
20. Vicarious Liability and Non-delegable Duty of Care: Types of Liability
PART VII: DEFAMATION
21. Establishing Defamation
22. Defences and Remedies in Defamation Law
Authors
Danuta Mendelson – Professor and Associate Head of School (Research), School of Law, Deakin University
ContributorsSharon Erbacher - Senior Lecturer, School of Law, Deakin University
Sample Pages
Read a sample chapter from The New Law of Torts Case Book:
Request an inspection copy