Oxford Minidictionary for Nurses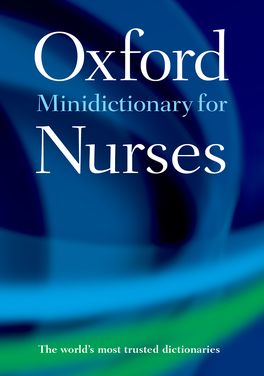 Oxford Minidictionary for Nurses
| | |
| --- | --- |
| ISBN: | 9780198788461 |
| Binding: | Paperback |
| Published: | 1 Jun 2017 |
| Availability: | 713 |
| Series: | |
$13.95 AUD
$15.99 NZD
Add To Cart
Description
The new edition of this bestselling and trusted dictionary has been fully updated and revised to take account of recent developments in nursing practice and related fields. Updates to this edition cover many areas, with a particular focus on areas such as nutrition, medical research, lymphology, and critical care nursing.

Written by medical and nursing specialists, and offering more than 10,300 clear and concise entries on the theory and practice of nursing, the dictionary provides comprehensive coverage of the ever-expanding vocabulary of the nursing professions. As well as nursing-specific terms, there are also many entries in the fields of medicine, anatomy, physiology, ethics, psychiatry, nutrition, statistics, and pharmacology. Almost 100 helpful illustrations and tables, and 17 appendices covering the Code of Conduct 2015, the calculation of drug dosages, essential skill clusters, religion and nursing practice, recommended alcohol intake, and much more, make this an essential reference tool for all nursing students and professionals.
Contents
Pronunciation guide
Dictionary
Appendices
Biochemical references for values for blood
Biochemical reference values for urine
Biochemical reference values for faeces
Haematological reference values
Body mass index (BMI)
Formulae for calculating drug dosages
Alcohol: ABV and recommended intake
Immunization schedules
Essential skills clusters
Guidelines for resuscitation
The Human Rights Act
Religion and nursing practice
Health care websites
Degrees and diplomas
SI units
Abbreviations
The NMC code of professional conduct: standards for conduct, performance, and ethics

Authors
Edited by Elizabeth A. Martin, Formerly of Market House Books
Elizabeth Martin MA is a former managing editor at Market House Books Ltd. Tanya McFerran MA, SRN, RSCN, Cert. Ed. is senior lecturer at Anglia Ruskin University, UK.
Reviews
Review from previous edition: "[This Dictionary] is a comprehensive and easy access guide to common medical terms, allowing members of the profession to understand and competently deal with rare and specific conditions.' - Allison Crocker, theatre practitioner, Poole Hospital NHS Foundation Trust; Nursing Times
"The ideal book for those on the front line of medicine." Northern Echo
"Contains every definition a nurse could possibly need" Independent