Crime, Criminality and Criminal Justice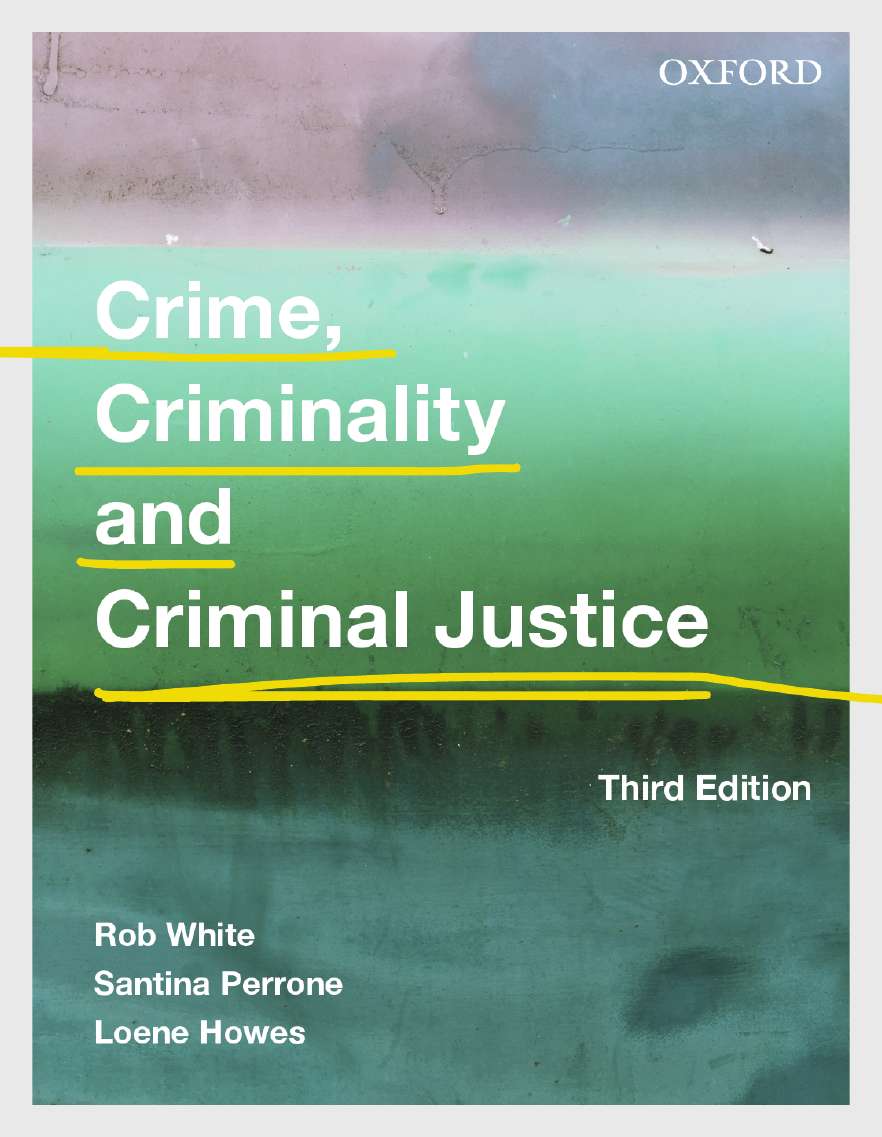 Crime, Criminality and Criminal Justice
| | |
| --- | --- |
| ISBN: | 9780190310080 |
| Binding: | Paperback |
| Published: | 20 May 2019 |
| Availability: | 396 |
| Series: | |
$118.95 AUD
$135.99 NZD
Add To Cart
Other options: Ebook $110.95 AUD $126.99 NZD Ebook Rental $61.95 AUD $71.99 NZD
Request an inspection copy
Description
Crime, Criminality and Criminal Justice, third edition, is the complete introduction to everything students need to know as they begin their studies in crime and criminology. It has been updated with the most current examples and references, as well as emerging issues and trends. It covers key subject areas including what crime is, types of crime, crime theory, systems and institutions of crime, crime and social inequality, and difference and criminal justice—all within an Australian context. Written in an engaging style, this new edition encourages critical thinking about the subject matter and features thought-provoking discussion questions and issues for consideration. This text will prove to be a valuable reference throughout a criminology degree.

NEW TO THIS EDITION
New discussion topics including media criminology, cybercrime, green criminology, and critical forensic studies
Incorporates the most current examples and references
Includes updated coverage of emerging issues and trends in an Australian context
Introduces the foundational explanations for the causes of crime in a consolidated theory chapter.
Contents
PART 1: CRIME AND CRIMINALITY
1. Doing Criminology
2. Crime and the Media
3. Criminological Theory
4. Victims and Victimology
5. Crime and Social Inequity
6. Crime and Social Difference
7. Crimes against Property
8. Crimes against the Person
9. Crimes against Convention
10. Crimes of the Powerful
11. Transnational Crimes and Global Criminology
12. Eco-crime and Green Criminology
13. Cyber-crime and Digital and Communications Technologies
PART 2: INSTITUTIONS OF CRIMINAL JUSTICE
14. Police Roles and Techniques
15. Different Policing for Different People
16. Forensic Studies
17. Law and the Legal Profession
18. Courts and Court Processes
19. Juvenile Justice
20. Access to Alternatives to Justice
21. Judicial Decisions and Sentencing
22. Punishment and Penalty
23. Incarceration and Prisonisation
24. Community Corrections
25. Rehabilitation and Restorative Justice
26. Crime Prevention
Authors
Rob White – Professor of Criminology, School of Social Sciences, University of Tasmania
Santina Perrone – Policy Manager, Department of Premier and Cabinet, Victoria
Loene Howes – Lecturer, Criminology, University of Tasmania
Lecturer Resources
The following resources are available for lecturers who prescribe Crime, Criminality and Criminal Justice, third edition, for their course:
Instructor's Resource Manual
Test bank
Image gallery
PowerPoint slides aligned with each chapter of the text.
For more information about the resources for Crime, Criminality and Criminal Justice, third edition, please contact your Oxford Learning Resource Consultant.
Request an inspection copy