Social Research Methods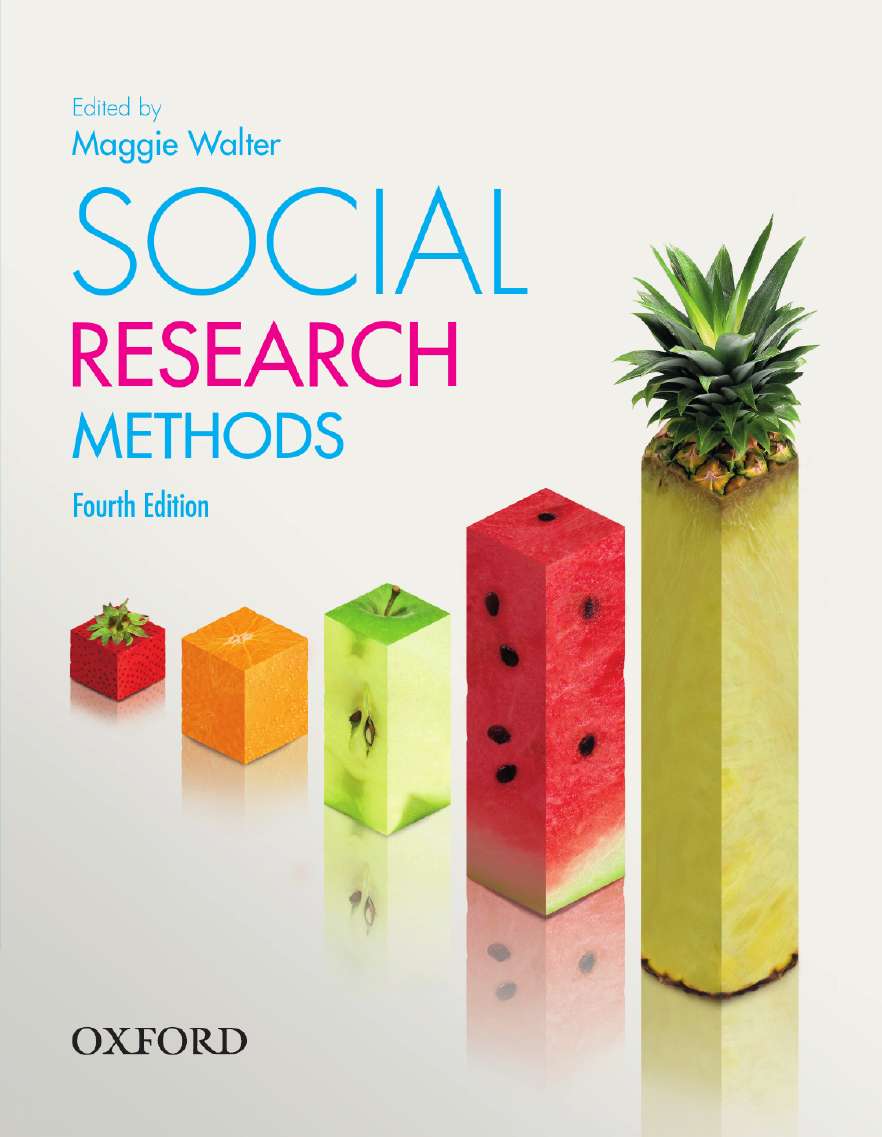 Social Research Methods
| | |
| --- | --- |
| ISBN: | 9780190310103 |
| Binding: | Paperback |
| Published: | 23 Sep 2019 |
| Availability: | 536 |
| Series: | |
$95.95 AUD
$110.99 NZD
Add To Cart
Other options: Ebook $86.95 AUD $98.99 NZD Ebook Rental $48.95 AUD $55.99 NZD
Request an inspection copy
Description
A beginner's guide to Australian and New Zealand social research practices

Social Research Methods, fourth edition, is an introductory text for undergraduate social research students. This new edition aims to inspire and continue students' engagement with social research by presenting the requisite introductory skills within a framework of exciting, up-to-date, relevant Australian and New Zealand research.

This textbook includes new chapters and expands on difficult areas to encourage students to develop a set of practical research skills in line with contemporary Australian and New Zealand social research. It is vital for beginner social scientists to have a broad and comparative understanding of the major contemporary social research methods and this text aims to provide this requisite.

NEW TO THIS EDITION
New Case Studies outlining personal stories about individuals' research journeys and their approach
New Voices in the Field profiles from prominent academics and researchers to provide students with insight into the profession
Updated numbered Exercises in each chapter to help students check their understanding
Updated Chapter Overviews to introduce each chapter with context and background
Updated From Method to Practice components provide examples of how each method works in a real-life research project
Three new chapters on topical areas:

Chapter 9: Quantitative Research Methods
Chapter 16: Aboriginal and Torres Strait Islander Community-based Research
Chapter 17: Internet Research and Digital Media Methods

Three chapters rewritten by new authors:

Chapter 4: Ethics and Social Research
Chapter 8: Descriptive Statistical Analysis using SPSS
Chapter 18: Writing for Research
Contents
PART 1: THE FOUNDATIONS OF GOOD SOCIAL SCIENCE RESEARCH
1. The Nature of Social Science Research
2. Research Design
3. The Research Process
4. Ethics and Social Research
5. Sampling
PART 2: QUANTITATIVE METHODS AND THE POWER OF THE NUMBERS
6. Surveys
7. Population-level Analysis
8. Descriptive Statistical Analysis using SPSS
9. Quantitative Research Methods
PART 3: QUALITATIVE METHODS AND MEANING-MAKING
10. Qualitative Interviewing Methods
11. Content Analysis
12. Discourse Analysis
13. Analysing Qualitative Data
14. Doing Evaluation Research
15. Ethnography
16. Aboriginal and Torres Strait Islander Community-based Research
17. Internet Research and Digital Media Methods
18. Writing for Research
Authors
Edited by Maggie Walter - Professor of Sociology and Pro Vice-Chancellor Aboriginal Research and Leadership at the University of Tasmania.

CONTRIBUTORS

Susan Banks research interests are in workplaces and culture, meaning and identity, the participation and inclusion of people from marginalised groups, and the sociology of emotion. These themes have been explored in work on the social construction of health, anticipatory care, disability and ageing, and the role of social policy, and in her teaching at the University of Tasmania.

Brendan Churchill is a Quantitative Sociologist in the School of Social and Political Sciences at the University of Melbourne. His research focuses on the intersections of work, gender and family and in particular, how the new work order—precarious, insecure work, the gig economy and AI—are reconfiguring gendered inequalities.

Douglas Ezzy Ph.D., is Professor of Sociology at the University of Tasmania, Australia. He is Editor of the Journal for the Academic Study of Religion. His research includes both health sociology and contemporary religious diversity.

Nicholas Hookway Ph.D., is a Lecturer in the School of Social Sciences. His research focuses on how morality, identity and giving behaviours are being reshaped by wider social change. Nick uses empirical case studies, including kindness, volunteering and ethical consumption to answer big questions about how processes of individualism, consumerism and technological change are transforming Western societies.

Natalie Jackson has published extensively on population and ageing issues in Australia and New Zealand. Her main areas of research are the implications of the different rates of population ageing drivers at subnational level, the end of population growth, whether Australia's and New Zealand's baby boomers will work longer than their predecessors, and whether the demographic dividend for the Aboriginal and Māori populations of these two countries can be realised.

Keith Jacobs is based at the School of Social Sciences at the University of Tasmania. His most recent publications include House, Home and Society (co-authored with Rowland Atkinson, Palgrave 2016 ) and an edited collection with Jeff Malpas, Philosophy and the City: Interdisciplinary and Transcultural Perspectives (Rowman and Littlefield 2019). Keith's upcoming book is Neoliberal Housing Policy: An International Perspective (Routledge 2019).

Tahu Kukutai is a Professor of Demography at the National Institute of Demographic and Economic Analysis, The University of Waikato. Tahu specialises in Māori and indigenous demographic research and is a founding member of the Māori Data Sovereignty Network Te Mana Raraunga. She was previously a journalist.

Vanessa Lee Ph.D., is from the Yupungathi and Meriam people. She is a Social Epidemiologist, Educator and Public Health/Health Sciences Researcher within the discipline of Behavioural and Social Sciences in the Faculty of Health Sciences (FHS) at the University of Sydney. She has local, national and international research experience within the area of public health and Indigenous health.

Associate Professor Raymond Lovett is an Aboriginal (Wongaibon/Ngiyampaa) Social Epidemiologist at the Australian National University with extensive experience in cohort studies, health services research, public health policy development and health program evaluation.

Robyn Moore is a Researcher in the School of Social Sciences at the University of Tasmania. Her PhD research was a longitudinal analysis of performances of whiteness in Australia. She employs an intersectional lens to examine normalised privilege and disadvantage, particularly with regard to race and gender.

Laimena (Wilo) Muwadda is a Research Associate based at the Faculty of Health Sciences at the University of Sydney.

Kristin Natalier is a Qualitative Researcher whose work addresses the gendered dynamics of familial relationships. She is undertaking an ARC-funded study on children's understandings of 'home' when their parents separate or divorce, and research on the housing needs of women who have survived domestic violence and sexual assault.

Huw Peacock is a palawa man, descended from the pairrebenne people of North East lutruwita (Tasmania). In 2015, Huw graduated from the University of Tasmania with a Bachelor of Social Science and has now begun his career at the University of Tasmania as a Research Assistant in Office of the Pro Vice-Chancellor, Aboriginal Research and Leadership. He is currently involved with research projects regarding Aboriginal and Torres Strait Islander education and health. Huw is also undertaking a Masters by Research and is particularly interested in social science statistics.

Felicity Picken's work contributes towards the broader scholarship concerned with changing relations between humans and nature and the strange living out of the Anthropocene. Her recent work focuses on the emergence of the 'blue planet' as a significant social actor and explores how relations with oceanic environments are evolving.

Bruna Ragaini, Ph.D., is a Social Researcher based at the Menzies Institute for Medical Research at the University of Tasmania. Her research interests include tourist behaviour and visitor experience and tourism marketing.

Brady Robards is a Senior Lecturer in Sociology at Monash University. He studies digital culture, with a focus on how people use and produce social media. Brady has studied social media use among particular groups, such as LGBTIQ+ people, young people, tourists, and in the context of alcohol consumption.

Bruce Tranter is a Sociologist with research interests in climate change scepticism, political and social movement leaders and national identity. His recent publications include Leadership and the Construction of Environmental Concern (with Libby Lester and Lyn McGaurr; Palgrave Macmillan 2017) and Exploring National Identity (with Jed Donoghue; Emerald 2018).

Max Travers teaches qualitative research and sociological theory. He has published in the areas of sociology of law, criminology, and qualitative research methods. Previous publications include Qualitative Research through Case Studies (Sage 2001) and The Sentencing of Children (2012). He is currently working on a project about bail practices. and court reform.

Maggie Walter, Ph.D., is Professor of Sociology and has taught social research methods at the University of Tasmania since 2004. Her key research interests are the discourse and impact of social policy, and the terrain of race relations as they relate to Indigenous peoples. She is a palawa woman (Tasmanian Aborigine) and has a strong scholarly interest in Indigenous data and Indigenous methodology.

Rob White has research and scholarly interests in criminology and youth studies, with a special interest in green criminology.

Karen Willis is Professor, Allied Health Research, La Trobe University and Melbourne Health. She is interested in the use of qualitative methods to achieve best evidence in health policy and practice. Her current research examines healthcare choices, public/private healthcare provision, and healthcare for people with chronic health conditions.
Lecturer Resources
The following resources are available for lecturers who prescribe Social Research Methods, fourth edition, for their course:
PowerPoint slides
Interview transcripts
New AuSSA 2016 dataset to use for the tutorial exercises.
Cover document for AuSSA dataset including details on how to download the program.
Please note: Lecturers will need the .SAV file extension to access these datasets.

For more information about the resources for Social Research Methods, fourth edition, please contact your Oxford Learning Resource Consultant.
Request an inspection copy