The Oxford Companion to Cosmology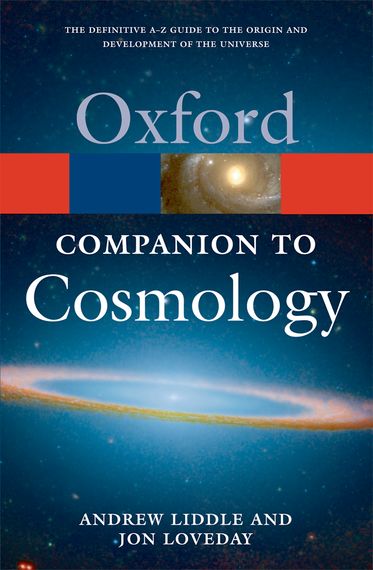 The Oxford Companion to Cosmology
| | |
| --- | --- |
| ISBN: | 9780199560844 |
| Binding: | Paperback |
| Published: | 9 Jul 2009 |
| Availability: | |
| Series: | |
$31.95 AUD
$41.99 NZD
Description
The Oxford Companion to Cosmology is a comprehensive but accessible encyclopedic overview of this enduringly popular subject. With over 350 in-depth entries - ranging from cosmic inflation and dark energy to Higgs boson and neutrinos - it both illuminates the ideas behind the current understanding of the Universe and outlines the fundamental physics from which those ideas emerge.

Subjects covered include the structure of the Universe - its rate of expansion and the particles out of which it is composed - the evolution of galaxies, galaxy clusters, and cold dark matter. It encompasses both theoretical ideas such as alternative cosmologies and the various types of observational evidence, including redshift surveys and cosmic microwave background radiation. It appears at a time when there is a growing consensus about the origins and development of the Universe, centred around the hot Big Bang and the emerging Standard Cosmological Model, and an introductory overview brings the reader up to date on current thinking.

Written by established experts in theoretical and observational cosmology, the Companion is an invaluable reference resource for students, teachers, science writers, and anyone with a serious interest in cosmology. Extensive cross-referencing allows the reader to unravel the ideas behind the terminology, and over 170 illustrations bring the subject to life. An index offers an alternative way of exploring the topics covered, and recommended entry-level web links provide a source of valuable extra information.
Contents
Preface
Glossary
Commonly used symbols
Overview: the Hot Big Bang Cosmology
The Oxford Companion to Cosmology A-Z
Index

Authors
Andrew Liddle , University of Sussex
Jon Loveday , University of Sussex
Andrew Liddle is Professor of astrophysics at the Astronomy Centre of the University of Sussex, and a university Director of Research. He is the author or co-author of more than 150 scientific papers and two technical textbooks. His research focuses on theoretical cosmology and astrophysics, in particular on the origin and evolution of the structure of the Universe. Jon Loveday is Senior Lecturer in astronomy at the University of Sussex. He is also director of graduate studies. He has previously held positions at the University of Chicago, Fermi National Accelerator Laboratory, and the Australian National University. He is the author or co-author of more than 100 scientific papers. His research focuses on observational cosmology and galaxy surveys.
Reviews
`authoritative and entertaining' New Scientist
`the range of expertise displayed is very impressive' The Observatory