The Oxford Dictionary of Music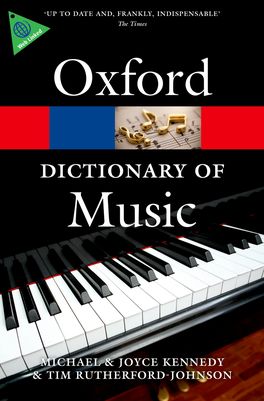 The Oxford Dictionary of Music
| | |
| --- | --- |
| ISBN: | 9780199578542 |
| Binding: | Paperback |
| Published: | 22 Oct 2013 |
| Availability: | 31 |
| Series: | |
$33.95 AUD
$38.99 NZD
Add To Cart
Description
Now available in paperback and with over 10,000 entries, the Oxford Dictionary of Music (previously the Concise Oxford Dictionary of Music) offers broad coverage of a wide range of musical categories spanning many eras, including composers, librettists, singers, orchestras, important ballets and operas, and musical instruments and their history.
The Oxford Dictionary of Music is the most up-to-date and accessible dictionary of musical terms available and an essential point of reference for music students, teachers, lecturers, professional musicians, as well as music enthusiasts.
Contents
Preface
Abbreviations
Designation of Notes by Letters
Dictionary
Appendices
Appendix 1: Directions and expression markings in French, German, and Italian
Appendix 2: List of abbreviations found in musical scores

Authors
Edited by Tim Rutherford-Johnson
Edited by Michael Kennedy
Edited by Joyce Kennedy
Tim Rutherford-Johnson has worked for the New Grove Dictionary of Music and Musicians since 1999 and until 2010 was the editor responsible for the dictionary's coverage of 20th- and 21st century music. He has published and lectured on several contemporary composers, and regularly reviews new music for both print and online publications. Michael Kennedy was chief music critic of The Sunday Telegraph from 1989 to 2005. Before that he was a staff music critic on The Sunday Telegraph from 1950 and its Northern Editor from 1960 to 1986. He is an authority on English music of the 20th century and has written books on Elgar, Vaughan Williams, Britten, and Walton as well as on Mahler, Strauss, Barbirolli, Boult, and the Hallé Orchestra. He was awarded the OBE in 1981 and the CBE in 1997, and is a member of the Board of Governors of the Royal Northern College of Music, Manchester. The honorary degree of Doctor of Music was conferred on him in 2003 by the University of Manchester. Joyce Bourne practised for almost 30 years as an anaesthetist and general practitioner until her retirement in 1990. She has a lifelong interest in and love of music and has assisted Michael Kennedy with his works since 1978, both as researcher and typist. Her book Who's Who in Opera was published in 1998.
Reviews
`The easiest way to tune yourself in' Steve Craggs, Northern Echo
`Review from previous edition indispensable' Yorkshire Post
`clearly the best around . . . the dictionary that everyone should have' Literary Review
`a pleasure to dip into' Times Educational Supplement
`This fifth edition of classical music's Concise Oxford Dictionary beats all comers. Its range and detail go far beyond what one would normally expect of a single volume.' Jeremy Nicholas, Classic FM Magazine
`[A] cornerstone of music lovers' libraries...eminently browsable, with excellent articles on major composers from Beethoven to Stockhausen as well as intriguing facts and details.' Daniel Jaffe, BBC Music Magazine
`The flame still burns brightly in the shape of the ever-richer mix of composers, performers, venues, orchestras, individual works, instruments, musical terms, the odd dose of world music and so on.' Classical Music
`This really is the dictionary to end all dictionaries. Whatever your bag, you'll find it here ... Now this is what I call a music book.' Tinash Sithole, Northern Echo