Meet Pippi Longstocking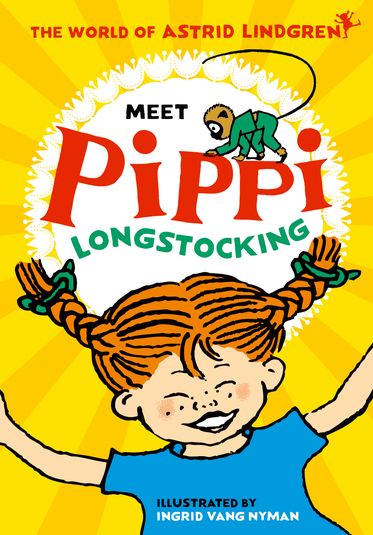 Meet Pippi Longstocking
| | |
| --- | --- |
| ISBN: | 9780192772428 |
| Binding: | Paperback |
| Published: | 20 Feb 2020 |
| Availability: | 656 |
| Series: | |
$12.95 AUD
$14.99 NZD
Add To Cart
Description
When Pippi Longstocking moves in next door to Tommy and Annika they are completely amazed by their new playmate. Pippi is cheeky, courageous and completely unpredictable. She lives alone with a monkey, a horse, and no rules whatsoever! Everything is fun with Pippi around! In this story she performs at the circus, uses her super strength to stop two robbers, and throws an unusual birthday party.
Authors
Author Astrid Lindgren
Illustrator Ingrid Nyman
Astrid Lindgren was born in 1907, and grew up at a farm called Näs in the south of Sweden. She began her writing career in 1944 after she won a children's book competition, with Pippi Longstocking published a year later. She published more than one hundred books in her lifetime and is still the most popular children's author in Sweden. Her books have been translated into more than sixty languages, and she received numerous honours and awards. Astrid Lindgren died in 2002. Ingrid Nyman (1916-1959) was a Danish illustrator, noted for her work on the Pippi Longstocking books of which she was the original illustrator.
Reviews
`Praise for Pippi Longstocking: She just never does things as expected. And that's why we love her.' Laura Tscherry, Guardian
`Praise for Pippi Longstocking: I adored this book when I was a child.' Cressida Cowell
`Praise for Pippi Longstocking: Generations of children have grown up loving these wonderful stories about the invincible girl with the unforgettable name.' Manchester Evening News
`Praise for Pippi Longstocking: I read this book to my son (aged just 5). He laughed so much that he fell off the bed!' Amazon Reviewer
`Praise for Pippi Longstocking: I don't know who is enjoying this book more - my six year old son or myself. Pippi is a feisty character with a touch of the superhero about her and is as appealing to me now as she was when I was a kid.' Amazon Reviewer
`Praise for Pippi Longstocking: Funny, charismatic Pippi is the person every small child wants to be . . . Magical Stuff.' Frances Perkins
`Praise for Pippi Longstocking: Pippi is in the great tradition of children's protagonists who subvert the adult world, whether by questioning it, like Alice, or simply throwing it into chaos, like Dr Seuss's Cat in the Hat.' Sean French, Dorset Society
`I love how unconsciously rebellious she is. She doesn't care about rules, she cares about people.' Alicia Vikander