Pippi Longstocking Goes Aboard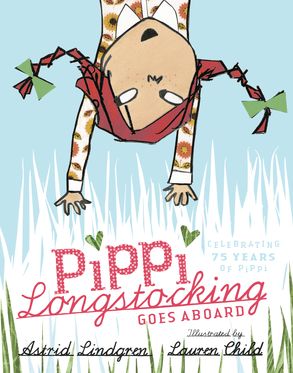 Pippi Longstocking Goes Aboard
| | |
| --- | --- |
| ISBN: | 9780192775078 |
| Binding: | Hardback |
| Published: | 15 Oct 2020 |
| Availability: | 287 |
| Series: | |
$39.95 AUD
$45.99 NZD
Add To Cart
Description
This flagship gift edition illustrated by Lauren Child is a glorious celebratory tribute to the strongest girl in the world in her 75th anniversary year. Pippi Longstocking lives in Villa Villekulla with a horse, a monkey, and a big suitcase full of gold coins. Pippi and her friends Tommy and Annika have the best time together-going to the fair, buying ALL the sweets in the sweet shop, and getting shipwrecked for the weekend. But the fun might stop all too soon if Pippi agrees to go back to sea with her father.
Authors
Author Astrid Lindgren
Illustrator Lauren Child
Astrid Lindgren was born in 1907, and grew up at a farm called Näs in the south of Sweden. She began her writing career in 1944 after she won a children's book competition, with Pippi Longstocking published a year later. She published more than one hundred books in her lifetime and is still the most popular children's author in Sweden. Her books have been translated into more than sixty languages, and she received numerous honours and awards. Astrid Lindgren died in 2002. Lauren Child is an award-winning illustrator and was the Children's Laureate 2017-2019. She is published worldwide and has created many much-loved characters in Children's Literature. She has illustrated classice texts, Pippi Longstocking, and Pippi Longstocking Goes Aboard, in her stunning and distinctive collage artwork style.
Reviews
`Known and loved the world over as the creator of some equally feisty girls - notably Clarice Bean, Ruby Redfort and Lola from Charlie and Lola, Lauren Child has brought her trade-mark illustration style and flair to this beautiful new edition of Pippi Longstocking. ' Primary Times
`First published in 1946, this sequel to Pippi Longstocking has been repackaged, with gorgeous illustrations from the Charlie and Lola creator Lauren Child.' The Times
`Stunning artwork accompanies this story of best friends Fox and Hare as they journey through the forest on a quest to discover what snow is. A seasonal celebration of the natural world.' Sunday Post
`Young Pippi is a complete delight and Lauren Child's zany illustrations bring out the madcap qualities which make young Pippi a girl any child would want as a best friend. Bear it in mind when writing your Christmas present list - this is a special book which rates 10 out of 10 for enjoyment.' Newbury Weekly News
`Lauren Child's bold, quirky, stylish illustrations capture the fun and cheekiness of Pippi's laugh-out-loud exploits.' The Times, Best Children's Books of 2020
`I love how unconsciously rebellious she is. She doesn't care about rules, she cares about people.' Alicia Vikander