Oxford Atlas for Australian Schools Years F-2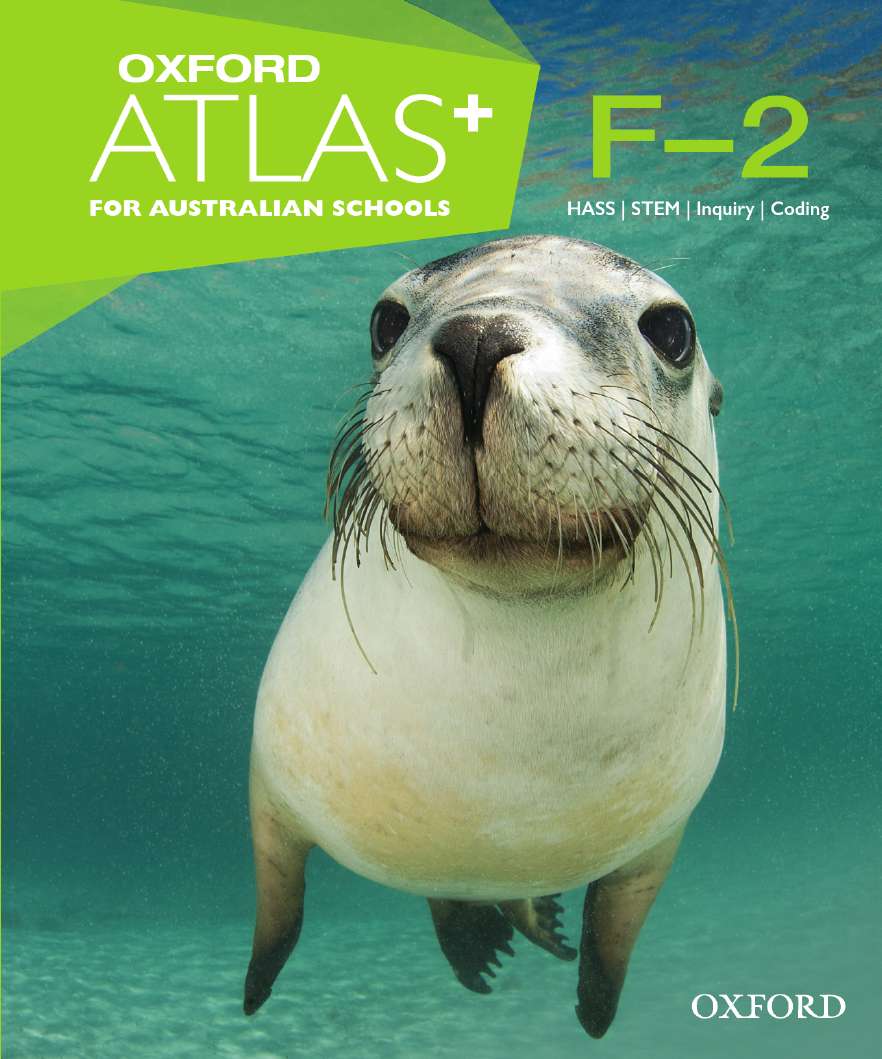 Oxford Atlas for Australian Schools Years F-2
| | |
| --- | --- |
| ISBN: | 9780190310769 |
| Binding: | Paperback |
| Published: | 6 Oct 2017 |
| Availability: | 828 |
| Series: | |
$39.95 AUD
$44.99 NZD
Add To Cart
Description
Stage one of the Oxford Atlas+ for Australian Schools series provides coverage of the Years F–2 Science and HASS Australian Curriculum content, and fosters the application of STEM knowledge and skills within and across content areas. The print atlas introduces students to the basics of mapping skills, and features highly engaging thematic spreads and world maps.

The online Teacher Dashboard includes professional support notes, with teaching activities, ideas and experiments; assessment activities; videos; and digital interactives including coding and mapping skills and interactive maps.

To find out more about the Oxford Atlas+ for Australian Schools series please click here.
Contents
MAP SKILLS
Mapping our Earth
What is a map?
What is a legend?
What is direction?
What is a grid?
What is scale?
Introducing my world
My room
My house
My street
My neighbourhood
My city

OUR WORLD
Sun, Earth and Moon
Seasons and weather
Natural environments
Living things
Life cycle of a frog
Endangered animals
Water on Earth
Caring for the environment
Our amazing sense
Push and pull
Places from the past
Australia's first people
My family tree
Families
Remembering the past
House of different materials
Food from different cultures
Celebrations around Australia

OUR COUNTRY
Australia
About Australia
Western Australia
Northern Territory
South Australia
Queensland
New South Wales
Australian Capital Territory
Victoria
Tasmania

THE WORLD
The world
The Pacific
New Zealand
Asia
Europe
Africa
North America
South America
Antarctica

INDEX
ACKNOWLEDGEMENTS

FLAGS OF THE WORLD
Student Resources
Print Atlases
Essential map-reading skills are introduced, discovered and explored.

World, continent, country and state maps include case studies to help students explore the world.

Completely up-to-date world facts and statistics.
Teacher Resources
A suite of Oxford Atlas+ for Australian Schools online teaching resources can be found on Oxford Owl. A Teacher Dashboard is available for each stage of the atlas.

Resources include:
professional support notes with teaching activities, ideas and experiments

suggested pre-assessment and assessment activities

videos, mapping skills interactives, interactive maps and Technologies interactives for front-of-class teaching

downloadable activity sheets and graphic organisers

online tracking of student quiz results.
Sample Pages