Oxford Atlas+ for Australian Schools Years 5-6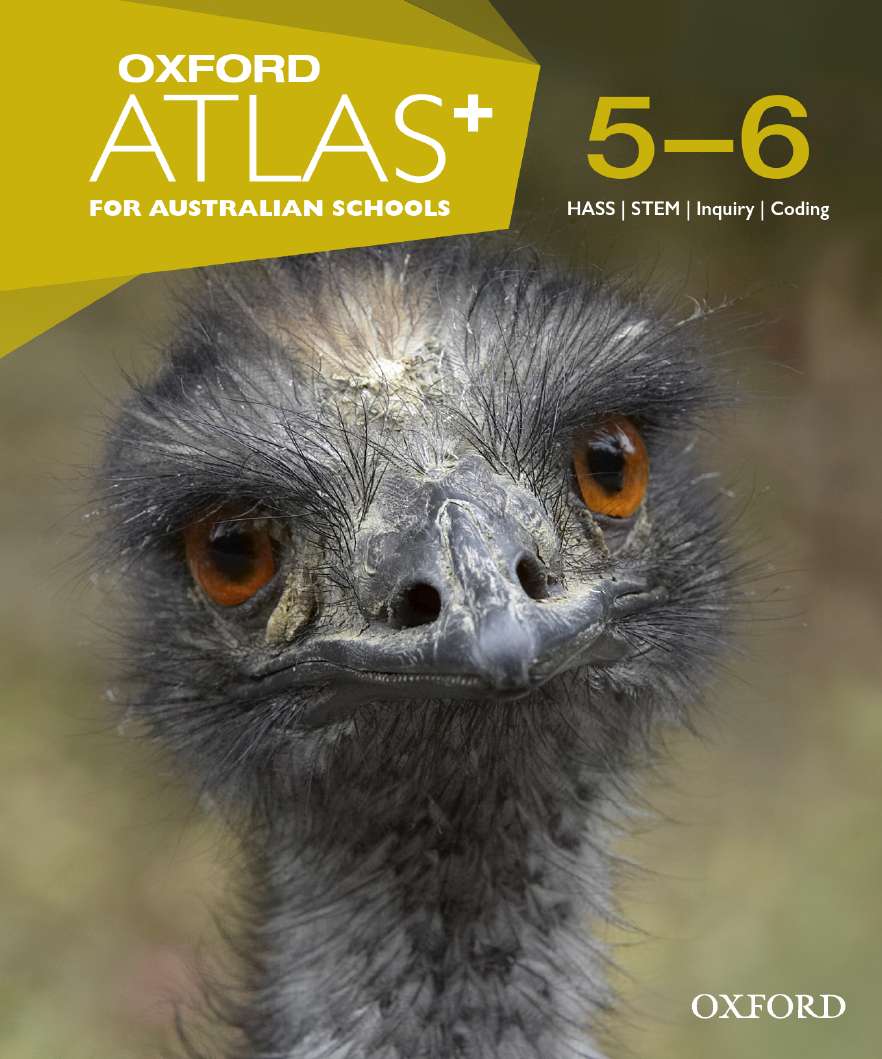 Oxford Atlas+ for Australian Schools Years 5-6
| | |
| --- | --- |
| ISBN: | 9780190310783 |
| Binding: | Paperback |
| Published: | 27 Sep 2017 |
| Availability: | 999 |
| Series: | |
$39.95 AUD
$44.99 NZD
Add To Cart
Description
Stage three of the Oxford Atlas+ for Australian Schools series provides coverage of the Years 5–6 Science and HASS Australian Curriculum content, and fosters the application of STEM knowledge and skills within and across content areas. In the print atlas, students will explore more advanced map-reading skills. Visually stunning thematic spreads and a wide range of detailed maps complemented by case studies enable students to explore and deepen their learning.

The Student Dashboard includes videos; digital interactives, including coding and mapping skills; and interactive maps to enrich and supplement the print atlas. The Teacher Dashboard includes professional support notes, with teaching activities, ideas and experiments; pre-and-post assessment activities; online tracking of student quiz results; and all interactives found on the Years 5–6 Student Dashboard.

To find out more about the Oxford Atlas+ for Australian Schools series please click here.
Contents
EXPLORING MAP SKILLS
Observing the world
Reading maps
Using a legend
Different kinds of maps
Using direction
Using grids, latitude and longitude
Using scale
Interpreting graphs

EXPLORING OUR WORLD

Our changing Earth
Earth in space
Volcanoes and earthquakes
Managing natural disasters
Natural disasters in Australia

Changing states
Changing states of water
The water cycle
Rainbows, light and colour
Water in oceans

Surviving in different environments
Animals and their habitats
People adapting to environments
Australia's climate and vegetation
Survival in Australia's deserts

Living in Australia
Where do we live?
How have places grown?
Living in communities
Caring for places

Using and conserving resources
Australia's minerals and energy
Renewable energy
Making electricity
Power in the home

Australia in the world
Australia and Asia
World population
Contrasts in living conditions
Refugees

Australian colonies
First Australian colonies
Colonial settlement
Gold rush
Exploration

Australia as a nation
Federation
Population and migration
Indigenous rights
Government
Democracy and the law
Australian citizenship

A globalised world
Global citizenship
Being a consumer
Providing goods and services

EXPLORING OUR COUNTRY
Australia: Natural
Australia: Human
Western Australia
Northern Territory
South Australia
Queensland
New South Wales
Australian Capital Territory
Victoria
Tasmania

EXPLORING CONTINENTS AND COUNTRIES
World: Natural
World: Human
Pacific
New Guinea
New Zealand
Asia: Natural
Asia: Human
South-East Asia
East Asia
South Asia
Middle East
Europe: Natural
Europe: Human
Northern Europe
Southern Europe
Russia and Central Asia
Africa: Natural
Africa: Human
Northern Africa
Southern Africa
North America: Natural
Norther America: Human
Canada, Alaska and Greenland
United States of America
Central America and the Caribbean
South America: Natural
South America: Human
Northern South America
Southern South America
Antarctica
Arctic

WORLD STATISTICS

MAP INDEX
SUBJECT INDEX
ACKNOWLEDGEMENTS

FLAGS OF THE WORLD
Student Resources
Print Atlases
Essential map-reading skills are introduced, discovered and explored.

World, continent, country and state maps include case studies to help students explore the world.

High-interest topic spreads cover Science, History, Geography and Economics & Business (Years 5–6) content from the Australian Curriculum.

Completely up-to-date world facts and statistics.
Student Digital Resources
(Years 3–4 and Years 5–6 only)
Digital interactive maps enable deeper exploration of geographical regions.

Mapping and skills interactives enrich and supplement the mapping skills section in the print books.

Digital technologies interactives based on themes found within the atlases help develop computational thinking.

Video links connect to high-quality videos.

OZBOX cards can be assigned by teachers for further exploration of topics and concepts in the atlases.

Self-correcting quizzes help students test their knowledge and understanding.
Teacher Resources
A suite of Oxford Atlas+ for Australian Schools online teaching resources can be found on Oxford Owl. A Teacher Dashboard is available for each stage of the atlas.

Resources include:
explicit links to specific Australian Curriculum Science, History, Geography and Economics & Business (Years 5–6) content descriptions

professional support notes with teaching activities, ideas and experiments

suggested pre-assessment and assessment activities

videos, mapping skills interactives, interactive maps and Technologies interactives for front-of-class teaching

links to a selection of relevant OZBOX cards, with the ability to assign cards to students (Years 3–4 and 5–6 only)
downloadable activity sheets and graphic organisers

online tracking of student quiz results.
Sample Pages