What is Ravi Good At?: Oxford Level 4: Pack of 6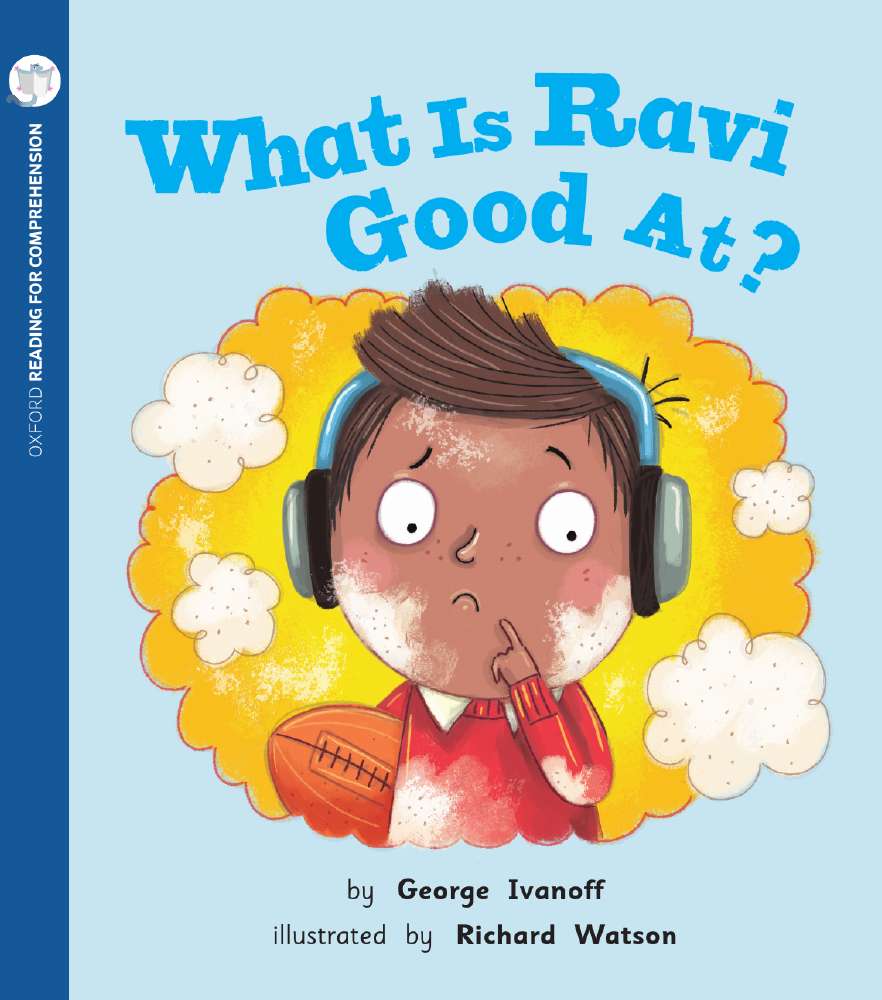 What is Ravi Good At?: Oxford Level 4: Pack of 6
| | |
| --- | --- |
| ISBN: | 9780190319564 |
| Binding: | Value Pack |
| Published: | 20 Oct 2019 |
| Availability: | 30 |
| Series: | |
$49.95 AUD
$56.99 NZD
Add To Cart
Description
Title information:

Find out what Ravi is good at.

Oxford Level: 4
Reading Level: 7
Genre: Fiction
Theme: Health and sport

This ISBN includes: 6 copies of What is Ravi Good At? and a Comprehension Coaching Card for teachers.

Series information:

This guided reading text is part of the Oxford Reading for Comprehension series, which offers a systematic approach to the explicit teaching of comprehension strategies for Years F–3.

The meticulously levelled full-colour fiction and non-fiction guided reading texts feature captivating characters and stories designed to appeal to young Australian readers. Each guided reading text includes parent notes on the inside front cover to help parents support the development of their child's reading and comprehension skills at home.

Teacher resources include best-fit levelling correlations, a printed Teacher Handbook, Comprehension Coaching Cards and Comprehension Activity Sheet. An online after-reading quiz for each book is available on Oxford Reading Buddy.

Oxford Reading for Comprehension integrates with Oxford's Primary literacy resources, including the latest Oxford Wordlist, Early Years Dictionaries and Oxford Handwriting workbooks.

Visit www.oup.com.au/orfc for more information about this series.

To learn more about the latest Oxford Wordlist and create your own for use in your classroom, visit www.oxfordwordlist.com
Teacher Resources
The Oxford Reading for Comprehension series is underpinned by a research-based Comprehension Skills Framework and provides full support for the development of comprehension skills in the classroom.

Available teacher resources include:
Comprehension Coaching Cards for each text that provide before, during and after reading guidance, assisting teachers with modelling and teaching comprehension strategies and the use of metacognitive 'think aloud' prompts. A copy of the Comprehension Coaching Card matching this text is included in this purchase.
Oxford Reading for Comprehension Teacher Handbook (ISBN: 9780190313784)
This printed resource provides clear guidance for the explicit teaching, modelling and practice of comprehension strategies and skills using the Comprehension Skills Framework. The handbook includes the latest Oxford Wordlist, with an overview of its integration into the program, Think Aloud and Strategy Tip flashcard templates, graphic organiser templates and student assessment record templates.
Additional downloadable resources on Oxford Owl, such as Comprehension Activity Sheets for all 250 guided reading texts, graphic organiser templates for use in the classroom, and lists of the Oxford Wordlists words for every text with guidance on how to use them in the classroom.
Select Oxford Reading for Comprehension titles are also available as eBooks on Oxford Reading Buddy.
Oxford Reading Buddy is a new digital reading service that gives every student a virtual reading coach to help them develop deeper comprehension skills. With a vast eBook library encompassing popular Oxford brands such as Oxford Reading Tree, Tree Tops, Project X and the new Australian series Oxford Reading for Comprehension, it will add a new digital dimension to learning to read. Learn more at www.oup.com.au/orb