Biology for QLD an Australian Perspective Units 3&4 3E obook assess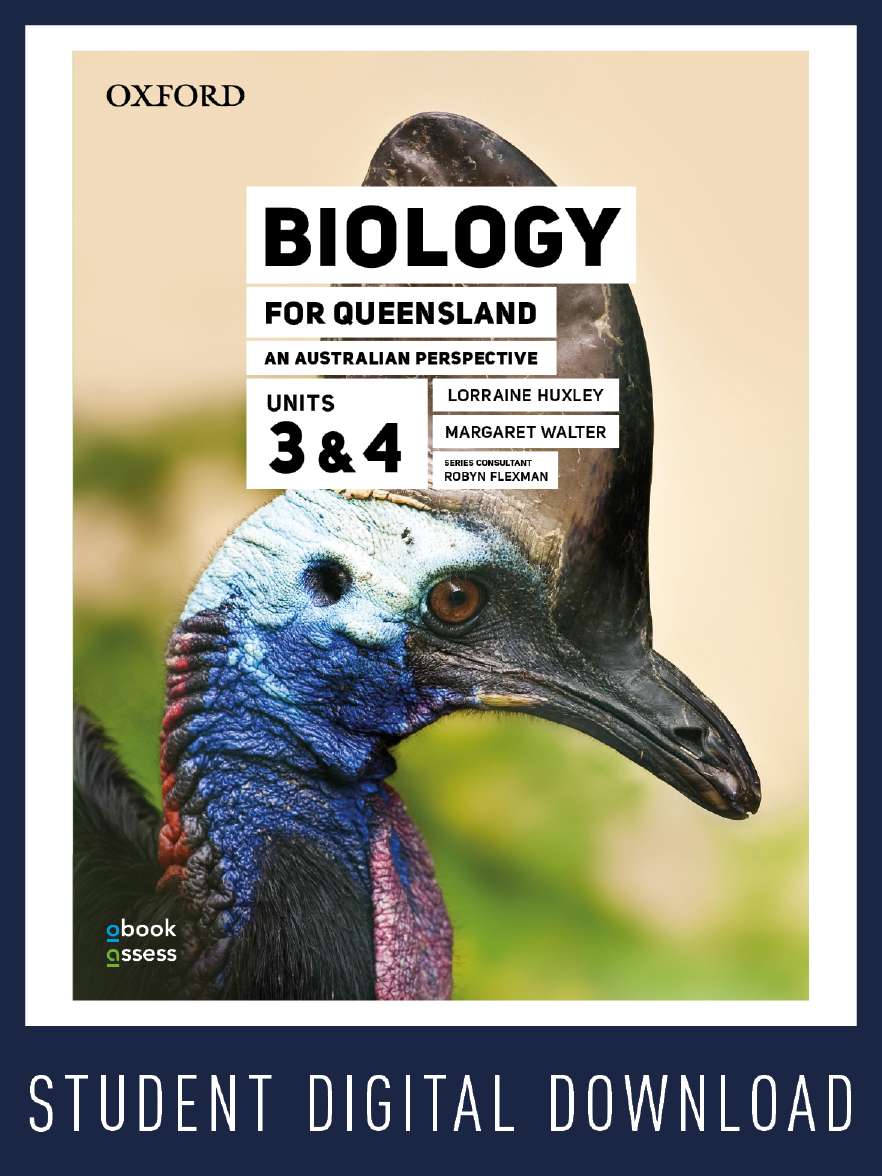 Biology for QLD an Australian Perspective Units 3&4 3E obook assess
| | |
| --- | --- |
| ISBN: | 9780190313555 |
| Binding: | obook code (digital) |
| Published: | 1 Oct 2019 |
| Availability: | Available |
| Series: | |
$49.95 AUD
$49.95 NZD
Add To Cart
Description
obook assess is a cloud-based obook that students can use anywhere, anytime on any device.

obook assess provides students with access to:
a complete digital version of the Student book with added note-taking and bookmarking functionality
free Oxford Concise Dictionary look-up feature
targeted instructional videos by some of Queensland's most experienced Biology teachers designed to help students develop manipulative skills and prepare for assessment tasks and exams
a set of summary notes for each chapter that form a springboard for student revision
additional case studies and opportunities for extension
a range of interactive, auto-correcting, multiple-choice assess quiz questions.
Contents
Chapter 1: Chemistry toolkit

Unit 3: Equilibrium, acids and redox reactions

Chapter 2: Equilibrium
Chapter 3: Acids and bases
Chapter 4: Dissociation constants and acid-base indicators
Chapter 5: Volumetric analysis
Chapter 6: Redox reactions
Chapter 7: Electrochemical cells and electrode potential
Chapter 8: Electrolytic cells

Unit 3 Practice exam questions

Unit 4: Structure, synthesis and design
Chapter 9: Structure of organic compounds
Chapter 10: Organic reactions and reaction pathways
Chapter 11: Organic materials: structure and function
Chapter 12: Analytical techniques
Chapter 13: Chemical synthesis
Chapter 14: Green chemistry
Chapter 15: Macromolecules: polymers, proteins and carbohydrates
Chapter 16: Molecular manufacturing

Unit 4 Practice exam questions

Chapter 17: Practical manual

Appendix
Glossary
Index


Note: Contents subject to change prior to publication
Authors
Lorraine Huxley
Lorraine is an experienced primary, secondary and tertiary teacher. Lorraine has held positions as Head of Biology and has been involved in QCAA district and state review panels.

Margaret Walter
Margaret is an experienced secondary and tertiary teacher who has worked as Head of Science. Margaret has also been involved in QCAA district and state review panels and the 2004 QSA syllabus sub-committee.

Series consultant: Robyn Flexman
Robyn is an experienced Biology teacher and Head of Science. She has been involved in the QCAA review panel in a number of roles and has also been involved in the endorsement process for the new SATE system. In 2011, she received a Peter Doherty Award for Outstanding Science Teacher. Robyn has also worked as a project officer for QMEA and presented at international conferences and CONASTA.
Sample Pages