Biology for Queensland Units 3&4 Student workbook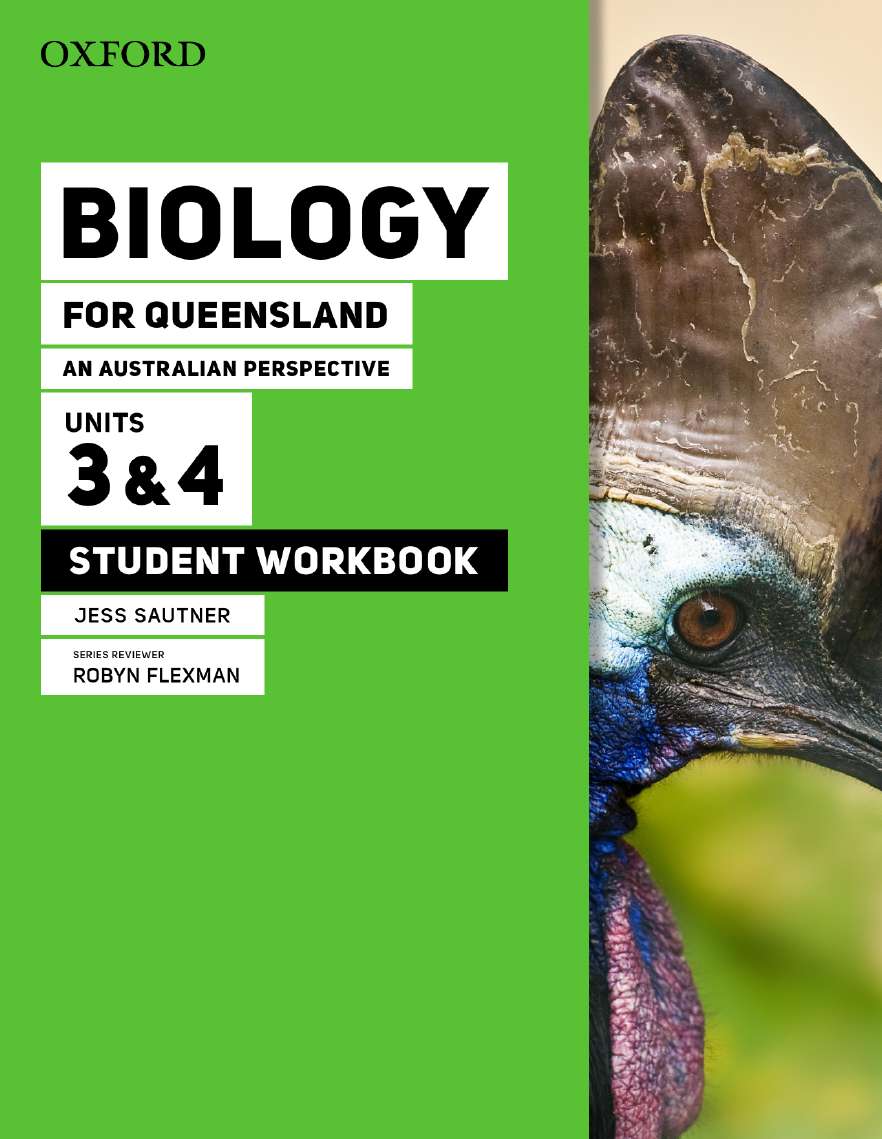 Biology for Queensland Units 3&4 Student workbook
| | |
| --- | --- |
| ISBN: | 9780190320416 |
| Binding: | Paperback |
| Published: | 14 Oct 2019 |
| Availability: | 999 |
| Series: | |
$24.95 AUD
$28.99 NZD
Add To Cart
Description
The new Queensland Senior Biology syllabus affects all aspects of teaching and learning – new teaching content, new course structure and a new approach to assessment. As Secondary Publisher of the Year 2017 and 2018, Oxford University Press is committed to helping teachers and students in Queensland reach their full potential.

Biology for Queensland: An Australian Perspective Student workbooks are standalone resources designed to help students succeed in their internal and external assessments. With an engaging design, full-colour photos and relevant diagrams throughout, the Student workbooks include:
a Toolkit chapter focused on internal assessments and cognitive verbs
Data drill activities that help students develop the key skills in analysis and interpretation required for the Data test
Experiment explorer activities that support the modification of a practical as required in the Student experiment
Research review activities that allow students to practise how to evaluate a claim and identify credible sources for the Research investigation
Exam excellence activities that allow students to practice multiple choice and short answer questions in preparation for the external examination
handy study tips throughout the chapters
practice internal assessments for the Data test, Student experiment and Research investigation
write-in worksheets for all mandatory and suggested practicals
appendices such as the periodic table and formulas
answers to all activities and practice assessments.
Contents
Chapter 1 The Biology toolkit
Responding to cognitive verbs
The Data test
The Student Experiment
The Research Investigation

UNIT 3: BIODIVERSITY AND THE INTERCONNECTEDNESS OF LIFE
Word wizard
Practicals

Chapter 2 Biodiversity
Data drill 2
Experiment explorer 2
Research review 2
Exam excellence 2

Chapter 3 Biological interactions
Data drill 3
Experiment explorer 3
Research review 3
Exam excellence 3

Chapter 4 Functioning ecosystems
Data drill 4
Experiment explorer 4
Research review 4
Exam excellence 4

Chapter 5 Populations
Data drill 5
Experiment explorer 5
Exam excellence 5

Chapter 6 Changes in ecosystems
Data drill 6
Experiment explorer 6
Research review 6
Exam excellence 6

Unit 3: Assessments
Data test
Student experiment
Research investigation

UNIT 4: HEREDITY AND CONTINUITY OF LIFE
Word wizard
Practicals

Chapter 7 DNA structure and replication
Research review 7
Exam excellence 7

Chapter 8 Cellular replication and variation
Research review 8
Exam excellence 8

Chapter 9 Gene expression
Research review 9
Exam excellence 9

Chapter 10 Mutation
Research review 10
Exam excellence 10

Chapter 11 Inheritance
Research review 11
Exam excellence 11

Chapter 12 Biotechnology
Research review 12
Exam excellence 12

Chapter 13 The concept of evolution
Research review 13
Exam excellence 13

Chapter 14 Microevolution
Research review 14
Exam excellence 14
Unit 4: Assessments
Research investigation

Chapter 15 Practical manual
Answers

Appendices
Periodic table
Authors
Jess Sautner
Jess Sautner is an experienced Biochemist and works as a STEM outreach coordinator at Deakin University. She was previously a Science teacher at Bacchus Marsh Grammar and has extensive experience working with VCE Science students entering University. Previous to her work in Science education and communication she worked at CSIRO, CSL and as a microbiologist and virologist in industry.

Series reviewer: Robyn Flexman
Robyn is an experienced Biology teacher and Head of Science. She has been involved in the QCAA review panel in a number of roles and has also been involved in the endorsement process for the new SATE system. In 2011, she received a Peter Doherty Award for Outstanding Science Teacher. Robyn has also worked as a project officer for QMEA and presented at international conferences and CONASTA.
Sample Pages