Oxford Insight Science for NSW Stage 4 2E Student Book/Workbook Student Pack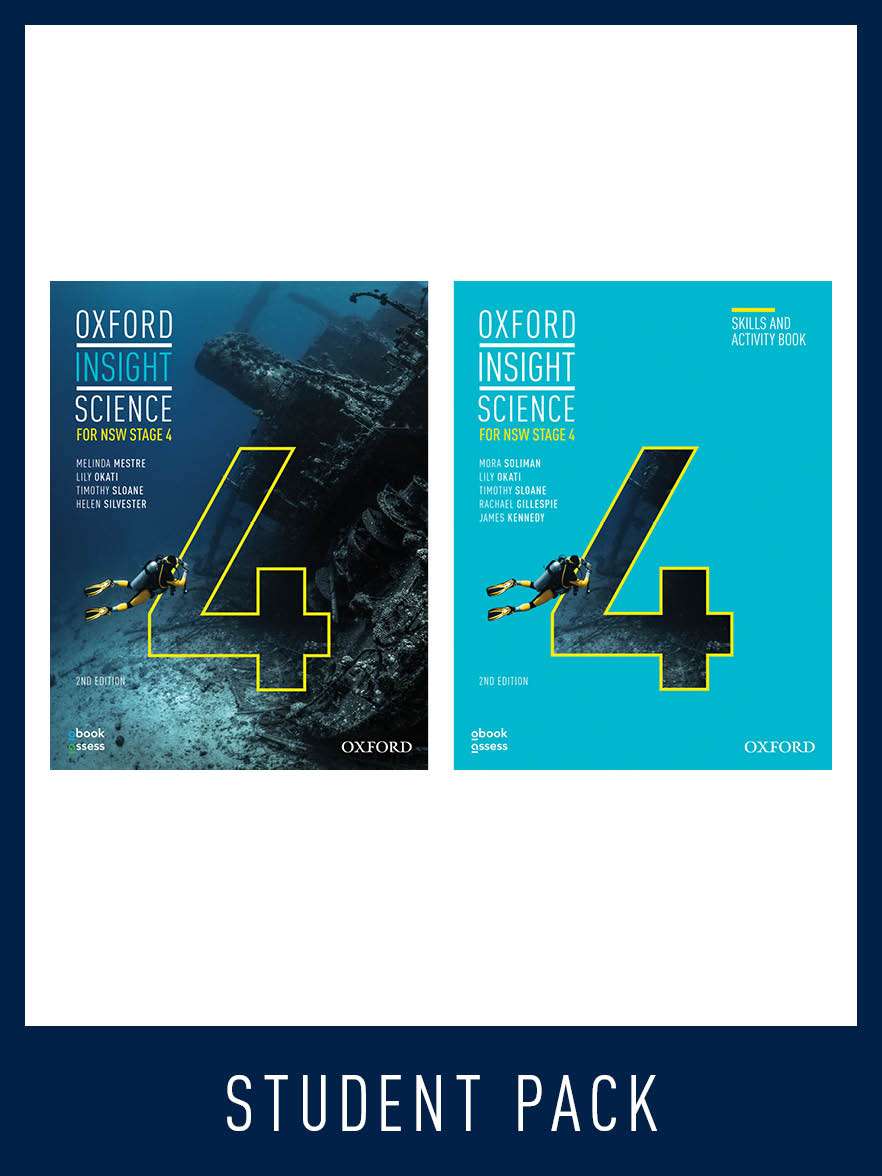 Oxford Insight Science for NSW Stage 4 2E Student Book/Workbook Student Pack
| | |
| --- | --- |
| ISBN: | 9780190330200 |
| Binding: | Value Pack |
| Published: | 4 Jan 2021 |
| Availability: | 129 |
| Series: | |
$114.95 AUD
$131.99 NZD
Add To Cart
Description
This Oxford Student Pack contains the Oxford Insight Science for NSW Stage 4 2E Student book and Skills & Activities book:

Oxford Insight Science for NSW Stage 4 2E Student book and obook assess:
Oxford Insight Science for NSW 2E Student book and obook assess features a simple, engaging design with targeted on-page features that support student understanding and progression.

Key features:
Staged books follow syllabus structure, making it easy to teach in any order that suits your classroom
NSW-specific case studies encourage the real world application of key concepts and skills
Check your learning questions review student progress and provide opportunities for extension
Skill builder questions are scaffolded to target key science skills from the syllabus
Chapter reviews assess student understanding, encourage reflection and suggest research projects
Margin glossary definitions provide clarification of key terms at the point of learning
Working scientifically chapter teaches and clarifies key science skills throughout each Stage
Student research project chapter provides guidance and support throughout the research project
obook assess:
Oxford's premium digital learning solution encompasses a suite of resources to support teachers and students, including worksheets, sample data and experiments with supporting videos. Market-leading digital assessment features include pre-tests, post-tests, differentiated activities and advanced tracking and reporting tools (including sophisticated markbook functionality).

Oxford Insight Science for NSW Stage 4 2E Skills and Activity books:
Oxford Insight Science for NSW 2E Skills and Activity Books are full-colour write-in Student workbooks supported by integrated digital resources. Designed to help students revise course material and explore opportunities for extension, they provide students with additional tools to develop their understanding of the key science skills.