Connecting with Law Short Film Competition
Why study law?
Now in its ninth year, the Connecting with Law Short Film Competition is open to all students currently enrolled in an Australian law school. To enter, create a 2 – 5 minute film about what inspires you to study law that will educate, entertain and engage fellow law students and help them connect with law. Get your name known in law and win great prizes:

1st Prize - $1,500
2nd Prize - $500
3rd Prize - $250

Note: non-law students can be involved, however at least one student per group must be enrolled in an Australian law school.
Before entering, please ensure you read our submission guidelines below carefully. To enter, submit two copies of your film and a completed entry form.

Entries are now closed.

Please direct all enquiries to highered.au@oup.com

The winning entries from the Connecting with Law Short Film Competition 2015 can be viewed below. These films were based on the theme 'bring your favourite case to life'. More winning and commended entries from the history of the competition can be viewed at the Connecting with Law Film Library.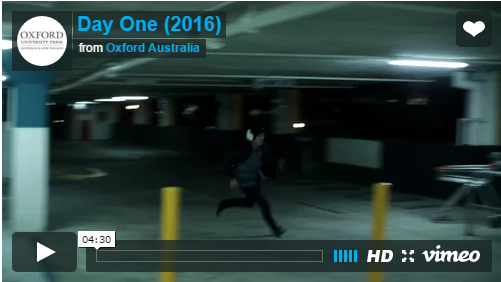 1st Prize Winner
Day One
Kit Mun Lee, Liam Hartley, Edward Wong & Quang Ngyuen
University of Melbourne
This film humorously attempts to capture the reality of those first classes in law school where students answer 'that' question – why study law? Such a question produces an array of responses, ranging from passion for reading and writing to self-empowerment to the chance to do something interesting. Though valid, often times these incentives are fallible and steeped in fantasy – such self-driven motivations for studying law can be unrealistic. Therefore, this film satirises these fantasies and contrasts them to the more meaningful motivation for studying law – helping people and effecting positive change in others.