A Complete Differentiation Solution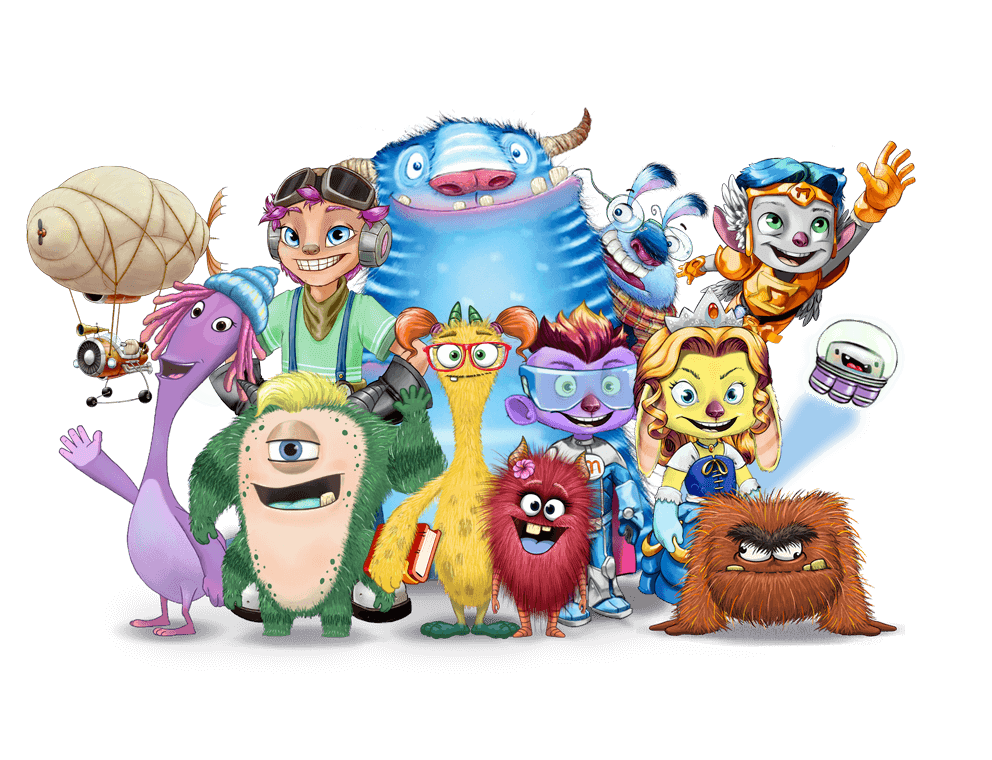 Maths success for every student
Oxford Maths has joined forces with Matific to offer a powerful hybrid learning solution that develops student understanding. Created in response to changing learning needs and interrupted schooling, this new collaboration offers seamless continuity of education from school to home with individual learning pathways that are designed to adapt to students' level of need.

Together, Oxford Maths x Matific combine the best of offline and online instruction to offer a complete differentiation solution for F–6, ensuring every student can experience success at their own level.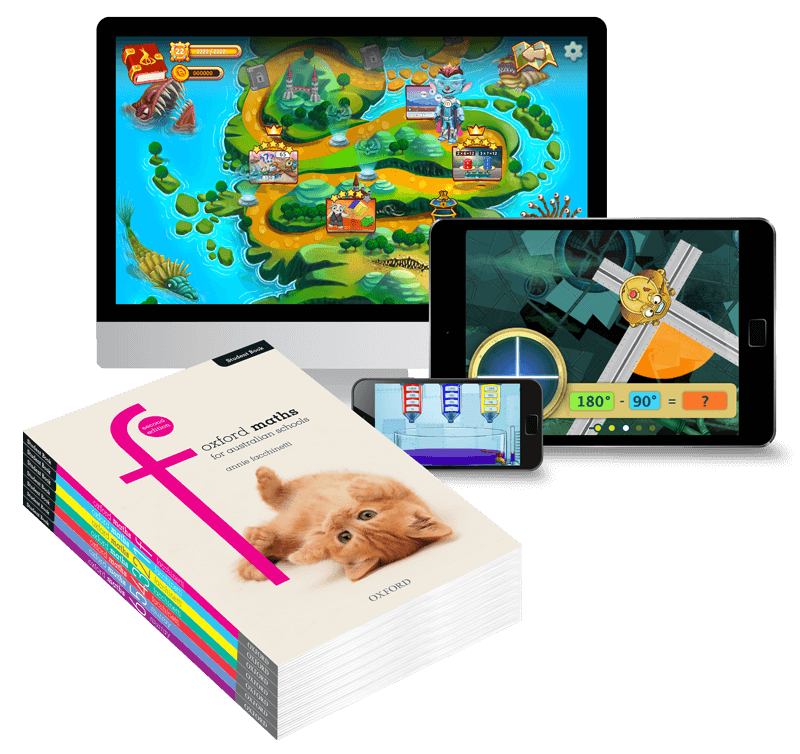 SAVE TIME ON PLANNING
Aligned with Oxford Maths to ensure students are completing activities directly linked to their lessons.
DESIGNED BY EXPERTS
Grounded in a rigorous pedagogy that builds deep conceptual understanding of mathematics.
TARGETED TEACHING
Takes a differentiation approach with multiple pathways to support students at their point of need.
CURRICULUM ALIGNED
Features engaging activities for F–6 that are aligned with the Australian Curriculum: Mathematics.
Oxford Maths × Matific
Matific has created a tailored version of its program that directly aligns with the Oxford Maths sequence of topics and learning instruction. It combines a structured program of learning with gamified activities that are adaptable to student ability, and it has been carefully mapped to ensure that students are undertaking activities that directly support their classroom instruction.

Oxford Maths × Matific is a rigorous differentiation solution that provides a fun and encouraging environment for students to develop their mathematical understanding and accelerate their learning.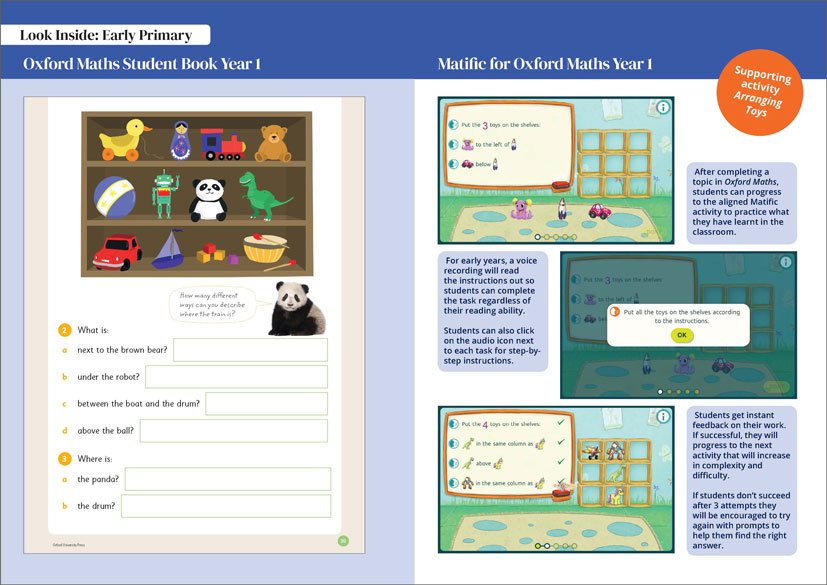 Explore the student experience
Take a look inside Matific to see exactly how your students will experience the platform. Get started by creating an explorer and jump into your aircraft in to discover the personalised & adaptive maths learning adventures your students will be undertaking!
"Oxford Maths and Matific complement each other – they don't reproduce each other."
Craig Angel, Dean of Primary, Sunshine Coast Grammar School
Maths Quizzes for your class to start the year
Learning is always easier when it involves a bit of fun and creativity. Matific Play provides your students with a fun learning environment, and helps reduce math anxiety with engaging quizzes that you can experience as a class.
Select an activity
Share the code with your class
Students enter the code and get started
A comprehensive mathematics program
Oxford Maths 2e is a comprehensive and engaging mathematics program for F–6 that ensures every student can access the curriculum at their own point of need. It offers multiple pathways for students of varying ability, and supports the 'gradual release of responsibility' approach, where initial scaffolding is gradually reduced to allow students to become confident and independent mathematicians.

Designed by experienced classroom teachers, Oxford Maths supports sequential acquisition of mathematical skills and knowledge, and is fully aligned with the Australian and Victorian Curricula and the NSW Syllabus.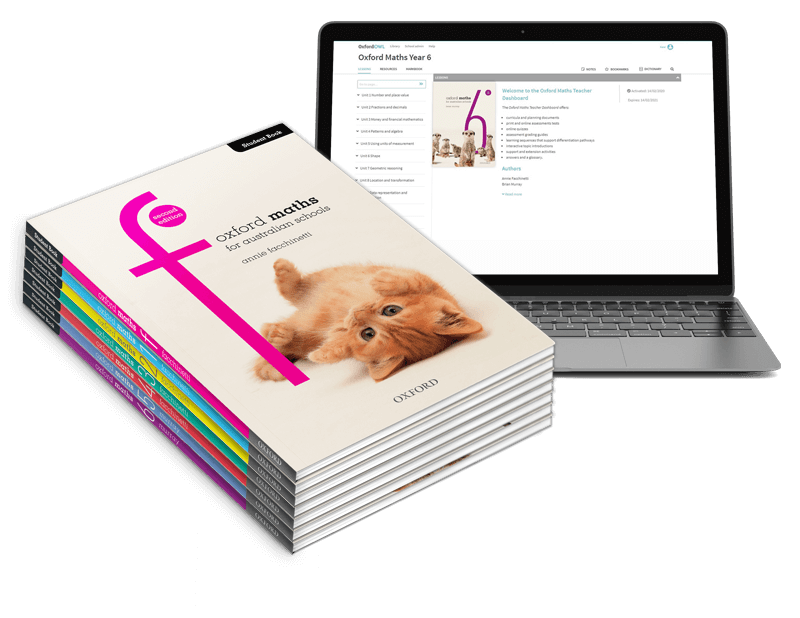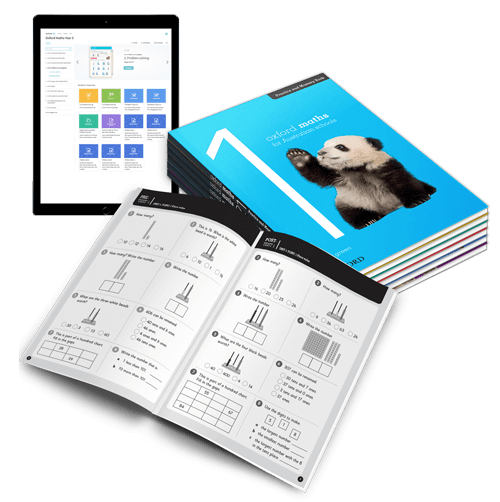 A balanced approach
Oxford Maths includes a wealth of hands-on activities, small-group and whole-class tasks, practice exercises and open-ended, problem-solving opportunities. It helps students make connections with mathematics in the real world and encourages higher-order thinking and reasoning. The program comprises:
Student Books
Assessment Books with pre- and post-tests for every topic
Teacher Dashboards with learning support and resources, and Markbook for online assessment, tracking and reporting
Practice and Mastery Books
Student Dashboards with online pre- and post-tests, plus practice quizzes and learning resources for every topic.
Personalised & adaptive maths
Matific is designed by educational experts to foster the teaching and learning of conceptual understanding for F–6 students. Immersing students in an engaging learning platform, Matific covers your mathematics curriculum and supports students to achieve mastery in a playful and thought-provoking manner.
Trusted by millions of teachers and students in 60+ countries and localised to 40+ languages
Engaging platform grounded in a rigorous pedagogy to impact maths results
Proven to help improve students' results by 34%
Aligned to the Australian Curriculum: Mathematics and Oxford Maths
Fully integrated in the education system through Google Classroom and Microsoft
Works on all kinds of devices, including mobile phones, computers and tablets
*Attard, C. (2016). Research Evaluation of Matific Mathematics Learning Resources, Western Sydney University.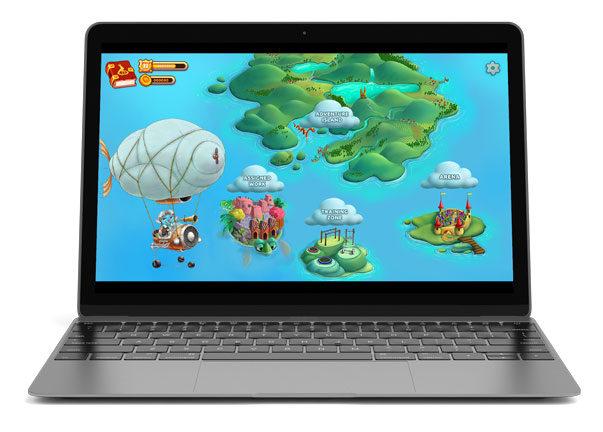 Designed by experts
Matific is an award-winning digital maths resource for F–6 students. Matific's core strength is its pedagogical principles developed by the Matific Academic Board which consists of world experts in mathematics, computer science, education and child development, including leading researchers from Berkeley, Harvard, Stanford and the Einstein Institute.
Explore maths differentiation in the classroom
Join Oxford Senior Publisher Emma Short as she explores the use of maths differentiation in the classroom and the benefits of an online practice program with Oxford Maths author Annie Facchinetti and leading maths educator Anita Green.

Then go on a tour of Oxford Maths x Matific with Jacky Herman, Global Educator for Matific, as she introduces our exciting new collaboration.
Get started with your free trial!
Reach out to your local Oxford Education Consultant to request your free trial* of Matific until the end of March 2022.
*Available to schools who did not receive free access in 2021. Whole school participation only.
0
0.00