Oxford Insight History
Deliver better results through exploration and testing of each Syllabus point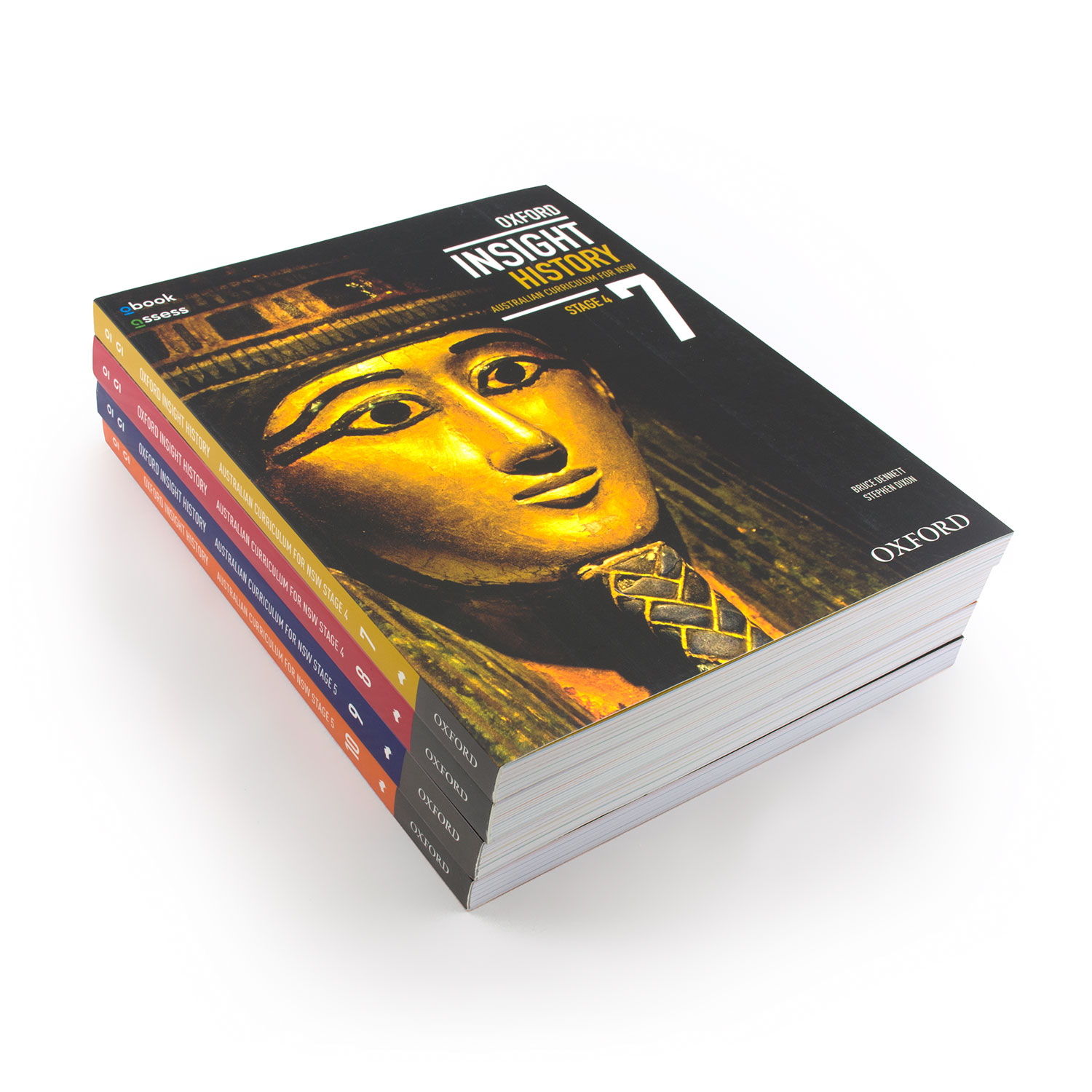 Oxford Insight History
Deliver better results through exploration and testing of each Syllabus point
obook assess
Complete digital support is offered via obook assess – access a fully interactive version of the Student book together with a range of additional activities and resources such as worksheets, interactives and videos. Teaching programs, teacher notes, answers and lesson ideas are offered via Teacher obook assess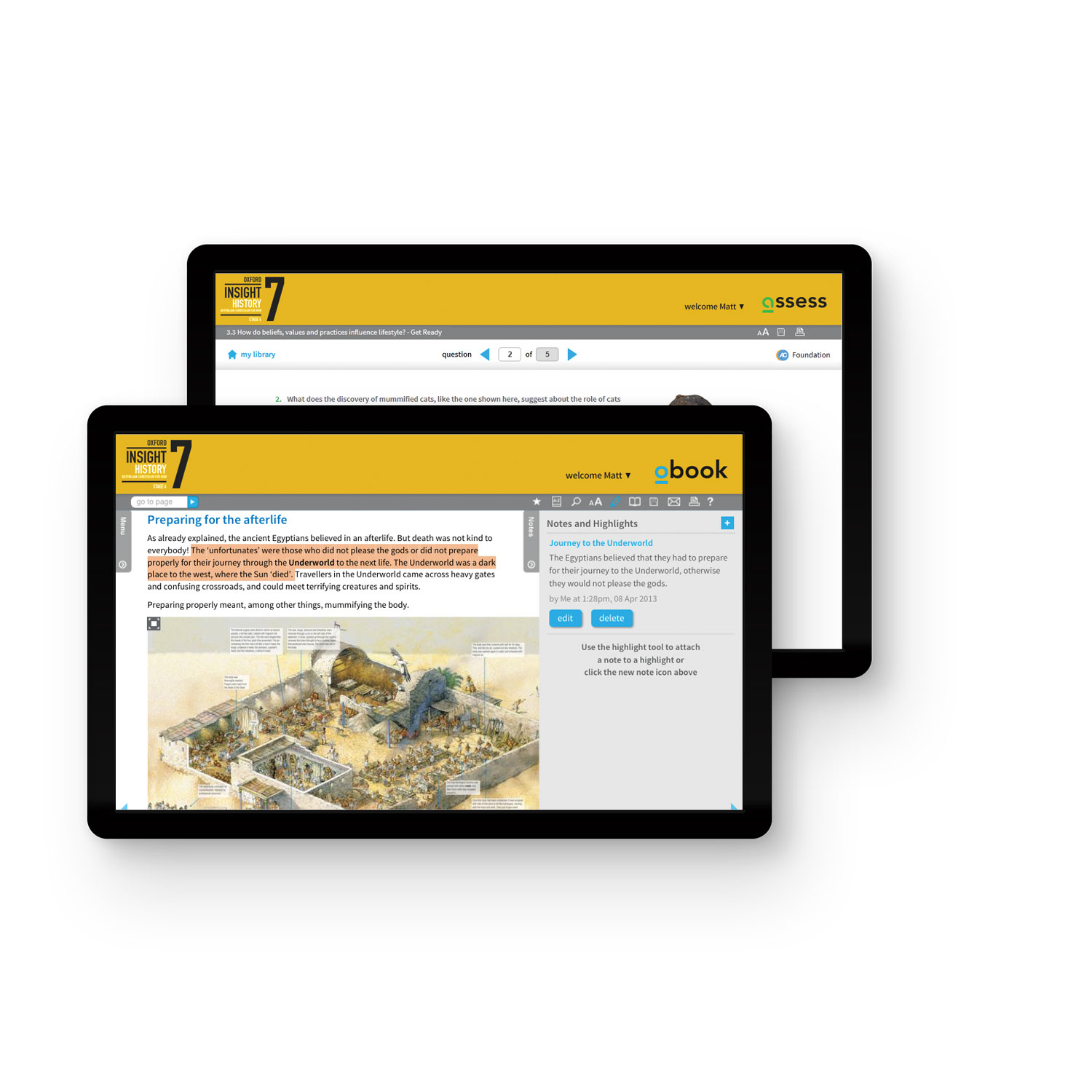 obook assess
Complete digital support is offered via obook assess – access a fully interactive version of the Student book together with a range of additional activities and resources such as worksheets, interactives and videos. Teaching programs, teacher notes, answers and lesson ideas are offered via Teacher obook assess
At a glance
Year Levels
Years 7 - 10 (Stages 4 & 5)
Resource available
Student book + obook assess
Student obook assess (code card)
Student obook assess MULTI (code card)
Teacher obook assess

Editions
Oxford Insight History has been developed and written by a team of experienced NSW teachers and educators specifically to support the implementation of the NSW Syllabus for the Australian Curriculum. It provides a complete teaching and learning program for Stages 4 and 5 to suit your classroom across a range of print, digital and blended resources.

Oxford Insight History provides explicit coverage of all History objectives and outcomes identified by the NSW Board of Studies. Student understanding is mapped against course content at each Stage and a range of assessment tools are provided to ensure that deep learning has taken place and to help students successfully meet all required outcomes.

Key features
Stunning images and illustrations engage students and support deep inquiry.
Each chapter of Oxford Insight History is sequenced according to the NSW Syllabus for the Australian Curriculum: History and structured around a number of key inquiry questions.
Content dot points clearly map the learning sequence for students.
Source study activities expose students to a range of primary and secondary sources designed to bring the past to life. All sources are accompanied by activities that challenge students to engage with the past and develop a range of historical skills.
Review, Interpret, Apply and Extend tasks appear throughout each chapter, providing a range of activities suited to different abilities and learning styles.
Checkpoint questions appear at the end of every section and are linked to a content dot point in the NSW History Syllabus. They can be used flexibly – completed orally in class (to support formative assessment) or set as written tests (to support summative assessment).
Each Checkpoint is supported by a set of three student worksheets available electronically via Teacher obook assess. These worksheets are graded to support, consolidate or extend students of different abilities and personalise learning in your class.
Rich tasks appear at the end of every section. They are open-ended, inquiry-based tasks that often involve an element of fun. They are designed to engage students to develop their specific historical skills.
The Historians Toolkit provides a stand-alone reference for all of the historical skills and concepts (can be taught as a separate unit of work or revisited as required).

Stages 4 & 5 and value packs
Each Stage pack provides both year levels in one simple package. Offering print + digital and digital stand-alone options, the Oxford Insight History stage packs give teachers the opportunity to teach any topic within Stage 4 or Stage 5 and provide great cost savings.
A range of print and digital year level and stages 4 & 5 value packs are also available.

obook assess
Oxford's premium digital learning solution encompasses a suite of resources to support teachers and students, including interactives, tests, answers, videos, differentiated worksheets, teaching notes and more. Click here for more information.

Free planning resources
Using NSW Board of Studies documentation as a basis, we offer a History course planner and Scope and Sequence charts for years 7-10 to help teachers with their planning requirements. Please see below to download.
We have also created full teaching programs for year 7 and 9 science teachers. If you would like a copy of either of these Teaching Programs please contact your local Oxford Education Consultant.

Related Series