Connecting with Tort Law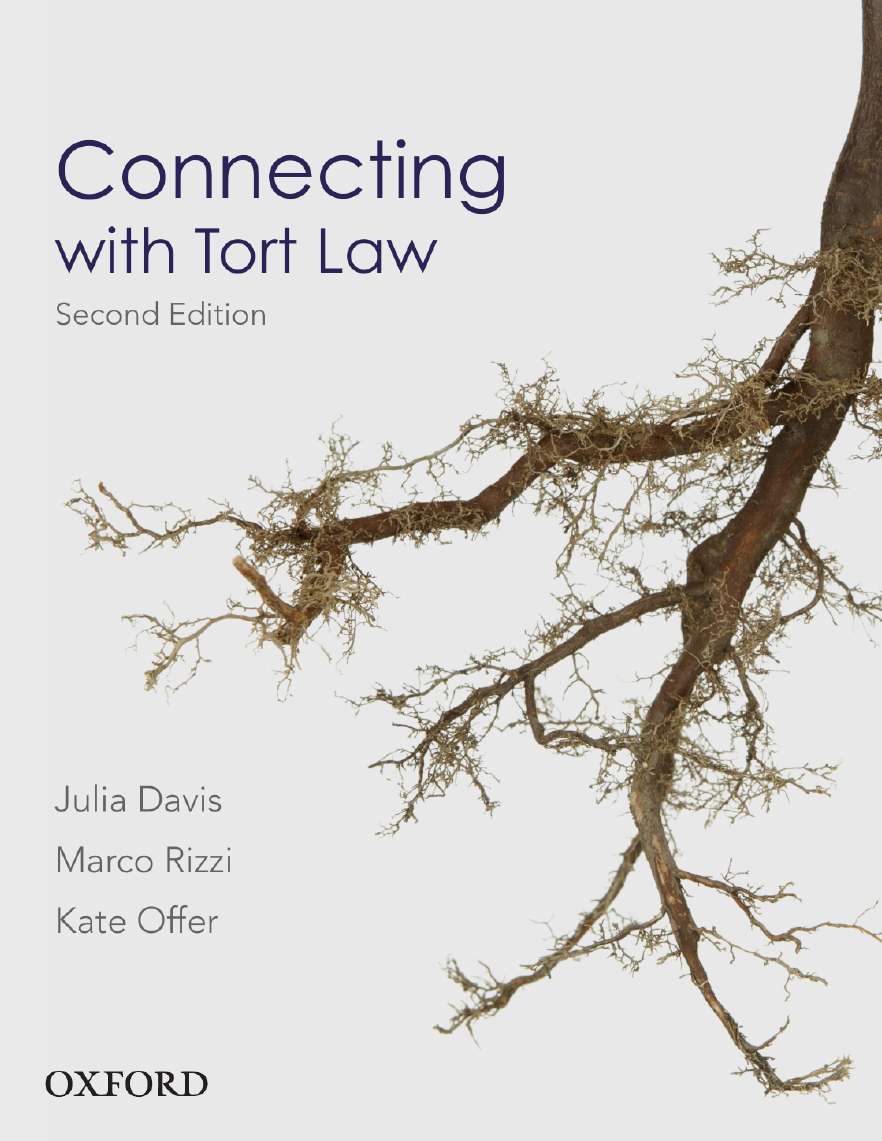 Connecting with Tort Law
| | |
| --- | --- |
| ISBN: | 9780195593877 |
| Binding: | Paperback |
| Published: | 1 Jun 2020 |
| Availability: | 584 |
| Series: | |
$129.95 AUD
$148.99 NZD
Add To Cart
Other options: Ebook $116.95 AUD $133.99 NZD Ebook Rental $64.95 AUD $74.99 NZD
Request an inspection copy
Description
A practical guide to the law of torts and how to study it
Connecting with Tort Law provides students with not only the understanding of the law of torts itself, but also the fundamentals of legal argument and problem-solving. The text is divided into two parts.
Part 1: Preparing for Success gives an overview of tort law and its challenges, and sets students up for successful study in torts. Students will learn how to analyse problem questions and torts cases, how to identify issues and structure an answer to a torts problem, and how to argue like a torts lawyer.
Part 2: The Torts puts the insights gained from Part 1 into practice as the elements of each tort are identified. This section has been thoroughly updated with new cases and references and has an increased focus on negligence, reflecting the legislative changes in this area. There are three new chapters covering negligence: Duty of Care, Breach, and Causation. In addition Chapter 9: Defamation has been updated with a specific focus on defamation in the age of social media, and Chapter 10: Introduction to Negligence also incorporates the challenges of the Digital Age.

KEY FEATURES
Active reading tasks help students focus on the law as they read each chapter and reinforce their understanding
Legislation Alerts prompt students to take note of statutes in their jurisdiction that may modify the common law
Look-up charts clearly present all of the basic elements of each tort and the 'ingredients' of each defence in a compact and easy-to-understand format. These assist in diagnosing problem questions and are invaluable exam aids
Test Your Understanding provides problem-solving questions that will help students consolidate their learning and develop key legal skills
Cases To Remember provides summaries of important cases that students can use to model their own case summaries.
Contents
PART 1: PREPARING FOR SUCCESS
1 Introducing Tort Law and its Challenges
2 Understanding the Law of Torts
3 Torts Techniques: Legal Argument and Practical Problem Solving
4.Study Strategies
PART 2: THE TORTS
5 Intentional Torts to the Person
6 Intentional Torts to Land and Goods
7 Defences to the Intentional Torts
8 Nuisance
9 Defamation
10 Introduction to Negligence
11 Negligence: Duty of Care
12 Negligence: Breach
13 Negligence: Causation
14 Special Topics in Negligence
15 Defences to Negligence
16 Vicarious Liability and Non-Delegable Duty
17 Doing Justice: Principles of Damages
Authors
Julia Davis is Associate Professor of Law at the University of South Australia.

Marco Rizzi is Senior Lecturer of Law at the University of Western Australia.

Kate Offer is Senior Lecturer of Law and Director of Disruption at the University of Western Australia.
Lecturer Resources
An Instructor's Resource Manual is available for lecturers who prescribe Connecting with Tort Law, second edition, for their course.
For more information about this resources please contact your Oxford Learning Resource Consultant.
Request an inspection copy