An Intelligent Career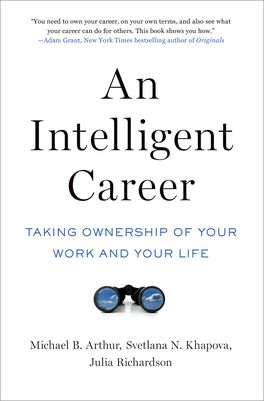 An Intelligent Career
| | |
| --- | --- |
| ISBN: | 9780190866310 |
| Binding: | Paperback |
| Published: | 20 Mar 2018 |
| Availability: | 131 |
| Series: | |
$28.95 AUD
$32.99 NZD
Add To Cart
Description
Written by three career experts, An Intelligent Career is a playbook for the modern knowledge worker, providing a complete guide that will allow workers to take a composite, dynamic view of a life's work in the 21st century.

"Knowledge work" is fundamental in today's economy. It is the basis for long-term success in the global economy and it drives the collective brainpower through which goods and services are delivered. And today, knowledge work requires much more than a college degree: it means understanding the changing nature of work and employment, and the processes through which knowledge is generated, transferred, and applied. It means understanding new career possibilities, more dynamic work arrangements, and the growing demand for knowledge work around the globe. It means navigating work life with an authenticity that replaces any straightforward loyalty to a single employer, and instead calls for better understanding of the self, collaborators, clients, and customers.

Now in paperback, An Intelligent Career provides clear guidance on how to take charge of your own destiny, seek continuous learning, collaborate with others, recognise and act on fresh opportunities, determine when it is time to move on, and much more.
Contents
Part 1. Taking Stock
Chapter 1. What Does an Intelligent Career Involve?
Chapter 2. Where Do Intelligent Careers Happen?
Chapter 3. Why Do You Work?
Chapter 4. How Do You Work?
Chapter 5. With Whom Do You Work?
Chapter 6. When Will You Change?
Part 2. Taking Action
Chapter 7. Making Sense
Chapter 8. Embracing Technology
Chapter 9. Investing in Communities
Chapter 10. Working with Employers
Chapter 11. Sharing Your Story
Chapter 12. Building Your World
Authors
Michael B. Arthur, Professor of Management, Suffolk University
Svetlana N. Khapova, Professor of Careers and Organization Studies, Vrije Universiteit Amsterdam, The Netherlands
Julia Richardson, Associate Professor of Human Resource Management, Curtin Business School in Perth, Australia
Michael B. Arthur is Professor of Management at Suffolk University in Boston. He has worked extensively on "intelligent careers," including the development of the Intelligent Career Card Sort career exploration instrument. He is widely known for the Handbook of Career Theory and The Boundaryless Career, and received the Academy of Management's Everett Hughes Award for distinguished careers scholarship in 2006.
Svetlana N. Khapova is Professor of Careers and Organization Studies at Vrije Universiteit in Amsterdam, and director of the VU School of Management and Amsterdam Business Research Institute. She studies how individuals draw on their careers to innovate and uses her research interest to help managers who are part of her PhD programs to bring innovation into their firms.
Julia Richardson is Associate Professor of Human Resource Management at Curtin Business School in Perth, Australia. She has pursued a global career across Asia, New Zealand, and North America. She is author of The Independent Expatriate, co-editor of New Ways of Organizing Work, and has received multiple awards, including the Emerald Literati Award and Verity International Award, for her teaching and research.
Reviews
"You need to own your career, on your own terms, and also see what your career can do for others. This book shows you how." -- Adam Grant, Professor, The Wharton School of the University of Pennsylvania and New York Times bestselling author of Originals and Give and Take
"The old bargain of life-long employment is rapidly fading, yet An Intelligent Career offers a hopeful vision. Insightful, provocative and immensely practical, this is a guidebook for how to carve a path in this new world of work on your own terms." -- Brigid Schulte, author of the New York Times bestselling Overwhelmed: How to Work, Love, and Play When No One Has the Time and director of The Better Life Lab at New America
"This book clearly outlines strategies for the people of today to fulfill their careers in successful ways by integrating life perspectives with work in a most creative way, and all loaded with real life examples. A must read!" -- Fons Trompenaars, Partner at KPMG, People & Change and author of the bestselling Riding the Waves of Culture
"With a wealth of scientific evidence, sharp insights, and countless stories, this book will help you answer your own career questions intelligently. Whether you want to explore new career possibilities or simply work more authentically right where you are, this book is essential reading." --Herminia Ibarra, Professor, INSEAD Fontainbleau and author of the bestselling Working Identity and Act Like a Leader, Think Like a Leader
"Demand for business contributors who are highly motivated, agile learners, and understand the value of shared leadership is higher than at any time in history. An Intelligent Career is a terrific primer for anyone seeking to be rewarded not only with professional success, but with great personal satisfaction." -- Joe Griesedieck, Vice Chairman, Global Board & CEO Services, Korn Ferry
"An Intelligent Career shows how individuals can better manage their own work lives through self-knowledge, proactivity and problem solving. At the same time, it makes the case that self-management doesn't mean going it alone. This book informs employers and policy makers about the critical supports that make intelligent careers possible." -- Denise Rousseau, Professor, Carnegie Mellon University and author of the Academy of Management Book Award winner I-Deals
"A clear and comprehensive exploration of the fundamentals that underlie career success." -- Larry Smith, Associate Professor, University of Waterloo and author of No Fears, No Excuses: What You Need to Do to Have a Great Career
"Carefully researched and easily accessible, An Intelligent Career will help you think about and manage your career in immensely practical ways. Chock full of interesting stories with deep insights, this book should be required reading not just for millennials but for anyone looking to reassert ownership of their own career." -- Sydney Finkelstein, Professor, Dartmouth College and author of Superbosses: How Exceptional Leaders Master the Flow of Talent
"An Intelligent Career takes readers beyond a psychological approach to career consulting into emphasizing the value of your own experience integrated into the real world, including emerging technology. Your career decisions are now in context, so you can approach your career future with greater conviction." --Pam Lassiter, Principal, Lassiter Consulting and author of the Wall Street Journal award-winning The New Job Security
"The digital age makes continued learning and conscious career decision-making a number one priority in order to stay relevant in today's workforce. An Intelligent Career is a compelling and stimulating read which provides readers with invaluable insights and practical advice on how to manage your career in the 21st century. A must-read for everybody who cares about their careers." -- Nick van Dam, Global CLO at McKinsey & Company and Professor, Nyenrode Business University
"Written by three of the most eminent people studying careers today, this book helps you find your personal answers to some of the most pressing questions about you and your career, such as: What am I good at? What drives me? How do I work best? and Who can help me thrive? This book is a rich, concise, and beautifully written distillation of years of research and thinking (by the authors and others, such as Ellen Langer, Edgar Schein, and Mary Catherine Bateson) about the different types of career intelligence. It provides clear, concise steps for taking stock (growing your self-awareness) and taking action (achieving success.) The final chapter, 'Building Your World' is beautifully written and provides enough wisdom and inspiration to make it alone worth the price of the book! You or someone you love should definitely have a copy of An Intelligent Career!" --Douglas (Tim) Hall, Professor, Boston University
"An Intelligent Career provides insight and inspiration for how to use work to become the person you want to be, rather than be used by work and left behind as the digital revolution changes the landscape of careers. This splendid book will greatly increase your knowledge of why, how, and when to make your next career move." -- Mark Savickas, Professor, Northeastern Ohio Universities College of Medicine and author of Life Design Counseling Manual and Career Counseling
"An appealing wake-up call, with academically supported practical advice, structured storytelling, cutting-edge approaches and historical best practices. An inspiring guide to life and career, to be put into the hands of every ambitious information worker. A real treasure." -- Wolfgang Hennen, CFO and Chief HR Officer at Lidl Belgium
"Modern careers take place in conditions of uncertainty, disruption, and emergence. While most of us can't control our careers, we can create propensity for success by becoming more aware of current and potential change and adapting ourselves so that we can take advantage of emergent opportunities. If career self-management is about creating an adaptive mindset, then An Intelligent Career provides a practical toolkit for survival in this environment." --David Clutterbuck, Principal, David Clutterbuck Partnership and author of The Talent Wave: Why Succession Planning Fails and What to Do About It
"Popular business writers often discuss the knowledge-based economy and the intelligent enterprise. However, few explore how this paradigm impacts people's careers. Arthur, Khapova, and Richardson provide a workbook for today's knowledge workers seeking to take a composite, dynamic view of their career. These career experts urge workers to take charge of their own careers, assess their cognitive and problem-solving skills, and develop their intellectual assets. Armed with this understanding, people can recognize and act on new career opportunities and dynamic work environments...Knowing how to realistically navigate today's work environment replaces the former benign loyalty and dependence on a single employer. These writers have developed an insightful and practical approach for reassessing careers in today's world of work. They also inform employers on how to support intelligent careers." -- CHOICE