Impeachment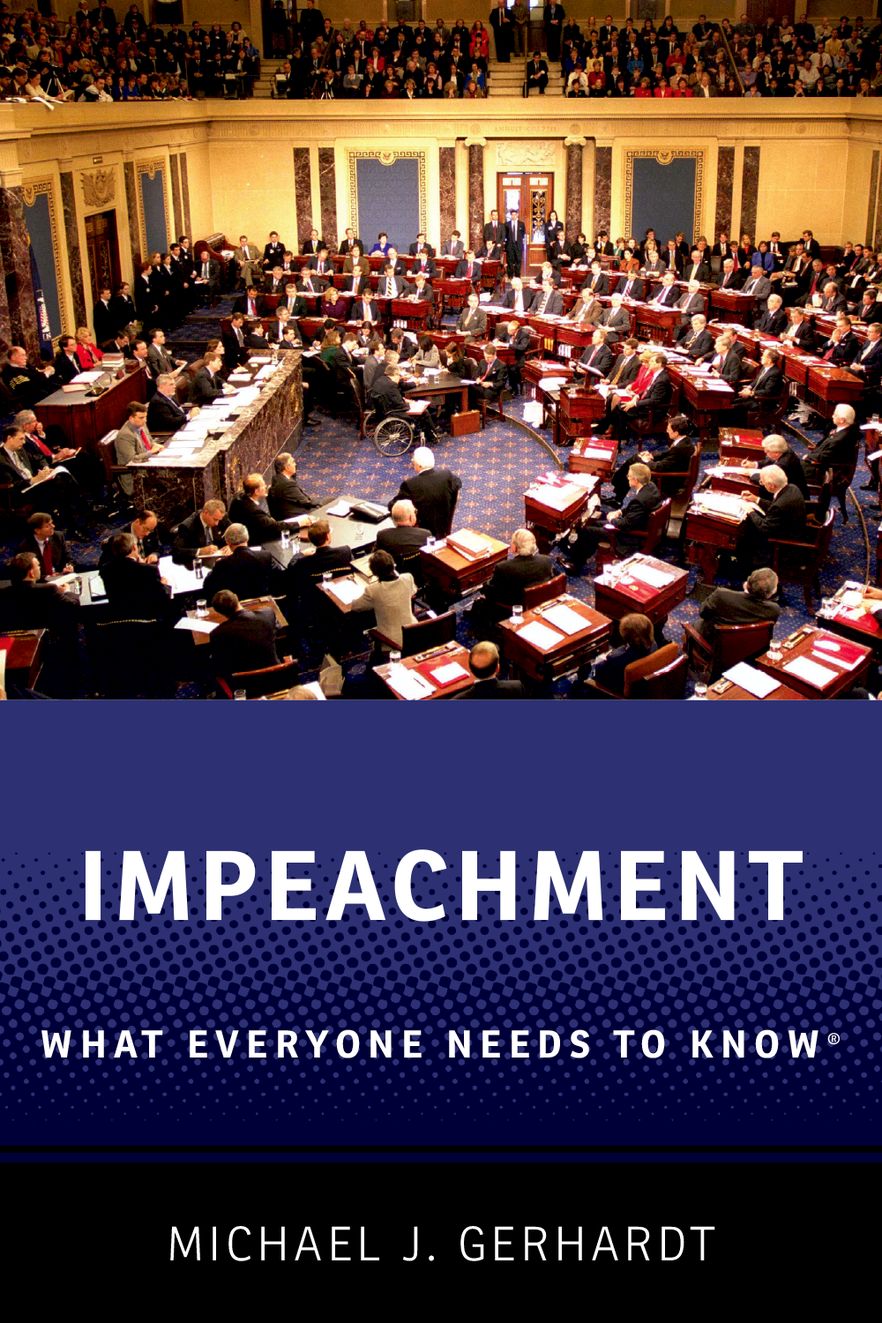 Impeachment
| | |
| --- | --- |
| ISBN: | 9780190903657 |
| Binding: | Paperback |
| Published: | 31 Jul 2018 |
| Availability: | |
| Series: | |
$27.95 AUD
$29.99 NZD
Add To Cart
Description
Impeachment: What Everyone Needs to Know® is the step back and deep reflection on the law of impeachment that everyone needs now. Written in an accessible and lively question-and-answer format, it offers a timely explanation of the impeachment process from its very meaning to its role in politics today.

The book defines the scope of impeachable offenses, and how the Constitution provides alternative procedures and sanctions for addressing misconduct in office. It explains why the only two presidential impeachments, those of Andrew Johnson and Bill Clinton, failed to lead to conviction, and how the impeachments of federal judges illuminate the law and politics of the process.

As a legal expert and the only joint witness in the impeachment proceedings against President Clinton, author Michael J. Gerhardt also explores a question frequently asked-will Donald Trump be impeached? This book does not take a side in the debate over the possible impeachment of the president; instead, it is a primer for anyone eager to learn about impeachment's origins, practices, limitations, and alternatives.
Contents
Acknowledgments Introduction 1. The Basic Terms 2. The History of the Federal Impeachment Process 3. Which Federal Officials Are Impeachable 4. Defining What Is an Impeachable Offense 5. Explaining the Procedures in Impeachment 6. Explaining What Punishments the Senate May Impose 7. Impeachment in the States and around the World 8. Will Donald Trump Be Impeached? Conclusion Appendix: Table of US Impeachments Notes Bibliography Index
Authors
Michael J. Gerhardt , Samuel Ashe Distinguished Professor of Constitutional Law, University of North Carolina School of Law, Chapel Hill
Michael J. Gerhardt is Samuel Ashe Distinguished Professor in Constitutional Law at the University of North Carolina-Chapel Hill, a scholar in residence at the National Constitutional Center, and a visiting scholar at the University of Pennsylvania Law School. He is the author of five books, including The Forgotten Presidents: Their Untold Constitutional Legacy, selected as one of the best non-fiction books of 2013 by the Financial Times. He participated in the confirmation hearings for six of the nine justices currently on the Supreme Court, was the only joint witness in the impeachment proceedings against President Clinton, and is the first independent scholar selected by the Library of Congress to advise on the updating of the official United States Constitution Annotated.
Reviews
"Michael Gerhardt's Impeachment: What Everyone Needs to Know succinctly defines the procedure and summarizes its history, extent, and usage not only in Washington but in several states and around the world." --WORLD