Senior English Skills Builder Student book + obook assess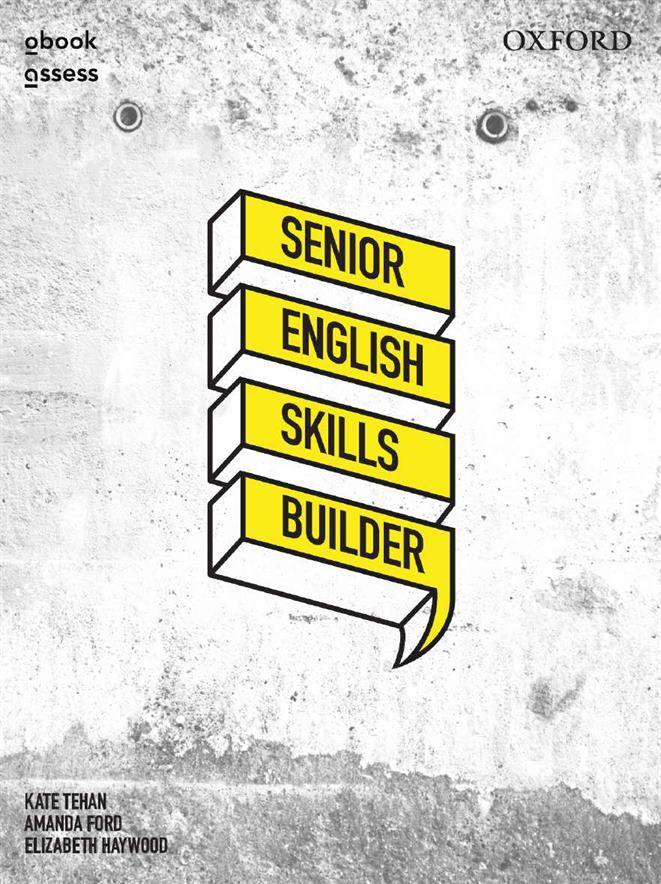 Senior English Skills Builder Student book + obook assess
| | |
| --- | --- |
| ISBN: | 9780190300760 |
| Binding: | Paperback + obook |
| Published: | 9 Aug 2015 |
| Availability: | 28 |
| Series: | |
$38.95 AUD
$45.99 NZD
Add To Cart
Description
The third edition of Senior English Skills Builder has been updated to prepare pre-VCE students with the skills they require to achieve success in VCE English. Ideally used at Year 10, this workbook includes units aligned to the new 2016 Study Design and the Australian Curriculum. Students will develop the skills needed to write analytical, creative and comparative responses to texts. Moreover, they will hone their ability to analyse persuasive language and argument, develop and present argument, improve oral communication and prepare thoroughly for an English examination. Students who complete this program will be equipped with the writing skills required for success in VCE English with units covering punctuation, grammar, parts of speech and spelling strategies. The text provides opportunities for students to analyse high-scoring responses and to assess their own writing and also includes many suggestions for text pairings suitable for pre-VCE students. Kate Tehan joins original authors Amanda Ford and Elizabeth Haywood to deliver this valuable resource, which is further supplemented digitally with obook and assess.
Contents
Senior English Skills Builder, 3E

Part A: Writing Skills
Unit 1 Writing better sentences
Unit 2 Punctuation and capital letters
Unit 3 Writing topic sentences
Unit 4 Paragraphs
Unit 5 Linking words
Unit 6 Active and passive voice
Unit 7 Improving your spelling and broadening your vocabulary
Unit 8 Common mistakes and commonly confused words
Unit 9 Glossary of commonly confused words
Part B: Reading and Creating
Unit 10 Form and genre
Unit 11 The language of film
Unit 12 Characterisation
Unit 13 Imagery and metaphorical language
Unit 14 Humour and mood
Unit 15 Identifying a writer's views and values
Unit 16 Pulling it all together: Planning and writing an analytical text response
Unit 17 Analytical text response: Self-assessment
Unit 18 Forms of creative writing
Unit 19 Narrative point of view
Unit 20 Opening lines, dialogue and description
Unit 21 Generating ideas from a text
Unit 22 Pulling it all together: Planning a creative text response and justifying your choices
Part C: Reading and Comparing
Unit 23 Comparing concepts: Ideas, issues and themes
Unit 24 Comparing features: Plot and events
Unit 25 Comparing characters
Unit 26 Comparing text constructionl Form, perspective, structure and style
Unit 27 Comparing settings
Unit 28 Pulling it all together: Planning your response to comparative essay topics
Part D: Analysing and Presenting Argument
Unit 29 Identifying different types of persuasive texts
Unit 30 'Being positioned': Author's intention, context, form, audience and language
Unit 31 Identifying faulty reasoning, bias and illogical arguments
Unit 32 Analysing language: Layout, headlines and tone
Unit 33 Analysing language: Visual texts
Unit 34 Pulling it all together: Analysing language and argument
Unit 35 Planning an analysis of language and argument
Unit 36 Planning and writing a persuasive argument
Unit 37 Mastering oral communication and planning an oral presentation
Part E: Exam Preparation
Unit 38 Text response examinations
Unit 39 Comparative response examinations
Unit 40 Language and argument analysis examinations
Glossary of metalanguage and literary terms
obook chapters
A1 Using a thesaurus and a dictionary
A2 Acknowledging your sources
B1 Creative writing: Editing, proofreading and self-assessment
C1 Comparative writing: Self-assessment
D1 Identifying an author's point of view
D2 Analysing language and argument: Self-assessment
D3 Persuasive arguments: Self-assessment
Authors
Amanda Ford is a retired English teacher with many years of English teaching experience. Author of the market-leading Successful and Skillworks series.

Elizabeth Haywood is a retired English teacher with many years of English teaching experience. Author of the market-leading Successful and Skillworks series.

Kate Tehan has a Bachelor of Arts and a Postgraduate Diploma in Teaching from The University of Melbourne and is currently undertaking a Masters of Teaching (Research). She has taught English in government and Catholic schools in rural Victoria and metropolitan Melbourne. She currently teaches English and Legal Studies at Loreto Mandeville Hall Toorak.
Sample Pages