Foundation Mathematics Student book + obook assess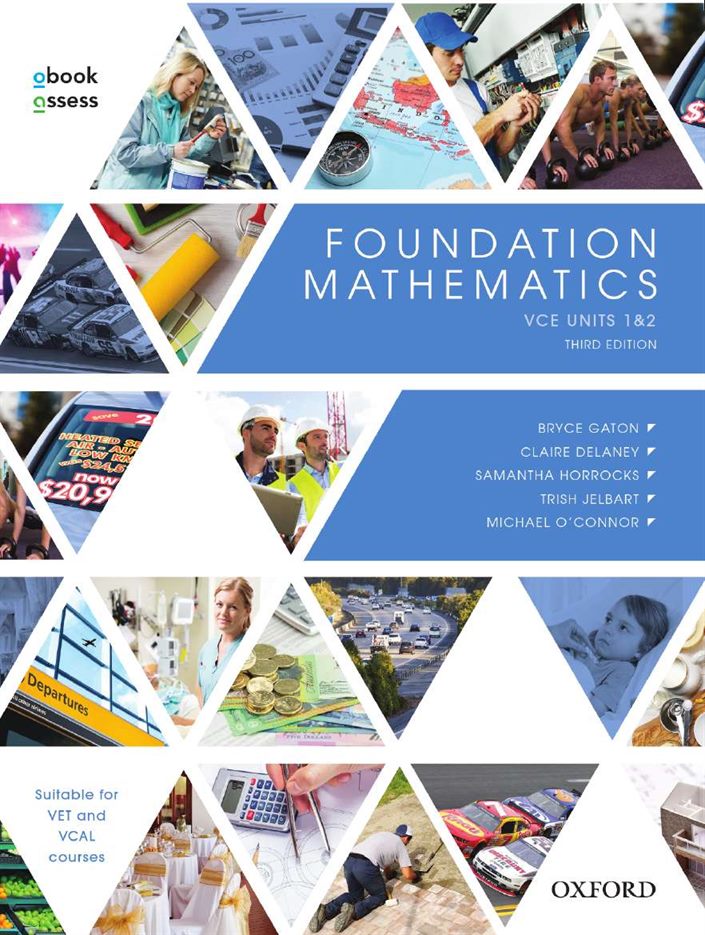 Foundation Mathematics Student book + obook assess
| | |
| --- | --- |
| ISBN: | 9780190301101 |
| Binding: | Paperback + obook |
| Published: | 16 Nov 2015 |
| Availability: | 472 |
| Series: | |
$82.95 AUD
$95.99 NZD
Add To Cart
Description
Foundation Mathematics (Third edition) Student book features content with unmatched depth, a range of new and updated choice of options, and accessible student-friendly language. For the first time, the course will be supported by a range of engaging digital resources for students and teachers designed to improve learning outcomes and save teachers time.

The series retains all of the features and trusted content from the previous edition, while undergoing a significant restructure and redesign to make it a truly 21st-century teaching and learning resource.

Key features:
Accessible language = accessible learning
Student Book is divided into two sections:
- PART 1: APPLICATIONS
All chapters in this section encourage students to apply mathematical concepts to key vocational areas (e.g. Hospitality, Building and Construction, Electrical Trades, Health Sciences, Sport Sciences, Automotive and Design)
- PART 2: MATHEMATICAL SKILLS
All chapters in this section cover key mathematical skill development to support learning (e.g. Number, Percentage, Ratios, Volume, Length and Area)
Flexible, practical and engaging teacher support aligned to the most popular vocational courses and contexts
Teaching and assessment support to help you plan courses
A wide range of printable, project worksheets to support each chapter and apply concepts to real-world situations (available on the Teacher obook assess)
Printable practice entry exams (with answers) for Police Force and Nursing courses (available on the Teacher obook assess)
Teaching programs and correlation grids for Prevocational Mathematics (Queensland) and Mathematics Foundation Course (Western Australia).
Contents
PART 1: APPLICATIONS
LIFE SKILLS
CHAPTER 1: Balancing your budget
CHAPTER 2: Managing your saving and spending
CHAPTER 3: Understanding your bills
CHAPTER 4: Household shopping
CHAPTER 5: Measuring drug dosages
HOSPITALITY AND EVENT MANAGEMENT
CHAPTER 6: Cooking by measure
CHAPTER 7: Standard drinks and reaction time
CHAPTER 8: Planning an event
FINANCE
CHAPTER 9: Calculating your tax
CHAPTER 10: Buying and running a car
ENVIRONMENTAL SCIENCES
CHAPTER 11: Your carbon footprint
TRAVEL AND TOURISM
CHAPTER 12: Travelling in Australia
CHAPTER 13: Travelling overseas
CHAPTER 14: Maps, bearings and surveys
HEALTH SCIENCES
CHAPTER 15: Diet and nutrition
CHAPTER 16: Calculating clinical dosages
DESIGN
CHAPTER 17: Types of design
SPORT SCIENCES
CHAPTER 18: Fitness and speed
BUILDING AND CONSTRUCTION
CHAPTER 19: Renovating and redecorating
CHAPTER 20: Modelling and building
CHAPTER 21: Landscaping your yard
AUTOMOTIVE SKILLS
CHAPTER 22: Automotive calculations
PART 2: MATHEMATICAL SKILLS
CHAPTER 23: Fractions, decimals and rounding
CHAPTER 24: Percentage, ratios and rates
CHAPTER 25: Measurement and units
CHAPTER 26: Calculating length
CHAPTER 27: Calculating area and surface area
CHAPTER 28: Without a calculator
CHAPTER 29: Technical drawing
CHAPTER 30: Volume, capacity and mass
CHAPTER 31: Scales and plans
CHAPTER 32: Triangle calculations
CHAPTER 33: Business calculations
CHAPTER 34: Calculating interest
CHAPTER 35: Graphical representation
CHAPTER 36: Representing data
CHAPTER 37: Intepreting data
Authors
Bryce Gaton
Bryce Gaton is a qualified secondary teacher currently working as an Electrical Trades teacher at Holmesglen Institute. He has a wealth of experience as an instructional designer, and has written and developed both learning and assessment materials to support a variety of state and national curricula – including Hospitality, Automotive, Business Services, Construction and Electrical trades as well as mathematics. Bryce holds a Master of Education with a focus on the study of student learning styles and their impact on mathematics learning and assessment. Bryce previously worked at VETASSESS where he wrote and administered assessment resources for the Nursing, Police and Defense Force entrance exams.

Claire Delaney
Claire Delaney is an experienced Mathematics and Science teacher currently working at Lalor Secondary College. Claire is a lifelong learner who is committed to improvements in education through development and sharing of curriculum and learning resources. Claire worked with the VCAA as a member of the VCE Foundation Mathematics review panel in 2014.

Samantha Horrocks
Samantha Horrocks is an experienced mathematics teacher having worked in government secondary schools, in both the UK and Australia, for over 20 years. She is currently the Head of Maths at Werribee Secondary College, where she has been working for the last four years. Samantha has held a number of teaching positions including Numeracy Coach, Maths ICT Coordinator, Advanced Skills Teacher, Head of Statistics and was a Senior Lecturer on mathematics and ICT teacher training courses at the University of Brighton. Samantha is currently interested in mathematical literacy, problem solving and reasoning.

Trish Jelbart
Trish Jelbart is a Numeracy Education Developer and lecturer at Victoria University. She is an experienced mathematics and science teacher who has worked across government secondary schools, TAFE and University for many years. Trish is a council member of The Mathematical Association of Victoria (MAV) and was a member of the VCAA review panel for VCE Foundation Mathematics in 2014.

Michael O'Connor
Michael O'Connor is an experienced mathematics teacher and author of numerous resources. Michael is currently employed as the Schools Outreach Manager, Australian Mathematical Sciences Institute (AMSI).
Sample Pages