Read Write Inc - Phonics

Transforming reading progress for every child in every school.
Read Write Inc. Phonics is more than phonics, integrating comprehension, writing, grammar, spelling, vocabulary and handwriting into comprehensive lesson plans and assessment resources. This learn-to-read program is for students 5-9 years and students are grouped according to their phonic level, targeting the teaching to their point of need.

The series incorporates effective classroom management strategies that ensure participation and fast progress for all students. There are a wide selection of fully decodable reading books for students to take home.



Read Write Inc. Phonics is:
a comprehensive, robust, curriculum-aligned literacy program
a 'phonics first and fast' approach, with all aspects of literacy connecting
a program where every teacher is trained and confident to teach every child
best implemented as a whole-school, consistent, systematic approach
proven in both the UK and Australia as a program that delivers results.
The science of reading in practice
Join Pam McLeay, Oxford National Phonics Specialist, in exploring the science of reading research, how the research supports classroom teaching practices and the implications for primary educators.

This webinar is presented in conversation with an expert panel of Primary educators who share their insights on how they have each achieved student success with a rigorous program of reading instruction.
Read Write Inc. Training
Read Write Inc. Phonics teaches children to read accurately and fluently with good comprehension. Our dynamic Ruth Miskin trainers demonstrate the activities step-by-step, using footage of real lessons. They help you practise and prepare before teaching and use management strategies to engage children and speed up progress. New blended packages combine the online training subscription with face-to-face training.

View Training Information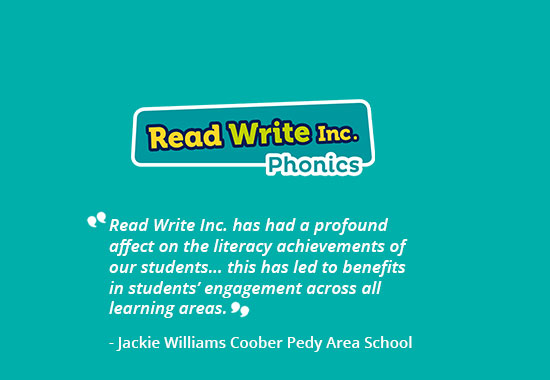 See how Tennant Creek Primary School (NT) is using Read Write Inc to create fluent, enthusiastic readers, confident speakers and willing writers.
Features:
Allow for practice of known graphemes, and new graphemes and introduced in a controlled sequence.
Closely match the students' increasing knowledge of phonics.
Activities at the start of the books help children to practise the sounds and words they will encounter in the story.
Questions to talk about at the end of the story provide an extra opportunity for developing childrens comprehension.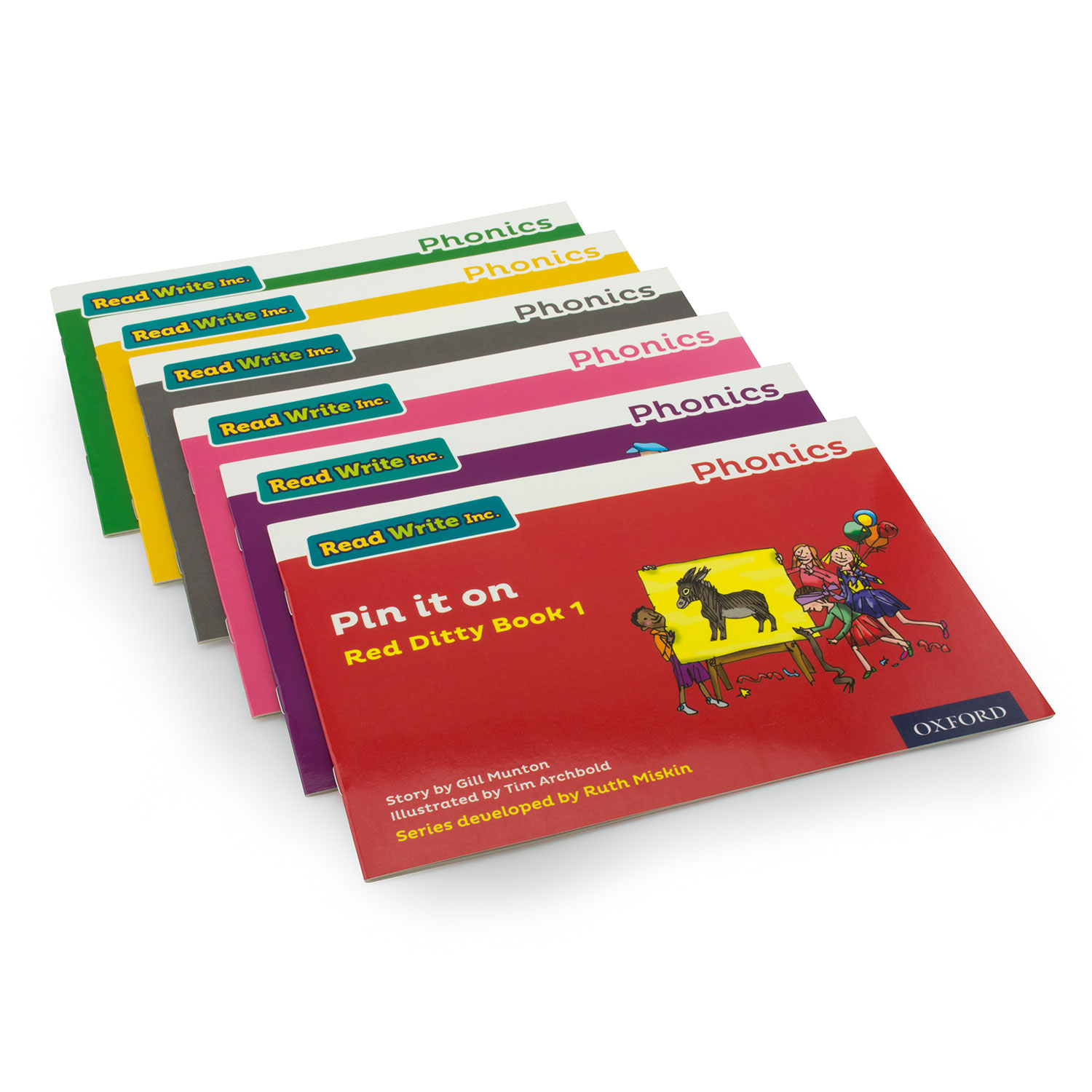 Features
Fully decodable take-home readers, uniquely matched to Read Write Inc. Phonics Storybooks.
Provide practice for children learning the Set 1, 2 and 3 Sounds.
Contain a wide range of stunning illustrations and a variety of text types including fiction, non-fiction, letters, diaries, fairy tales, and more!
Contain supportive notes for parents and carers.
Features
Guidance is given on teaching vocabulary and synonyms in dedicated vocabulary activities
A six-step writing process is provided, from rehearsing sentences to writing extended compositions.
Activities are matched to the reading materials at every level of the program.
Students practise transcribing and correcting sentences, and are taught how to write fiction and non-fiction texts.
eBook Library

The Read Write Inc. Phonics eBook Library Subscription on Oxford Owl for School gives you access to 109 eBooks: the core Storybooks, plus some additional non-fiction titles.
Subscribers can also access end-of-book quizzes for each eBook, plus interactive activities for phonics practice at home covering Speed Sounds Sets 1, 2 and 3, Green Words and all the Red Words.
The eBook Library is designed to support student learning at home – whether that's for consolidation or for remote learning. Teachers can assign eBooks to individual pupils, groups of pupils, or a whole class, and track what they have read, helping to ensure that pupils are reading books at exactly the right phonic level.
Series contains:
95 Read Write Inc. Phonics core Storybooks – from Sound Blending through to Grey level
14 Read Write Inc. Phonics non-fiction titles – from Green to Grey level
End-of-book quizzes for each eBook
Interactive activities for phonics practice at home

Register and download your Read Write Inc. Phonics Evaluation Pack:
Uncover the features of Read Write Inc. with this evaluation pack that showcases sample pages from the series.
REQUEST EVALUATION PACK