Oxford Insight Mathematics Standard Year 11
Oxford Insight Mathematics Standard Year 11
Oxford Insight Mathematics Standard (Year 11) Student book + obook assess
Third Edition
John Ley, Michael Fuller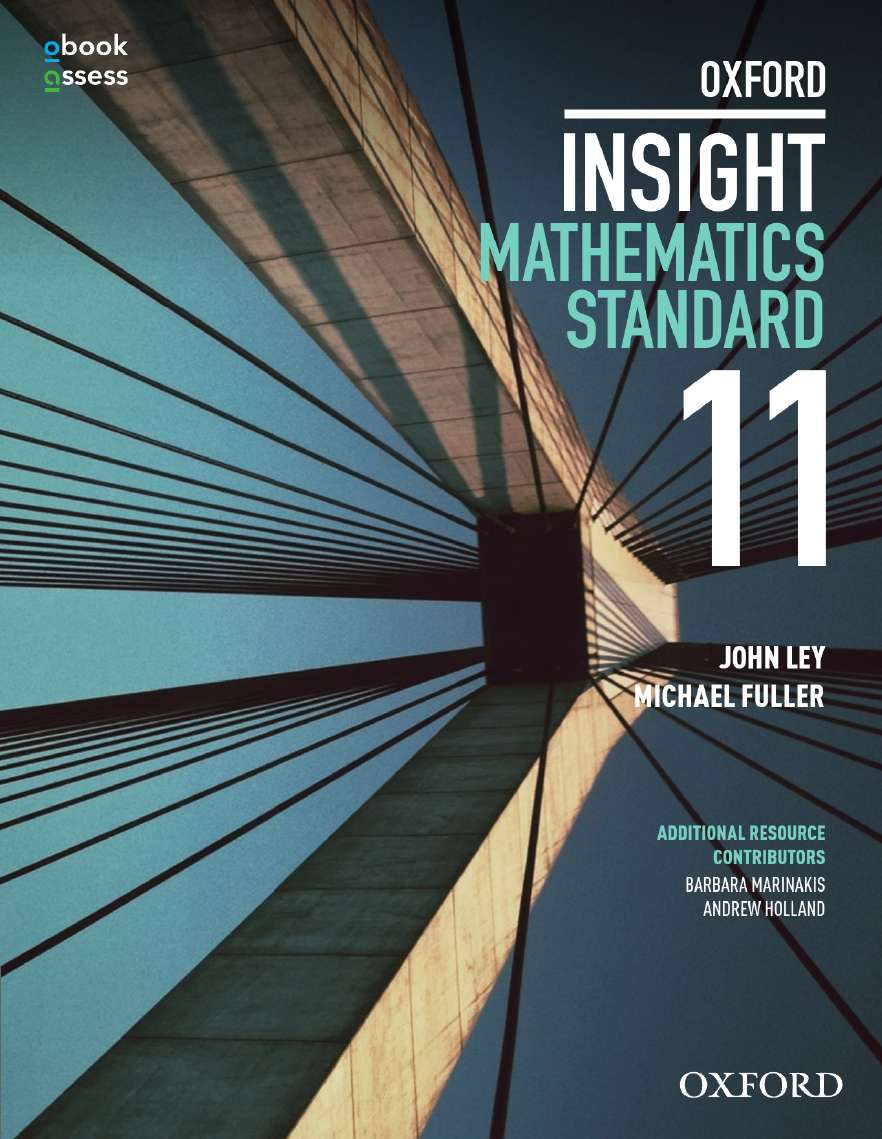 Third Edition
John Ley, Michael Fuller
| | |
| --- | --- |
| ISBN: | 9780190310516 |
| Binding: | Paperback + obook |
| Published: | 30 Nov 2017 |
| Availability: | In-stock |
| Price: | $77.95 AUD |
New South Wales' most trusted Mathematics series has been updated for the 2018 Mathematics Standard Stage 6 syllabus. A three-volume series, Oxford Insight Mathematics Standard Year 11 offers complete support for teachers and their students in 2018 and beyond.

Authors John Ley and Michael Fuller bring their years of classroom, curriculum and academic experience to the Oxford Insight Mathematics Standard series, providing depth and coverage in an accessible format that encourages all students to succeed.
Key highlights include
all content has been explicitly aligned to the new Mathematics Standard Stage 6 syllabus.
trusted and appropriately levelled content has been developed by expert mathematics teachers.
comprehensive exercise sets incorporate worked examples where students actually need them.
Resources available
Student book + obook assess
Student obook assess (digital)
Teacher obook assess (digital)
Student obook assess MULTI (digital)
Contents and sample chapters
Chapter 1: Earning and managing money
Chapter 2 Practicalities of measurement View
Chapter 3 Formulae and equations
Chapter 4 Classifying data and sampling
Chapter 5 Perimeter, area and volume
Chapter 6 Interest and depreciation?
Chapter 7 Representing data

Chapter 8 Relative frequency and probability
Chapter 9 Working with time
Chapter 10 Budgeting and household expenses
Chapter 11 Exploring and describing data
Chapter 12 Linear relationships
Chapter 13 Energy and mass

Evaluate

The uncorrected Student book is available for evaluation.


Register for digital sample

Sample the wealth of engaging and relevant student and teacher digital resources available on obook assess.
Prepare

Be well informed about the changes to the Mathematics Standard Stage 6 Syllabus with our Syllabus implementation guide.
Authors
John Ley is a passionate and innovative mathematics educator. He is currently completing his PhD in mathematics education, while lecturing and tutoring at Australian Catholic University and the University of Western Sydney. John has held an array of teaching positions including Head of Mathematics, Assistant Principal and Acting Principal. An experienced senior marker for the HSC, John was a member of the 2012–2014 assessment committees, setting the HSC calculus course examinations. John is the lead author of the Oxford Insight Mathematics series for NSW.

Michael Fuller has been involved in Mathematics in NSW for many years. He held the position of Head of Mathematics at Killara High School in Sydney for 24 years. In his retirement, Michael is now a key author on the Oxford Insight Mathematics series for NSW.
0
0.00