Marketing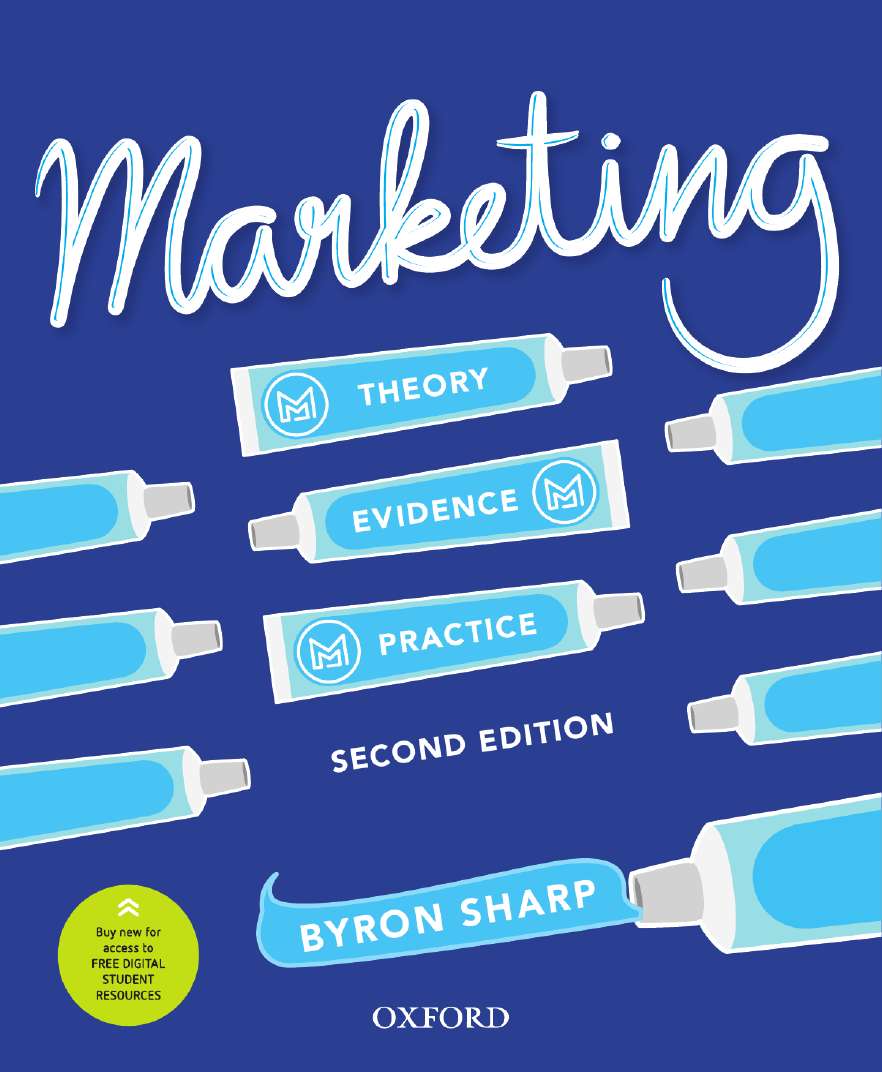 Marketing
| | |
| --- | --- |
| ISBN: | 9780195590296 |
| Binding: | Paperback |
| Published: | 1 Nov 2017 |
| Availability: | 317 |
| Series: | |
$143.95 AUD
$164.99 NZD
Add To Cart
Other options: Ebook $128.95 AUD $147.99 NZD Ebook Rental $74.95 AUD $84.99 NZD
Request an inspection copy
Description
TODAY'S STUDENTS - TOMORROW'S PROFESSIONALS

Marketing: Theory, Evidence, Practice tells the story of marketing, its theories, concepts and real life applications, while providing a realistic overview of the marketing world. It demonstrates the practical application of marketing skills, illustrated by case studies and practitioner profiles, and gives students industry insight that will support them in their careers.

Providing an evidence-based introduction to marketing, this Australasian text focuses on marketing metrics, consumer behaviour and business buyer behaviour, as well as exploring the application of B2B marketing. It challenges traditional marketing theories and concepts, presenting a research-driven framework for understanding the marketing process.

This text is a comprehensive guide, with a full suite of lecturer resources, and provides the support and materials that you need to help create tomorrow's marketing professionals.

NEW TO THIS EDITION
New chapter: Selling and Sales Management

Focuses on the importance of personal selling, B2B selling, key account management, personal selling within consumer markets, call centres, sales management, the strategic role of personal selling, the impact of social media and ethics in selling

New chapter: Developing and Implementing a Marketing Plan

Covers the role and benefits of marketing planning, when marketing planning occurs, the marketing planning process, key observations on marketing planning, market selection and marketing objective setting and what design brings to strategic marketing and planning

New chapter: Social Marketing

Focuses on the application of social marketing, application at brand and category level, segmentation and targeting, effective social marketing campaigns and the evaluation of social marketing

Revised chapter: The Marketing Environment

Focuses on the marketing environment, the micro-environment, the macro-environment and monitoring and responding to environmental change

Updated industry insights, case studies and major case studies throughout the textbook (including over 25 new case studies)
Updated and new practitioner profiles
Contents
What Do Marketing Executives Do?
Consumer Behaviour and Business Buyer Behaviour
Meaningful Marketing Metrics
Market Research
The Marketing Environment
Customer Segmentation and Targeting
Product (Goods and Services)
Physical Availability, Retailing and Shopping
Pricing and Discounting
Selling and Sales Management
Advertising
Media Decisions
Developing and Implementing a Marketing Plan
Global Marketing
Ethics and Social Responsibility
Social Marketing
Social Responsibility and Ethics
Authors
Byron Sharp - Director, Ehrenberg-Bass Institute, University of South Australia Business School
Student Resources
Oxford Ascend
is the home of online resources for higher education students to help them study and succeed.

Each print copy of Marketing: Theory, Evidence, Practice, second edition, will come with access to Oxford Ascend Student Resources including:
Self-revision multiple choice questions aligned with each chapter
Drag-and-drop interactive questions
Marketing insights from a range of different companies, including case studies with Circus Oz, Colmar Brunton, Destination Melbourne, Porsche Australia and News Australia
Podcasts with the author
To access your Marketing: Theory, Evidence, Practice, second edition, Oxford Ascend Student Resources:
Go to www.oxfordascend.com
Register for an account
Activate the code (printed inside the back cover of your textbook) within your account
This code can only be activated once. Once activated, access is valid for the life of the edition.
Lecturer Resources
The following resources are available for lecturers who prescribe Marketing: Theory, Evidence, Practice, second edition, for their course:
Instructor's Resource Manual
This manual is organised by chapter and includes:

Lecture outlines
Answers to questions from the text
Tutorial discussion questions, including prompts to guide answers
Tutorial activities

Testbank

Multiple-choice questions
True-false questions
Short answer questions

PowerPoint slides
Solutions for Case Studies

For more information about the resources for Marketing: Theory, Evidence, Practice, second edition, please contact your Oxford Sales & Learning Resource Consultant.
Sample Pages
Read a sample from Marketing: Theory, Evidence, Practice, second edition:
Request an inspection copy