Oxford Literacy

The more children read, the better their educational outcomes.
Oxford Literacy is the only literacy series based on the most recent research on frequently used words by Australian students in their own writing, in the first three years of school. The series includes a comprehensive assessment solution, an extensive collection of fiction and non-fiction books, and interactive ebooks for reading levels 1–30 for shared, guided and independent reading.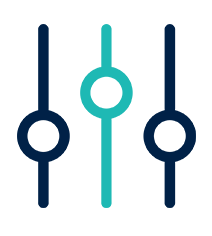 Expertly levelled books are available in print and online for whole-class and smallgroup reading, and reading practice.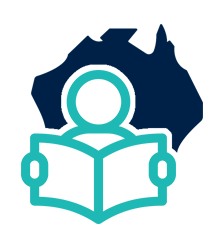 The series includes fiction and non-fiction texts written about Australian kids for Australian kids.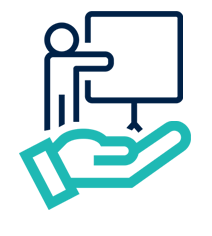 Time-saving, best-practice teaching support is provided, including videos, guided reading notes, activity sheets and the Oxford Wordlist, which is available for free on Oxford Owl.
We do love Oxford Literacy. The books have wonderful illustrations, offer connections between characters in the different stories, pose good questions in the teaching versions and are appealing to the students.


– Kristine Churchill, Ryde East Public School
Levelled texts
Oxford Literacy helps students learn to read and build reading fluency, and encourages reading for practice and pleasure. The books support students by reflecting their interests and using words from the Oxford Wordlist, a contemporary high-frequency wordlist researched and developed in Australia. The titles are levelled to build students' confidence and help them progress.
For students
Oxford Literacy for students includes:
a range of fiction titles that include exciting stories with enticing and compelling storylines and characters, narrative and comic formats, and contemporary and engaging illustrations
non-fiction titles that include informative and high-interest topics, contents, glossaries and indexes to support comprehension and vocabulary development, and stunning photographs that encourage an emotional connection with the text
a range of fonts and visual devices, all with appropriate support
a language focus that corresponds to the Oxford Wordlist.
recurring Oxford Literacy characters
ebook versions of most titles, available on Oxford Owl.
For teachers
Oxford Literacy provides a suite of resources for each title to support teachers in the classroom. All teaching resources can be downloaded from Oxford Owl.

The guided reading notes allow educators to use the series in a small-group context. The notes enable educators to offer scaffolded support to students, providing opportunities for students to apply reading strategies as they move towards reading independence.

The activity sheets (or MSV sheets) are available for all titles. An individual student could tackle the activity sheet after independent reading to give the teacher an idea of their skills and understanding, or a teacher could set the activity sheet for a guided reading group to complete after conducting a session on the reading focus.

Each Oxford Literacy book has one reading record that can be used for assessing oral reading or analysing reading skills.
Oxford Owl Student Bookshelf
The Oxford Owl Student Bookshelf contains hundreds of finely levelled Oxford Literacy fiction and nonfiction ebooks. The titles offer rich online reading experiences for use at school and/or at home.

The Oxford Owl Student Bookshelf Every ebook includes three e-activities specifically written around the content of the book to build on students' comprehension of the text they have just read.
The e-activities include:
›

immediate feedback

›

drag-and-drop activities

›

multiple-choice questions

›

word searches

›

crosswords.
For students
Students go to Oxford Owl, log in to their personal online bookshelf and access their allocated Oxford Literacy ebooks. The ebooks contain:
audio by renowned Australian actors such as Justine Clarke and Jay Laga'aia
annotation tools to allow deeper exploration of the text
e-activities to support comprehension
reward hotspots for motivation
information hotspots (including videos) for deeper learning.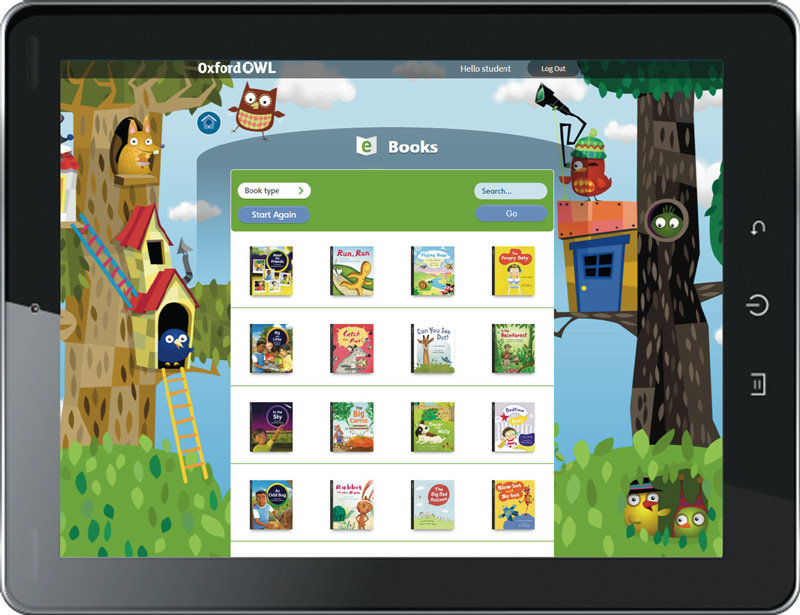 Oxford Owl Student Bookshelf home screen.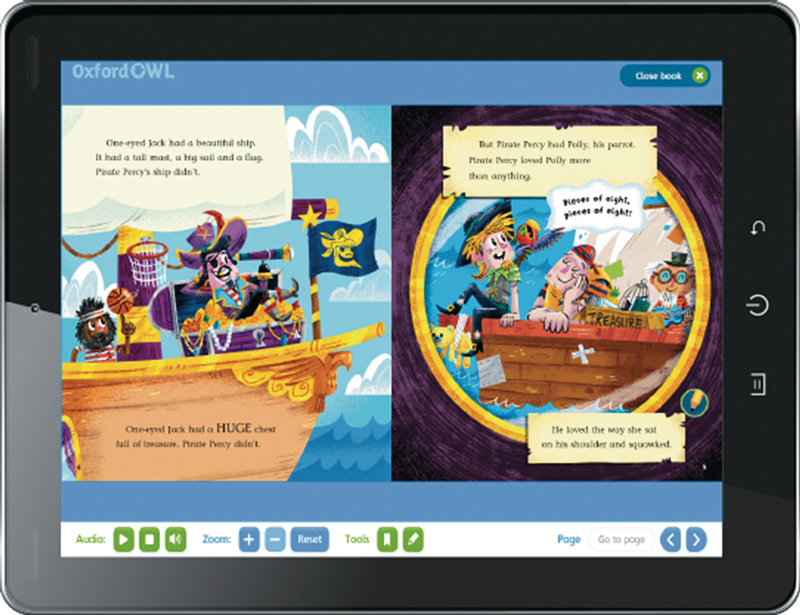 Pirate Percy's Parrot, Oxford Owl Student Bookshelf ebook.
For teachers
View the students' latest reading assessment results.
Review minimum and maximum text levels, which are determined by the students' text and reading level, and determine the students' ebook allocation.
View students from an individual or class perspective.
Manage and update student log-in details.
View the students' ebook allocations.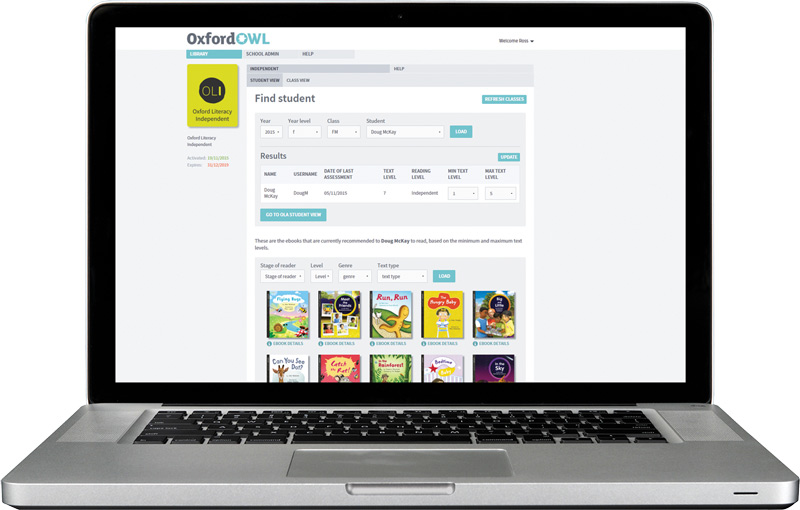 Teacher portal.
Subscription options
Oxford Owl is the online destination for your Oxford Owl Student Bookshelf subscription. To subscribe, log into your Oxford Owl account and select the Oxford Literacy Independent tile. The Oxford Owl Student Bookshelf subscription fee is $4 per child, with a minimum of 25 students.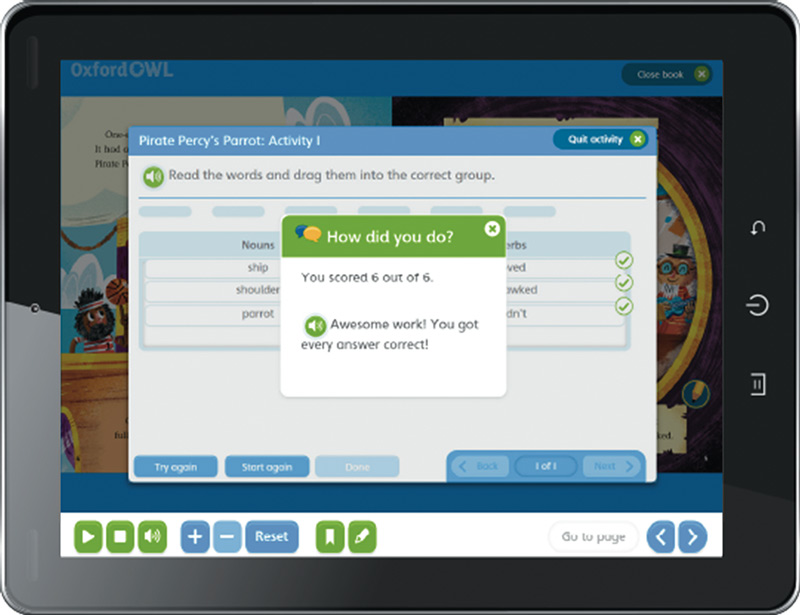 E-activities provide students with immediate feedback.