Uniform Evidence Law Guidebook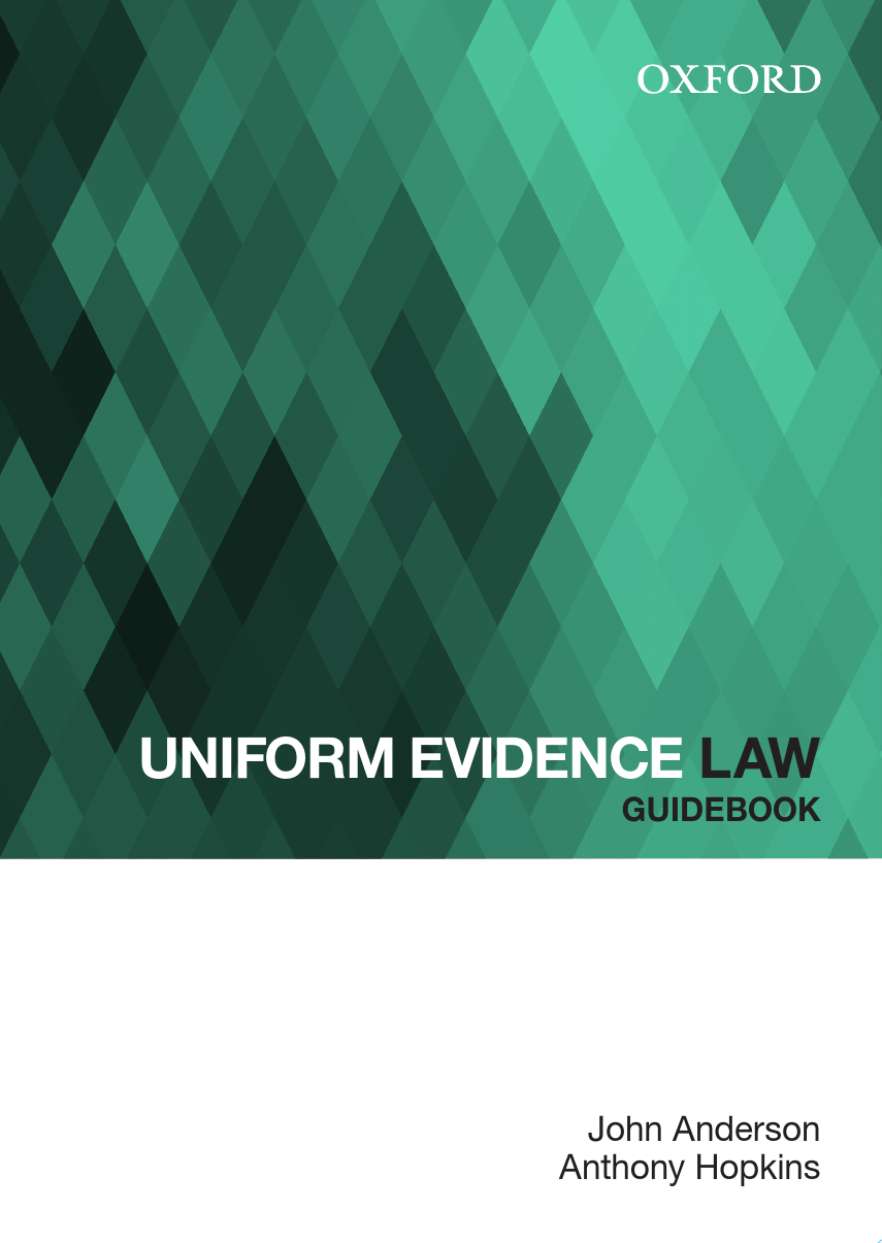 Uniform Evidence Law Guidebook
| | |
| --- | --- |
| ISBN: | 9780195523805 |
| Binding: | Paperback |
| Published: | 30 Oct 2014 |
| Availability: | 18 |
| Series: | |
$44.95 AUD
$50.99 NZD
Add To Cart
Request an inspection copy
Description
The Uniform Evidence Law Guidebook is your guide to the essentials of uniform evidence law. It provides a clear and comprehensive outline of the foundation topics in evidence law in the uniform evidence jurisdictions, in an easy-to-read, student-friendly format. Learn how to link the key concepts from your lectures, textbooks and tutorials to get the most from your study, improve your knowledge of law and develop legal problem-solving skills.

This Guidebook will help you navigate through the fundamental points of Uniform Evidence Law using:
Concise and clear explanations of what you need to know
Cases, Sections and Statutes to Remember
Study and Advocacy tips
Assessment Preparation sections
Diagrams and tables to help explain difficult concepts and complex material
A Criminal Trial Thread Scenario running throughout most chapters
Contents
Introduction
Sources—the uniform Evidence Acts
Kinds of evidence
Relevance, admissibility and weight
Drawing inferences
2. Proof and Presumptions
Introduction
Burden of proof
Standard of proof
Circumstantial evidence
Burden of proof in civil cases
Standard of proof in civil cases
Presumptions
Common knowledge and judicial notice
3. Roles of Judge and Jury and the Judicial Discretion to Exclude Evidence
Introduction
Order of court proceedings
Functions of judge and Jury
Preliminary questions—the voir dire and admissibility of evidence
Judicial role and powers
Judicial obligation and the discretions to limit or exclude evidence
Discretion to admit improperly or illegally obtained evidence
4. Witnesses and Adducing Evidence
Introduction
Competence and compellability of witnesses
Conduct of a trial in the adversarial process
Warning and information about unreliable evidence
5. Documentary and Real Evidence
Introduction
Proof of the contents of a document including secondary evidence
Authenticity of a document
Real evidence
Views, demonstrations, experiments and inspections
6. Privileges and Immunities
Introduction
The nature and operation of privilege
Client legal privilege
Loss or waiver of client legal privilege
Privilege against self-incrimination
Public interest immunity—'matters of state'
Privilege in aid of settlement
Professional confidential relationships
Journalists' privilege
Sexual assault counselling communications privilege
7. Hearsay and Exceptions
Introduction
The hearsay rule and its rationale
Exceptions to the hearsay rule
Original use of a previous representation
First-hand hearsay
Statements about health, feelings, state of mind
'More remote' exceptions—business records
Other exceptions
Introduction 161
Nature and effect of admissions
Implied admissions—silence
Implied admissions—flight and lies
Exception to hearsay rule
Voluntariness and reliability of admissions
Statutory recording requirements for admissions in criminal cases
Discretionary exclusion—unfairness
Discretionary exclusion—public policy
9. Opinions, Judgments and Convictions
Introduction
Fact and opinion distinction
The opinion rule
Exception 1—multiple relevance
Exception 2—lay opinion
Exception 3—Aboriginal and Torres Strait Islander traditional laws and customs
Exception 4—expert opinion
Ultimate issue and common knowledge
Criminal convictions
Civil judgments
10. Disposition Evidence I: Credibility and Character
Introduction
Credibility evidence
The credibility rule
Exceptions to the credibility rule
Credibility of the defendant in criminal cases
Character evidence
Character of the defendant in criminal cases
11. Disposition Evidence II: Tendency and Coincidence
Introduction
Common law origins of the exclusionary rule
General features of the legislative scheme
The tendency rule
The coincidence rule
Further admissibility restriction in criminal cases
Cases not involving tendency or coincidence reasoning
Relationship or context evidence
12. Identification Evidence
Introduction
Meaning of identification evidence
Exclusion of visual identification evidence
Exclusion of picture identification evidence
Judicial warning
Other kinds of 'identification' evidence
Table of Cases
Table of Statutes
Authors
John Anderson – Associate Professor, Newcastle Law School, University of Newcastle
Anthony Hopkins – Barrister at Burley Griffin Chambers and a Sessional Lecturer, University of Canberra
Student Resources
Lecturer Resources
The following resources are available for lecturers who prescribe Uniform Evidence Law Guidebook for their course:
An Instructor's Resource Manual containing additional material to support the Criminal Trial Thread Scenario.
For more information about the Uniform Evidence Guidebook, please contact your Oxford Learning Resource Consultant.
Sample Pages
Read a sample chapter from the Uniform Evidence Law Guidebook:
Request an inspection copy