Criminal Law Guidebook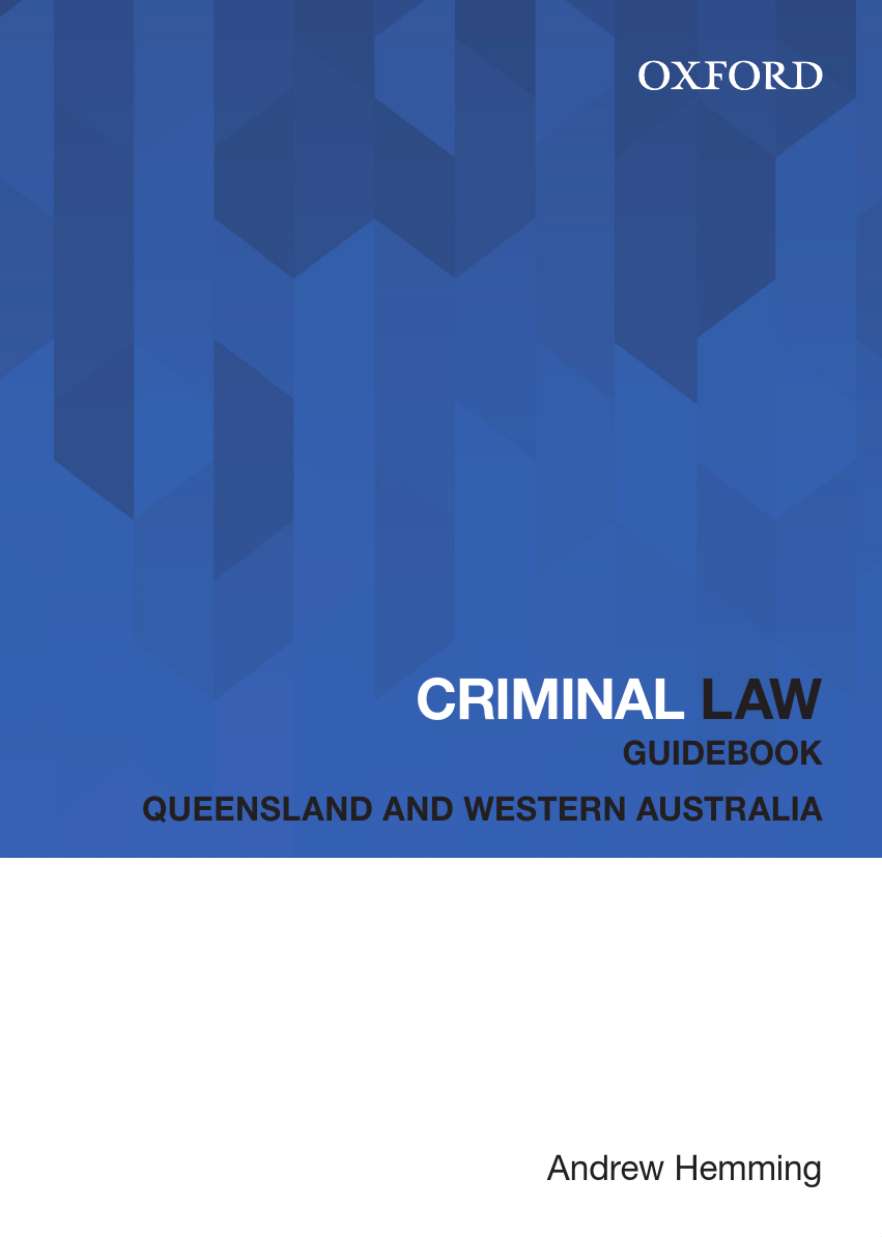 Criminal Law Guidebook
| | |
| --- | --- |
| ISBN: | 9780195596748 |
| Binding: | Paperback |
| Published: | 21 Sep 2015 |
| Availability: | |
| Series: | |
$44.95 AUD
$50.99 NZD
Add To Cart
Other options: Ebook $39.95 AUD $46.99 NZD
Request an inspection copy
Description
The Criminal Law Guidebook: Queensland and Western Australia is your guide to the essentials of criminal law. It provides a clear and comprehensive outline of the foundation topics in criminal law in an easy-to-read, student-friendly format. Learn how to link the key concepts from your lectures, textbooks and tutorials to get the most from your study, improve your knowledge of law and develop legal problem-solving skills.
This guidebook will help you navigate through the fundamental points of criminal law in Queensland and Western Australia using:
clear and concise explanations of what you need to know

cases and statutes to remember

assessment preparation sections

up-to-date cases and legislation.
Contents
1. Introduction to the Criminal Codes
Australia's criminal law landscape
The model Criminal Code
The Griffith Codes
Interpretation of Codes
Principles of criminal law and criminal procedure
Difference between a crime and a tort
Burden of proof
Reception of imperial law and customary criminal law
2. Criminal Responsibility in the Codes
Introduction
Elements of criminal responsibility
Section 23 of the Codes
History of Section 23
Objective and subjective tests of criminal responsibility
The need for concomitance between the physical and fault elements
Intoxication
The duty provisions
Automatism
3. Criminal Procedure
Introduction
The balancing of interests in the criminal justice system
The structure of the court system
Police powers
Arrest
Questioning and confessions
Investigative procedures
Bail
The trial process
Appeals
Double jeopardy
4. Offences Against the Person
Introduction
The definition of assault
The elements of assault
Consent
Assault occasioning bodily harm
Serious assaults
Grievous bodily harm
Wounding
Threats
Stalking
Defences
5. Sexual Offences
Introductio
The definition of sexual penetration
The elements of rape and sexual penetration without consent
Consent
Offences against persons not competent or incapable of giving consent
Sexual assault (Qld) and indecent assault (WA)
Aggravated sexual penetration, sexual coercion and aggravated
sexual coercion (WA)
Alternative verdicts
Defences
6. Homicide
Introduction
The meaning of 'unlawful'
The meaning of 'killing'
The meaning of a 'person'
The meaning of 'death'
The meaning of 'causation'
Murder
Constructive murder
Manslaughter
Unlawful assault causing death
7. Property Offences
Introduction
Stealing
Robbery
Burglary/housebreaking
Fraud
Damage to property
Defences—honest claim of right
8. Drug offences
Introduction
State drug offences
Evidentiary provisions
Possession
Mental element of possession
Supply
Trafficking
Producing
Federal drug offences
9. Extending Criminal Responsibility
Introduction
Attempts
Conspiracy
Complicity and common purpose
Complicity
Common purpose
Withdrawal
Different verdicts
Accessory after the fact
10. Defences
Introduction
Self-defence
Provocation (murder)
Provocation (assault)
Killing for preservation in an abusive domestic relationship
Duress/compulsion
Emergency
Mistake of fact
Insanity
Diminished responsibility
Elements
Immature age
11. Sentencing
Introduction
Principles of sentencing
Purposes of sentencing
Factors in sentencing
Aggravating factors
Mitigating factors
Guilty plea
The offender's character, age and intellectual capacity
Sentencing indigenous defendants
Sentencing methodology
Discretion to record or not record a conviction
Table of cases
Table of statutes
Index
Authors
Andrew Hemming: Senior lecturer, School of Law and Justice, University of Southern Queensland.
Student Resources
The following resources are available for students using the Criminal Law Guidebook Queensland and Western Australia:
Suggested answers to problem questions
Sample Pages
Read a sample from the Criminal Law Guidebook Queensland and Western Australia
Request an inspection copy