Business Law Guidebook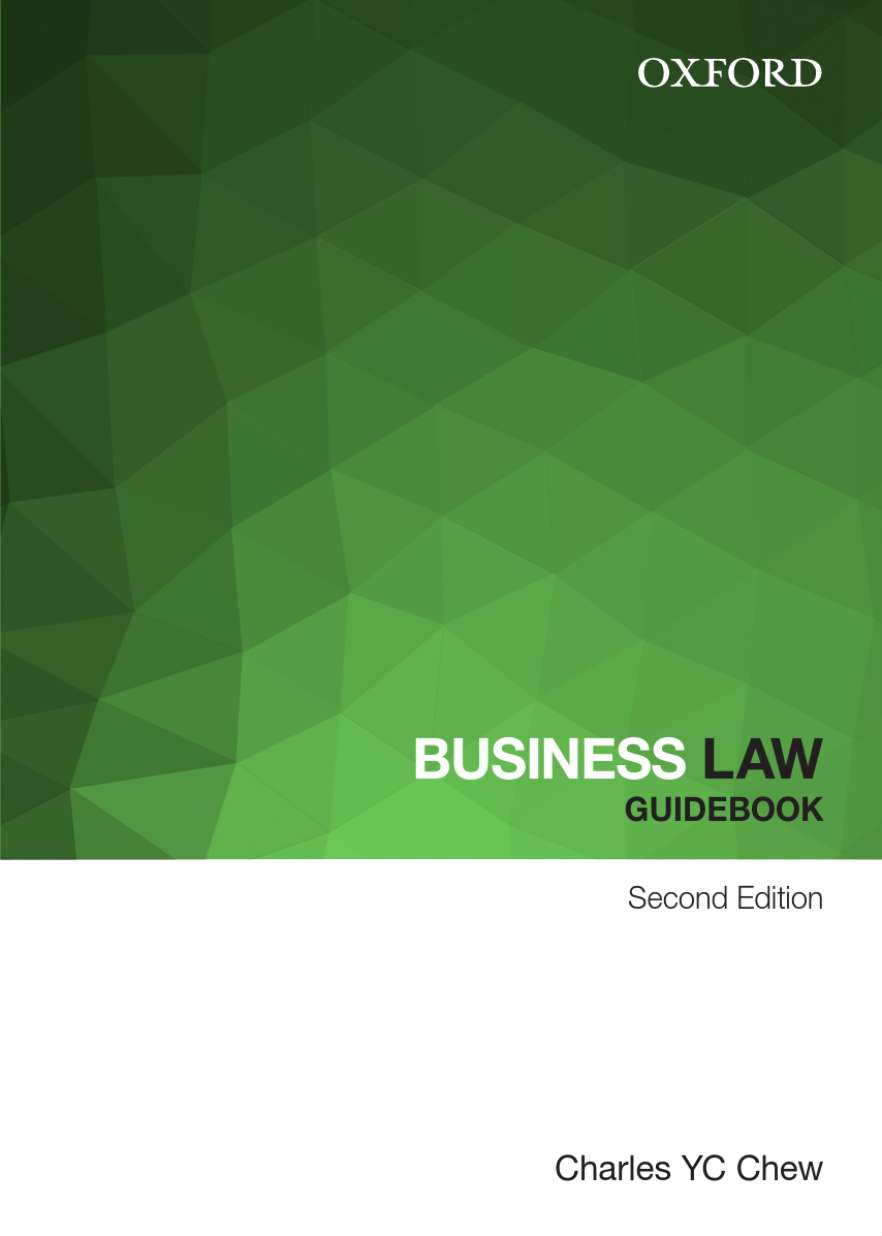 Business Law Guidebook
| | |
| --- | --- |
| ISBN: | 9780195593990 |
| Binding: | Paperback |
| Published: | 16 Oct 2014 |
| Availability: | 369 |
| Series: | |
$44.95 AUD
$50.99 NZD
Add To Cart
Request an inspection copy
Description
The Business Law Guidebook is your guide to the essentials of business law. It provides a clear and comprehensive outline of the foundation topics in business and commercial law in an easy-to-read, student-friendly format. Learn how to link the key concepts from your lectures, textbooks and tutorials to get the most from your study, improve your knowledge of law and develop legal problem-solving skills.

This guidebook will help you navigate through the fundamental points of Business Law using:
Concise and clear explanations of what you need to know
Guidelines for answering questions
Cases to Remember
Test Your Knowledge questions
Assessment Preparation sections
Diagrams of difficult concepts
Up-to-date cases and legislation
Contents
PART ONE: THE LEGAL FRAMEWORK
1. The Australian Legal System
Introduction
The nature of law
The purpose of the law
Business law
Sources of law
Doctrine of precedent or stare decisis
The courts
The rules of precedent
Origins of Australian law
The Australian constitutional system
Approaches to the interpretation of legislation
Ethics and business law
2. Making The Contract: Offer and Acceptance
Introduction
Definition of a contract
Essential elements of a contract
Meaning of offer
Invitation to treat
Revocation of an offer: importance of communication
Acceptance must be in response to an offer
Counter-offer
Acceptance of offer must be final and unqualified
The postal acceptance rule
Introduction
Intention to be legally bound
Social and domestic agreements
Commercial agreements
Particular agreements
Consideration
Promissory estoppel
Privity of contract
Capacity to contract
4. Contract: Terms and Remedies for Breach
Introduction
Express terms
Implied terms
Exclusion clauses
The contra proferentem rule
Common law remedies for breach
Equitable remedies for breach
PART THREE: THE CONSUMER AND BUSINESS LAW
5. Consumer Protection Law
Introduction
ACL and consumer protection
Misleading or deceptive conduct under the ACL
False or misleading representations under the ACL
The statutory regime governing consumer guarantees
Guarantee as to title
Guarantee that goods are of acceptable quality
Guarantee that goods are fit for disclosed purpose
Guarantee relating to the supply of goods by description
Guarantee relating to the supply of goods by sample or demonstration model
Consumer guarantees relating to the supply of services
State consumer protection legislation
Introduction
The regulatory framework: an overview
Financial institution-customer relationship
Cheques and negotiable instruments
7. E-commerce and Business
Introduction
Acceptance of e-commerce
Agreements and e-commerce
Disputes over terms in online agreements
Relevant legislation: Electronic Transactions Act
The electronic funds transfer system
E-banking and payments systems
E-commerce and domain names
8. The Law of Negligence in the Business World
Introduction
What is the tort of negligence?
The application of the neighbour principle
Negligent misstatement
The concept of misleading or deceptive conduct
Manufacturers' liability under the ACI
Prerequisites for manufacturers' liability
Actions against manufacturers for goods with safety defects
PART FOUR: FORMS OF BUSINESS ORGANISATION AND OWNERSHIP
9. Choice of Business Structure
Introduction
Unincorporated business organisations
Incorporated business structures: companies
10. Introduction to Company Law
Introduction
Statute regulating companies: Corporations Act
Concept of separate legal entity
The concept of the corporate veil
Forms of companies which are registered
Public companies
Companies created by registration
Adherence to constitution or replaceable rules
Contracts with the company
The statutory assumptions
11. Duties of Company Directors
Introduction
Duties and liabilities of directors
Duty to exercise reasonable degree of care and diligence
The duty to act in good faith
Prohibitons in respect of insider trading
Directors' duty not to improperly use their position
Duty to prevent insolvent trading: section 588 g
Enforcement of members' personal rights: the rule in Foss v Harbottle
12. Bankruptcy and Corporate Insolvency
Introduction
Bankruptcy law: its objectives
Bankruptcy proceedings
Effects of bankruptcy
Voluntary and involuntary bankruptcy
Acts of bankruptcy
Effects of a sequestration order
Date of bankruptcy and commencement of bankruptcy
Alternatives to bankruptcy
Corporate insolvency
Table of Cases
Table of Statutes
Authors
Charles YC Chew
- Senior Lecturer, School of Law, University of Wollongong
Student Resources
The following resources are available for students using the Business Law Guidebook in their studies:
Answers to the Test Your Knowledge and Assessment Preparation questions in each chapter.
Sample Pages
Read a sample chapter from Business Law Guidebook:
Request an inspection copy