Pippi Longstocking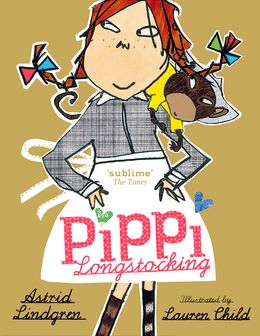 Pippi Longstocking
| | |
| --- | --- |
| ISBN: | 9780192779700 |
| Binding: | Hardback |
| Published: | 30 Dec 2021 |
| Availability: | 66 |
| Series: | |
$45.95 AUD
$50.99 NZD
Add To Cart
Description
This flagship gift edition illustrated by Lauren Child is a glorious celebratory tribute to the strongest girl in the world.

Pippi Longstocking is nine years old. She has just moved into Villa Villekulla where she lives all by herself with a horse, a monkey, and a big suitcase full of gold coins. The grown-ups in the village try to make Pippi behave in ways that they think a little girl should, but Pippi has other ideas. She would much rather spend her days arranging wild, exciting adventures to enjoy with her neighbours, Tommy and Annika, or entertaining everyone she meets with her outrageous stories. Pippi thinks nothing of wrestling a circus strongman, dancing a polka with burglars, or tugging a bull's tail.

Generations of children have fallen in love with Pippi Longstocking. Just like Tommy and Annika, readers are instantly charmed by her warmth, strength and sense of fun.
Authors
Author Astrid Lindgren
Illustrator Lauren Child
Astrid Lindgren was born in 1907, and grew up at a farm called Näs in the south of Sweden. She began her writing career in 1944 after she won a children's book competition, with Pippi Longstocking published a year later. She published more than one hundred books in her lifetime and is still the most popular children's author in Sweden. Her books have been translated into more than sixty languages, and she received numerous honours and awards. Astrid Lindgren died in 2002. Lauren Child is an award-winning illustrator and was the Children's Laureate 2017-2019. She is published worldwide and has created many much-loved characters in Children's Literature. She has illustrated classice texts, Pippi Longstocking, and Pippi Longstocking Goes Aboard, in her stunning and distinctive collage artwork style.
Reviews
*** One of BBC Culture's 100 Greatest Children's Books of All Time ***
`"Should certainly be on every child's bookshelf."' The Times
`"Child's an inspired choice to hook a new generation of children on Sweden's greatest literary export... If Pippi met Voldemort she'd make mincemeat out of him and then, because she's a generous, forgiving soul, sit him down and feed him ginger snaps."' Telegraph
`"There's no stopping Lauren Child as she brings her own inimitable style to illustrate Pippi Longstocking... Everyone will love this."' The Bookseller
`"Lauren Child's distinctive style is perfect for Pippi Longstocking, the nine-year-old girl with enormous strength and very large shoes."' Sunday Express
`"I love how unconsciously rebellious she (Pippi) is. She doesn't care about rules, she cares about people."' Alicia Vikander
`"This flagship gift edition illustrated by Lauren Child is a glorious celebratory tribute to the strongest girl in the world."' Books for Topics