The Best of Pippi Longstocking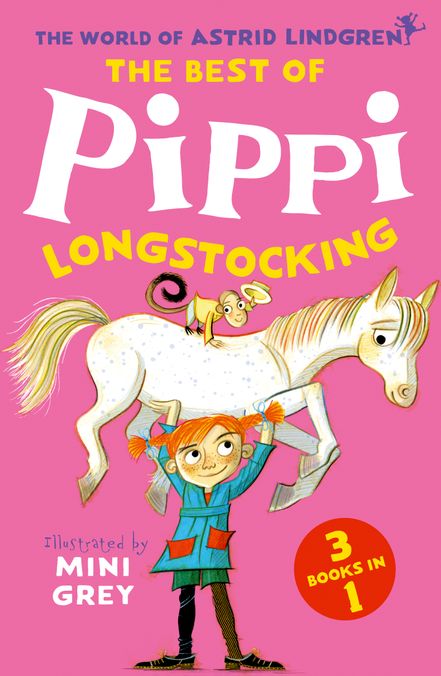 The Best of Pippi Longstocking
| | |
| --- | --- |
| ISBN: | 9780192783363 |
| Binding: | Paperback |
| Published: | |
| Availability: | Forthcoming |
| Series: | |
$21.95 AUD
$24.99 NZD
Add To Cart
Description
Containing all three classic Pippi Longstocking adventures in one stunning edition, this book will introduce Pippi's adventurous spirit to a whole new generation of readers!

Pippi is nine years old. She lives in Villa Villekulla with a horse, a monkey, a suitcase full of gold, and no grown-ups to tell her what to do. She loves spending her days arranging wild, exciting adventures to enjoy with her neighbours, Tommy and Annika, or entertaining everyone she meets with her outrageous stories!
Authors
Astrid Lindgren was born in 1907, and grew up at a farm called Näs in the south of Sweden. She began her writing career in 1944 after she won a children's book competition, with Pippi Longstocking published a year later. She published more than one hundred books in her lifetime and is still the most popular children's author in Sweden. Her books have been translated into more than sixty languages, and she received numerous honours and awards. Astrid Lindgren died in 2002. Mini Grey was given her name after being born in a Mini in a car park in Newport, Wales. She studied for an MA in Sequential Illustration at Brighton under the tutelage of John Vernon Lord. Mini also worked as a primary school teacher in Oxford, where she now lives. She is the winner of the CILIP Kate Greenaway Medal and the Nestlé Children's Book Prize Gold Award.
Reviews
`If Pippi met Voldemort she'd make mincemeat out of him and then, because she's a generous, forgiving soul, sit him down and feed him ginger snaps.' Daily Telegraph
`Pippi is in the great tradition of children's protagonists who subvert the adult world, whether by questioning it, like Alice, or simply throwing it into chaos, like Dr Seuss's Cat in the Hat.' The Guardian
`Pippi Longstocking was my girl. I loved her strength - not just her physical power, but the idea that she wouldn't allow her voice to be diminished by anyone. [ . . . ] What I loved most was that she was a girl, and she was a little different, and she was still the most powerful character in those books.' Michelle Obama